The healing power of art: Q&A with UM-Flint lecturer and art therapist Autumn Heddy-Reed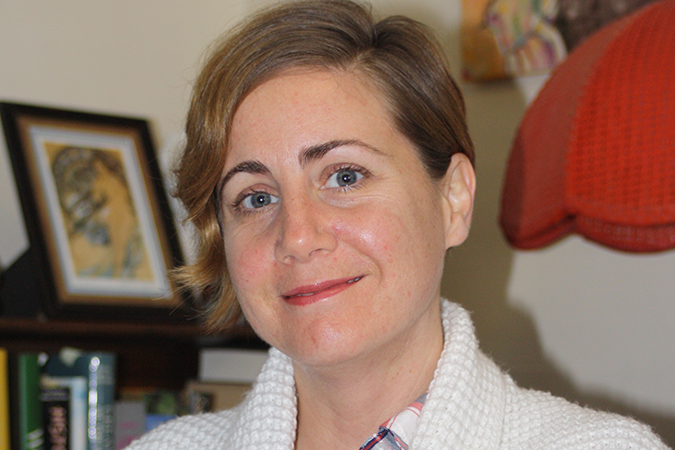 By simply painting, drawing, coloring, and creating, people can find relaxation, stress relief and mental health support, and more.
Autumn Heddy-Reed, an art therapist, social worker, and crisis counselor, teaches art therapy in the Department of Art and Art History at UM-Flint. In this Q&A, Heddy-Reed discusses art therapy and explains how art can help people cope during the coronavirus pandemic.
What is art therapy, and how can it help during the pandemic?
Art therapy is a mental health profession that combines active art making, psychological theory, and the psychotherapeutic relationship to improve the lives of individuals, families, and communities. Art therapists are master-level clinicians who earned their degree from an accredited university, specializing in art therapy.
To be fully credentialed as a registered and board certified art therapist (ATR-BC), one must have completed 1000 post-graduate direct hours utilizing art therapy with clients under the supervision of a credentialed mental health professional and passed a board certification examination. When facilitated by a professional art therapist, art therapy supports treatment goals and community concerns.
It is used to improve cognitive and sensory-motor functions, foster self-awareness, and self-esteem, increase social skills, and reduce conflicts and distress.
Participating in art therapy provides individuals a way to explore and process thoughts and feelings through symbolic expression. It engages the mind, body, and spirit in ways that can bypass the limitations of language. Rather than being "just an art project," art therapy involves the application of purposeful and meaningful art interventions combined with the reparative powers of the therapeutic relationship. This offers a safe place to move through fears and anxieties, experiences of crisis and loss, traumatic stress, love, and gratitude.
How do art therapists and other counselors continue to help clients now? How are you able to do this remotely?
Many art therapists and other mental health professionals have been using telehealth therapy to continue supporting their clients.
As an art therapist, master social worker, and crisis counselor at a local child advocacy center that supports children and families affected by physical and sexual abuse, I meet with children and their non-offending caregivers consistently each week via telehealth therapy sessions.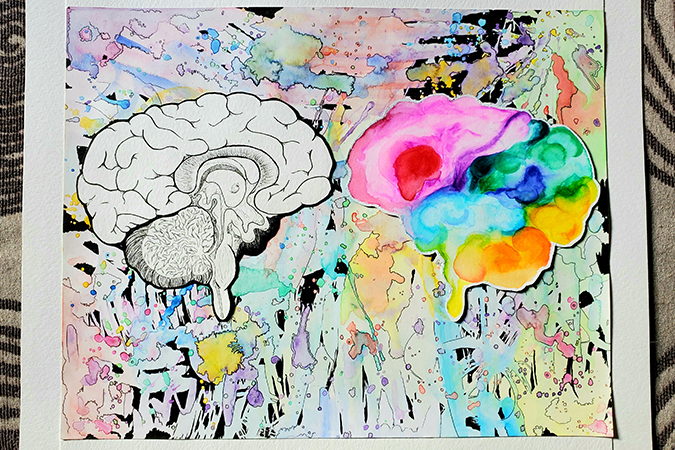 What is the art therapy class you teach at UM-Flint, and how are students utilizing it during this pandemic?
Since 2017, I have instructed Art 105: Introduction to Art Therapy at UM-Flint. This class is offered in both an in-person (Fall) and online (Winter) format. When the stay-at-home order was issued, there were more than 25 students enrolled. It did not impact the course structure much, as Winter 2020 was already a fully online course.
Students reported utilizing their art therapy experientials to maintain hope in a time of uncertainty, "push back negativity," consider things for which they were grateful, identify things for which they wanted to let go or to keep, and celebrate their strengths and their resiliency.
How can one create and share art remotely to connect with a larger community?
There are numerous ways to share art remotely, including texting, social media, and email. During a time when people are unable to congregate or share physical gifts with others, artwork can be sent to each other virtually to express care, love, and gratitude.
Also, art making can occur "together" though numerous video communication platforms, such as Google Meet, Facebook Messenger, and Zoom. The anxiety some may experience from video communication may be alleviated when individuals are engaged in their art making, allowing conversations to flow more easily.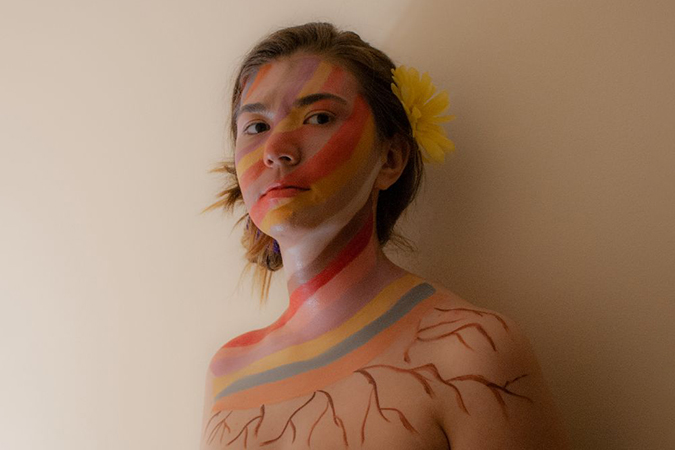 How can people who never have even considered art find value and meaning in it now?
During the stay-at-home order, many people have found themselves with more time to explore new interests, such as art making or art appreciation. Many art museums and galleries are offering virtual tours during this time, and film festivals and art house movies are being screened online. It is an excellent time to explore art making with found materials from around the house, materials from nature, photography, and/or collage, allowing yourself to play, explore, and enjoy the process, without judgment.
How does a situation like this differ from other sustained trauma, and how can art therapy help in this unique situation?
This pandemic has brought with it many feelings of uncertainty for the future, which can increase anxiety. Many individuals are experiencing grief, as celebrations such as graduations and wedding ceremonies had to be rescheduled. Others are grieving the loss of their jobs, feelings of security, and/or the loss of a loved one.
Engaging in art therapy with a credentialed art therapist can help one express and process feelings associated with the uncertainties and losses, identify strengths, increase resiliency, and create meaning from their experiences. For those who are interested in participating in art therapy with a credentialed art therapist, you can find art therapists in your area by going to the American Art Therapy Association's Art Therapist locator.
Contact University Communications & Marketing with comments, questions, or story ideas.