UM-Flint program supports respiratory therapists in keeping the public healthy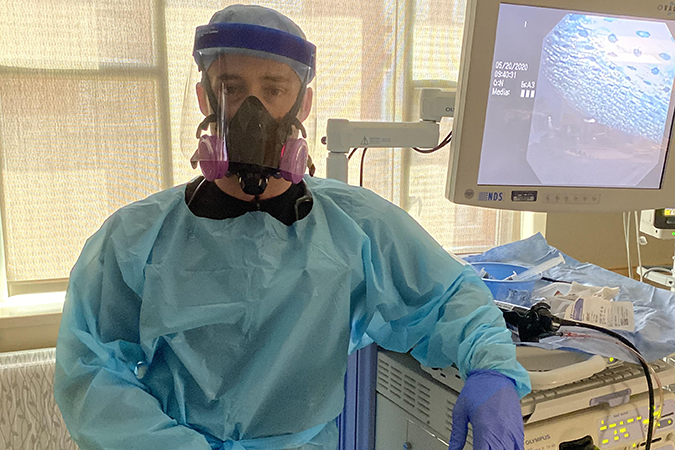 Sharina McQueen's work life is intense. The respiratory therapist treats people at a Flint-area hospital and currently cares for COVID-19 patients during twelve-hour shifts.
"It's been scary and crazy," said McQueen. "We are front liners."
Respiratory therapists treat, help diagnose, and educate people on heart and lung problems, such as asthma, sleep disorders, emphysema, and the current coronavirus.
McQueen manages and treats patients on ventilators, which means her days are surrounded by both sorrow and success.
"We become like family or friends for them," she said. "We are caretakers. That's what we do."
But the global pandemic has only highlighted the crucial role respiratory therapists serve.
"This pandemic shows exactly why we are so needed. Nothing else matters when you cannot breathe," McQueen said.
The Bureau of Labor Statistics forecasts a 21 percent employment increase from 2018 to 2028 for respiratory therapists, as "growth in the middle-aged and elderly population will lead to an increased incidence of respiratory conditions."
Kathryn Gurin, the coordinator for the respiratory therapy associate's degree program at Mott Community College, said the sheer scope of heart and lung diseases makes the care that respiratory therapists provide crucial for society.
"These diseases aren't going away. There is a huge demand for respiratory therapists," said Gurin.
The more education respiratory therapists have the more they can specialize, Gurin said.
Gurin said degree-advancement programs that allow working respiratory therapists to further advance their skills provide great value to the field.
UM-Flint's online Bachelor of Science in Respiratory Therapy program is for those working in the field who have an associate's degree.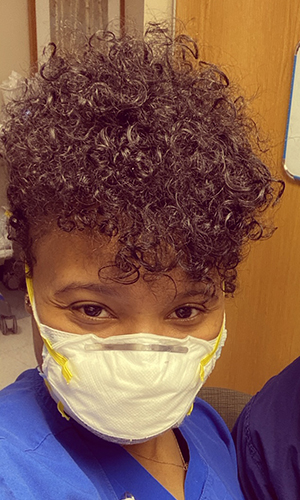 That's what drew McQueen to UM-Flint's program.
"I was excited to have this option. I wanted to further my education," McQueen.
"The program offers advanced-level courses in adult critical care, neonatal and pediatric critical care, and advanced diagnostics," said program director Nicholas Prush. "Also, the students take courses in management, leadership, and research to gain knowledge that takes their careers beyond the bedside."
McQueen, currently in the program, said her studies have influenced her decisions during the pandemic, such as prioritizing what she and others within her medical team focus on at any one time. The UM-Flint program has also helped crystalize her desire to incorporate clinical education and patient education into her career.
Adam Shaw, a Detroit area respiratory therapist, graduated from the UM-Flint program this spring. During his studies, he and his peers often shared advice and expertise in dealing with COVID-19 and the uncertainties surrounding it.
"Having students from varied backgrounds, with all of us at different facilities, we collaborated and exchanged thoughts online," he said.
The pandemic has added layers of complexity to the job, but it has also increased communication between medical professionals within the hospital.
"It shows how much respiratory therapists are needed to keep the public healthy," Shaw said.
Contact University Communications & Marketing with comments, questions, or story ideas.