Hough to continue the mission of the Center for Gender and Sexuality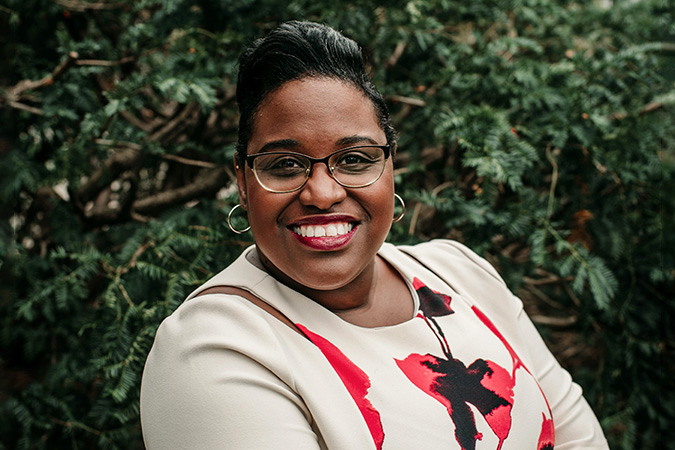 Samara Hough, LMSW, is joining the University of Michigan-Flint as the new director for the Center for Gender and Sexuality (CGS).
"I'm excited and honored to lead the campus on issues related to understanding the college experience through the lens of gender and sexuality," she said. "As a member of the Flint community, I see our role as essential to the campus and greater Genesee County as a whole."
CGS is dedicated to supporting all students, faculty, and staff to deepen and enrich awareness on all issues related to gender and sexuality. The center facilitates a greater responsiveness to the needs of women and LGBTQIA+ communities through outreach, education, and advocacy.
CGS also leads UM-Flint's campus efforts related to NASPA's Culture of Respect initiative, a national campaign that offers evidence-based best practices and utilizes existing programs and resources on campus to end sexual violence.
Hough, a Flint native, comes to UM-Flint from the Michigan State University Center for Survivors. Before that, she worked at the University of Michigan-Ann Arbor Center for the Education of Women and the Sexual Assault Prevention and Awareness Center (SAPAC). She has also taught in the Department of Social Work at UM-Flint.
Hough was interested in leading the center for many reasons, including its focus on inclusion and intersectionality. As CGS director, she hopes to continue to collaborate with campus and community members that support marginalized groups and lead efforts to advance student knowledge of gender minorities in education and employment. She is also passionate about the center's mission to support survivors of sexual misconduct and discrimination.
"I hope that we'd be a model for other campus communities that will consider gender on a continuum of identity and expression particularly as it relates to supporting women, people of color, and gender-expansive groups," she said.
Hough earned her bachelor's degree from the University of Michigan and her master's degree from Wayne State University. She's working on completing the Advanced Clinical Supervision Certificate Program at Smith College School of Social Work.
Prior to earning her graduate degree, she worked for non-profits, such as the Salvation Army, and with youths and families, including in home-based treatment for families in economic crisis and at a homeless shelter helping youths toward independence.
Hough also has experience as a Child Protective Services worker advocating on behalf of survivors navigating the court system, medical, and academia. At SAPAC, she oversaw a grant program dedicated to prevention work within marginalized communities. She then went to work for a State of Michigan task force dedicated to providing critical services to survivors in Detroit where she helped survivors prosecute their offenders some ten years after their original case was reported.
"This is something I'm still very deeply passionate about because so many programs miss intersectionality as a focus in our work," she said. "However, I think to be effective, we have to integrate prevention programming and educational efforts that are relevant to diverse populations. To not do so silences whole communities and ignores the reality of systemic oppression."
Lindsay Knake
Lindsay Knake is the Communications Coordinator for the UM-Flint Division of Student Affairs. Contact her with any questions, comments, or ideas about the DSA newsletter, social media, events, and communications.