UM-Flint's Physical Therapy program named top in Michigan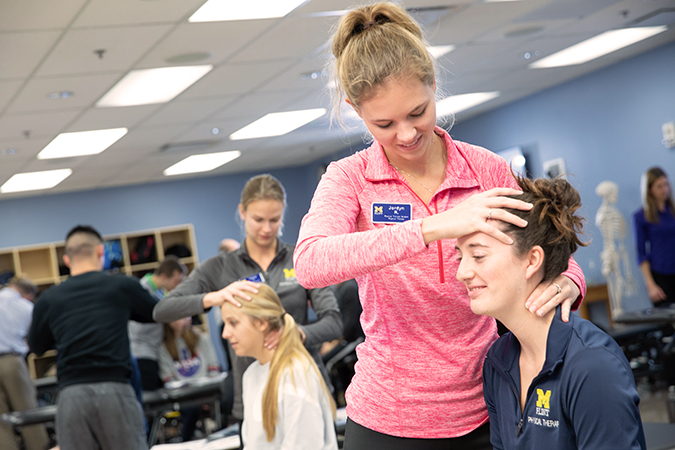 The University of Michigan-Flint's Physical Therapy (PT) program has been named the top program in the state of Michigan and one of the top programs in the country according to U.S. News & World Report.
U.S. News & World Report, the global authority in education rankings, placed the College of Health Sciences' graduate program as the 83rd best in the nation on their list of the 2021 Best Graduate Schools, rankings that are designed for prospective students looking to advance their educational interests and career goals.
"I'm very proud to be named as the best physical therapy in the state of Michigan," said Donna Fry, professor of Physical Therapy and dean of the College of Health Sciences. "Our PT faculty are exceptional scholars, teachers, and clinical experts who actively engage students in the learning experience through evidence-based hands-on laboratory, community service, and clinical experiences to complement active learning classes."
"To be named a top program in the country is a testament to our faculty, our students, and the clinics in our community with whom we work, and I'm confident that the value of a Michigan degree in Physical Therapy is something students and professionals alike will continue to recognize."
The Physical Therapy program at UM-Flint offers several different academic programs at the graduate level, including:
DPT: The Doctor of Physical Therapy (DPT) degree is a professional degree for entry in the physical therapy profession.
t-DPT: The transitional Doctor of Physical Therapy (t-DPT) program is a fully online post-professional part-time or full-time program that allows the licensed or registered physical therapist to obtain the clinical doctorate.
Ph.D. in PT: The Doctor of Philosophy in Physical Therapy (Ph.D. in PT) is a program is designed to address the demand for qualified faculty in physical therapy programs across the USA and create academic and research leaders in PT Education. This program enhances knowledge in important areas such as evidence-based practice in an area of advanced practice and clinical specialization, research, and academic leadership.
The Physical Therapy Department is proud to offer dual degrees, combining DPT with an MBA or DPT with a PhD in PT.
Contact University Communications & Marketing with comments, questions, or story ideas.