Thompson Library continues assistance to campus community during COVID-19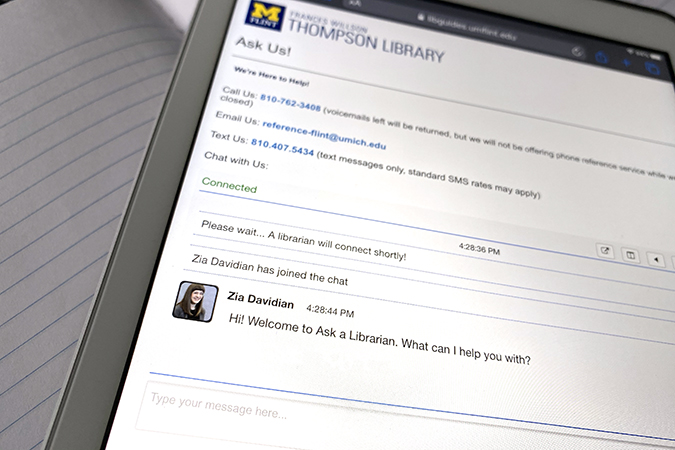 The Frances Willson Thompson Library remains a vital source of online and remote resources for the campus community during COVID-19.
"We have available to faculty and students more than one million digital books and nearly 240,000 digital journals, databases, and other serial publications," said library director Robert Houbeck.
The librarians are answering questions in various ways, including through a chat service, email, and text.
The library already had a built-in and fully operational support system for those accessing materials remotely, said library web services coordinator Emily Newberry.
"We offer e-books, digital databases with full-text article access, access to their course materials, and reference service via chat and web conferencing. All of these services were implemented originally to provide our distance students with the same level of service that their on-campus counterparts have," Newberry said.
"Now that we find ourselves in this situation, we were able to easily transition to treating all of our students as distance students with very little loss of access to the materials they need for their coursework," said Newberry. "We also have web pages for every discipline taught at UM-Flint to point students in the right direction as far as appropriate databases and other library content."
In response to students taking their classes remotely during this time, the library has been digitizing specific materials students need in textbooks.
"We emailed the faculty who currently have material on reserve and offered to digitize readings students need to complete the semester," said the head of circulation Liz Svoboda, who is also interim instruction coordinator. "We have uploaded chapters into our reserve system."
Billing has been suspended, and patrons are asked not to return any items. Any fines accrued will automatically be waived.
"Our team is a group of smart, motivated, imaginative professionals who always, but maybe more visibly at times like this, demonstrate their commitment of linking people with ideas," said Houbeck.
Contact University Communications & Marketing with comments, questions, or story ideas.