Cyber classrooms help to deliver remote instruction at UM-Flint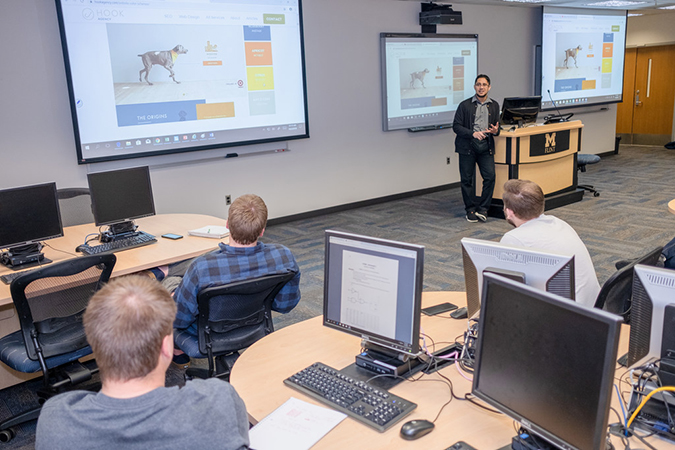 If you take a course in Computer Science or Computer Information Systems at UM-Flint, chances are it takes place in a "cyber classroom." Featuring multiple cameras, microphones, and digital input devices such as digital whiteboards and document cameras, these cyber classrooms (of which there are three on campus) intelligently record the audio and video of each class meeting.
For students, this means flexibility and access. If there is a particularly challenging topic addressed in a lecture, that lecture can be reviewed an unlimited number of times. And for any students forced to miss a class session due to life circumstances, they can view that class in its entirety after the fact.
Life circumstances changed for everyone in the U-M community earlier this month when the announcement was made that, to flatten the curve of COVID-19, all courses would transition to remote instruction for the Winter, Spring, and Summer 2020 semesters.
The cyber classrooms have eased that transition for many students and faculty, including Alicia Rose Wagner, a senior Computer Science major.
"Being exposed to watching lectures online has definitely helped this transition. At first, I thought that it would be weird to have online live lectures via BlueJeans and Blackboard Collaborate Ultra," Wagner says. "However, to my pleasant surprise, it just felt like I was watching a previously recorded lecture. It has been strangely familiar and more comfortable than I anticipated."
Other academic areas are utilizing the cyber classrooms to help provide continuity of instruction in this unprecedented time. James Alsup, associate professor of Physics and chair of the Computer Science, Engineering, & Physics Department, created lectures for his PHY 110: Conceptual Physics course using the cyber classrooms.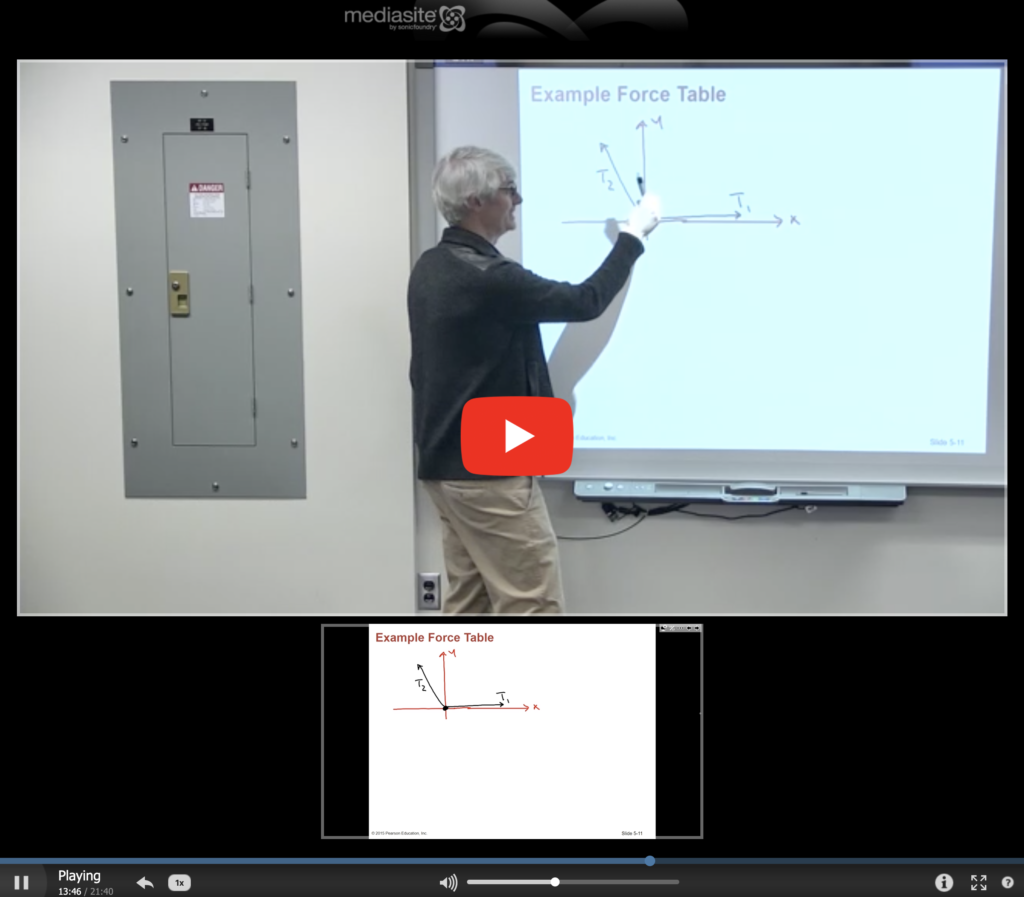 "When the university required moving all classrooms to remote learning because of COVID-19, I knew I had one way to capture the classroom atmosphere I wanted," Alsup said. "I am confident that, with the technology in the cyber classrooms, my students will be able to accomplish all of the course objectives laid out well before such a dramatic shakeup occurred."
While the U-M transition to remote instruction has shed new light on the value of the cyber classrooms, the culture of innovation and access fostered by Computer Science & Information systems faculty has been a long-time difference-maker for students, explains Michael Farmer, professor of Computer Science.
"We've always had this unspoken goal–we wanted anyone, anywhere, to have the ability to get involved with computer science. We never want to make family, work, and school conflict with each other," said Farmer. "That's what the cyber classrooms allow us to do—mix and match your work needs, your family needs, and your academic needs."
Logan McGrady
Logan McGrady is the marketing & digital communication manager for the Office of Marketing and Communication.