Counseling Services provides mental health help to UM-Flint students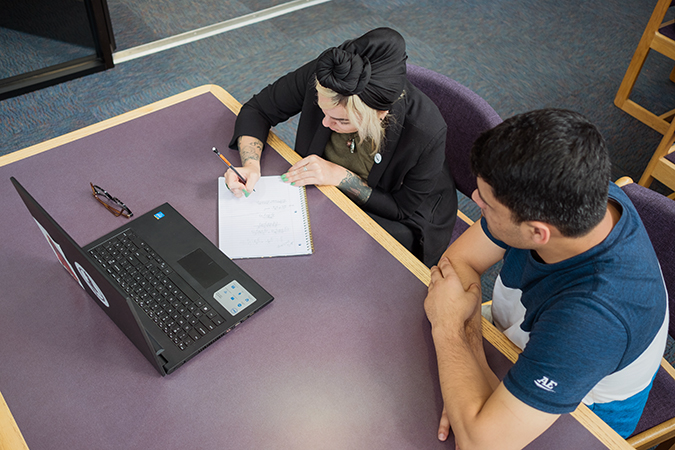 Nearly 45 percent of college students in America have reported feeling symptoms of depression, according to the UM Counseling and Psychological Services. More than 40 million American adults suffer from anxiety disorders.
As these and other mental health conditions and well-being issues among college students continue to rise, the University of Michigan-Flint's Counseling and Psychological Services (CAPS) is here to help.
CAPS offers a variety of free services, including individual and group therapy, screenings, emergent care and consultation, referrals to outside agencies, and crisis services to enrolled UM-Flint students.
Students are encouraged to talk to counselors about their mental health concerns, relationship and adjustment issues, stress management, family conflict, sexuality and gender-related issues, identity development, trauma, and more. CAPS counselors are on call 24/7 to assist students with after-hour emergencies.
The services provided are confidential; CAPS counselors can't share any information without written consent, and services are accessible to all students.
Located at 264 University Center, the CAPS office has a Wellness Room equipped with a massage chair, biofeedback software to help manage anxiety, and a Northstar 10,000 watt LightBox to help students with Seasonal Affective Disorder (SAD).
UM-Flint recently hired two new counselors, bringing the staff up to four full-time counselors and one part-time counselor. Most often, CAPS counselors Ryan Ashley, Kayla Freeman, Brian Hopkins, Valerie Jackson, and Jenna Newton, each of whom is a licensed master social worker, see students for depression and anxiety.
Counseling offers students someone to talk to, Valerie Jackson said.
"A lot of students fear being judged. We're not here to judge you," she said. "Our goal is to listen to our students in order to obtain possible solutions to help them navigate through life's journey."
In addition to mental health and well-being, CAPS contributes to student success through practices that are socio-culturally relevant and responsive to the needs of diverse students. Getting counseling for a problem can help students with their academics, Jackson said. Instead of focusing on the problem, students can turn their focus on their studies.
More than two-thirds of young people don't seek help for mental health problems. Feeling nervous or anxious about seeking therapy is normal and very common, Jackson said. While the stigma for seeking counseling has decreased, it still exists. When students do seek help, counseling works; 80 to 90 percent of people who seek appropriate treatment experience enhanced daily functioning. UM-Flint students view CAPS as positive once they've come, Jackson said.
"I think we do good work. We care about our students. Their mental health comes first for us," she said.
While providing direct services to students is their primary purpose, the addition of two counselors will allow CAPS to increase levels of campus outreach, prevention, education, and consultation. To learn more, go to the CAPS website.
Resources
Counseling and Psychological Services
264 University Center (UCEN)
Phone: (810) 762-3456
Office Hours: 8 a.m. to 5 p.m. Monday through Friday
For an emergency, please contact the Department of Public Safety at (810) 762-3333, and they will connect you with the counselor on duty.
Crisis Help Lines and Services
Genesee Health System Crisis Services – Available 24 hours a day, 7 days a week
(810) 257-3740
TYY (810) 232-6310
Toll-Free (877) 346-3648
National Suicide Prevention Lifeline
Toll-Free (800) 273-TALK (8255)
Update from CAPS:
Since this story was published on March 11, CAPS has moved to remote services and posted the following:
"Due to the current "stay-at-home" executive order by Governor Whitmer during the COVID-19 pandemic, CAPS counselors will be available remotely during our normal business hours 8 a.m. to 5 p.m. Monday through Friday.
To reach us, please call CAPS at (810) 762-3456 and leave a voice mail. The voice mail will also go to our email. Staff will check our voice mail/email regularly and respond. In the event of an after-hour crisis, please contact DPS at (810) 762-3333 to reach the crisis counselor on duty OR you may dial 911.
Remote therapy encompasses delivering counseling and psychotherapy services via technology-assisted media. The technology includes but is not limited to telephone, video, internet, smartphone, tablet, PC desktop system, or other electronic means.
We understand that these can be emotionally trying times, but CAPS is committed to ensuring we stay connected for your mental health concerns."
Lindsay Knake
Lindsay Knake is the Communications Coordinator for the UM-Flint Division of Student Affairs. Contact her with any questions, comments, or ideas about the DSA newsletter, social media, events, and communications.