Hail Yeah!: Because saying thanks never goes out of style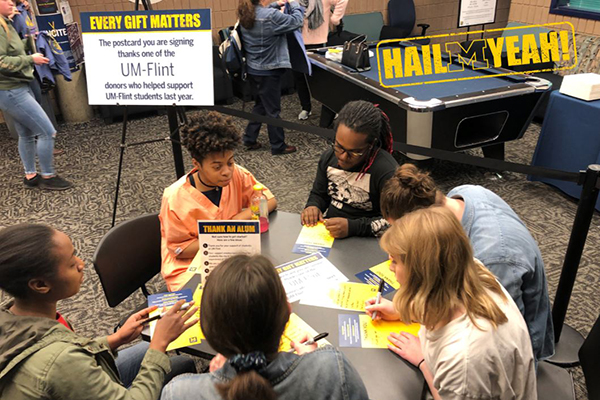 On March 11, the University of Michigan-Flint will once again participate in "Hail Yeah!," a university-wide day of thanks where students from Dearborn, Ann Arbor, and Flint come together to celebrate and thank donors.
Now in its sixth year, Hail Yeah! is a chance for students to learn what donor support means to the university. Gifts from alumni and other donors fund scholarships, research, study abroad, book awards, civic engagement activities, special programs, and departments and centers.
Hail Yeah! also shows that every gift, no matter the size, helps students and faculty achieve their goals.
"We know that supporting students is necessary for our success, and the financial assistance provided by our donors ensures that we stay focused on our studies and provides us with many other opportunities that we may not have otherwise," said Student Government President Nickxit Bhardwaj. "It is so gratifying to be able to thank our donors, and this is why we look forward to Hail Yeah! each year."
Highlighting the event will be the Hail Yeah! Pizza Party from noon until 2:00 p.m. in Clint's Café in the University Center (UCEN). In addition to free pizza, pop, and water, the first 300 students who participate will also receive a free, maize Hail Yeah! t-shirt.
Students will sign postcards with personalized messages of thanks to university alumni donors who have contributed to scholarships and other funds benefiting their fellow students and faculty.
Do we appreciate our UM-Flint donors? Hail Yeah!, we do.
Contact University Communications & Marketing with comments, questions, or story ideas.