Flying through School: A Journey from Civilian SOM Student to 2d Lt. in the U.S. Air Force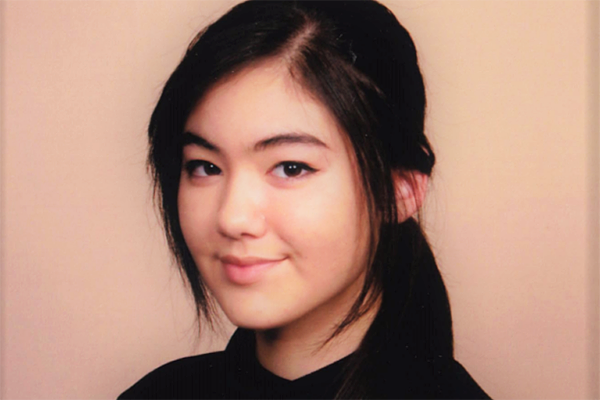 Veronica Hindelang ('20) isn't your typical college student at the University of Michigan-Flint. This unique college student set out to complete her undergraduate and graduate education in less than four years. Currently, Hindelang is a senior studying finance for her Bachelor of Business Administration (BBA). In less than three months, she will be walking the commencement stage and preparing to begin in the MBA program at UM-Flint.
Even more ambitious, Hindelang's long-term goal is going into the United States Air Force – first as a Second Lieutenant (2d Lt) and then continue to make rank after her commission. After deciding to pursue a career in the Air Force, she realized the value of pursuing her education so that one day she could become an officer.
"I chose the Air Force as I was most familiar with the branch," said Hindelang. Her father is an Air Force veteran and served for 22 years.
To become an officer in the Air Force, Hindelang was required to complete the Reserve Officers Training Corps – and the University of Michigan was on her radar. She quickly found out that she could still participate in the program while attending UM-Flint.
"I opted for the campus that was closest to home, more affordable, and with a better student to faculty ratio," Hindelang continued. "After some time in my field, I will be required to obtain a master's degree if I'm to make rank, as do all other military officers.
"I believe that completing my masters now while I am in a situation with advantageous resources and propelling motivation would be best. My ability and readiness to pursue and successfully complete my education are at a peak," she said.
The senior from Frankenmuth, MI, stated, "I believe that the military provides me with valuable and unique experiences that the civilian sector could not. There are opportunities and benefits I would like to pursue, and, in my experience so far, I've met wonderful people, traveled to interesting places, and have seen a change in myself for the better."
Veronica explains that she plans on exploring careers as either a pilot, combat systems officer, remote pilot, or an air battle manager, and "the Air Force seems to be a good fit and right place to do it."
Joining the military is a selfless act for your country, and Hindelang advises those interested in enlisting to consider that "education is very important for every rank in the military. You never stop learning. Reaching out to people and learning together can teach you a lot about others and yourself."
Even though she found a college that could fulfill her unique needs for completing a Bachelor of Business Administration degree in under two years, she still ran into some normal roadblocks.
"It was difficult to make connections in the beginning when I was touching bases with different departments to complete my gen ed courses," she said. "But after settling in the School of Management to complete my core classes, I've met a wonderful group of faculty and students. I feel supported and focused in my direction."
Fast-tracking a degree is never an easy task and comes with challenges with which SOM staff and faculty continue to support Hindelang. "I am extremely grateful for my academic advisor, Brenda Harrison, for consistently meeting with me and helping me stay on track," said Hindlelang.
She also states appreciation for the Student Success Center and their tutors. "They have been great resources alongside a few standout professors like Dr. Min Jung Kang, professor of Finance, and Michael B. McCarthy, lecturer of Finance and Quantitative Methods," she said.
"After many stressful semesters, what I value the most are the students and faculty whose willingness to be flexible and constructive has helped me grow and succeed," continued Hindelang. "Communicative, dedicated, personable, and reasonable instructors and students who share their strengths and complement your weaknesses in the courses you take together are the reason I have been able to push myself further than I thought I could. Special thanks to Noah Knutson, Hunter Johnson, and anyone who joined study groups with me."
Alexis Menard
Alexis Menard joined the UM-Flint School of Management in April 2018 as the SOM Web & Social Media Assistant. She is a BBA student at UM-Flint pursuing a double major in OBHRM and Marketing.