Club Sports are a winning play at UM-Flint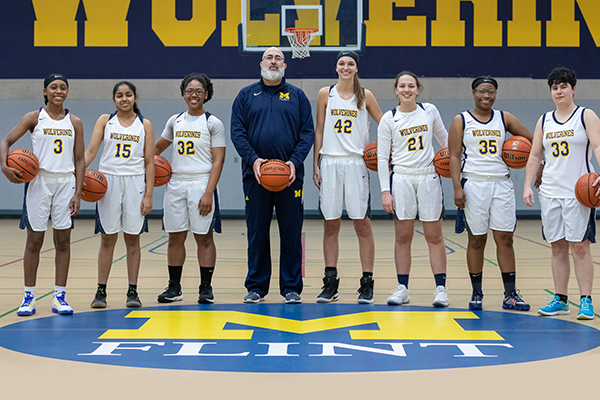 With the addition of two new teams, Club Sports at the University of Michigan-Flint are growing.
The university's Club Sports program, run through Recreation Services, has nine club sports and two voluntary student organizations, including Baseball, Men's Basketball, Women's Basketball, Cheer, Men's Hockey, Men's Soccer, Women's Soccer, Softball, Women's Volleyball, Judo Club, and Running Club. Baseball and Running are the two new sports for the 2019-2020 school year.
Club Sports offer students a chance to be part of a competitive sports team and play against other college and university teams without the rigor of being on an NCAA sports team. Club Sports offers many opportunities for the students who participate, from friendships to leadership skills.
"Friendship is the biggest reason people join," said Julia Stulock, UM-Flint Club Sports associate director. "They are looking for their people and a place to call home."
Stulock works with students to provide support, help with their budget, and keep track of interest in possible new teams. The teams plan their own schedules and design their uniforms.
The commitment may be less than NCAA varsity sports, but the payoff is still great. Club sports have their own leagues, which offer regional and national competitions for which team may qualify and compete. Teams typically practice two to three nights per week.
The number of competitions vary by team. The Men's Hockey team plays about 26 games in a season, while the Women's Club Volleyball team competes in three to four tournaments per year.
All club sports start as voluntary student organizations, or VSOs. Judo and Running exist as VSOs at UM-Flint. Teams can remain classified as voluntary student organizations, or transition to sponsored club sports. Students also can start a new sport if it isn't offered. A student organization needs six people, a constitution, and an advisor.
Several of the UM-Flint teams have existed for two years or less in their current form.
"We're seeing growth. It shows we're on a good track," Stulock said.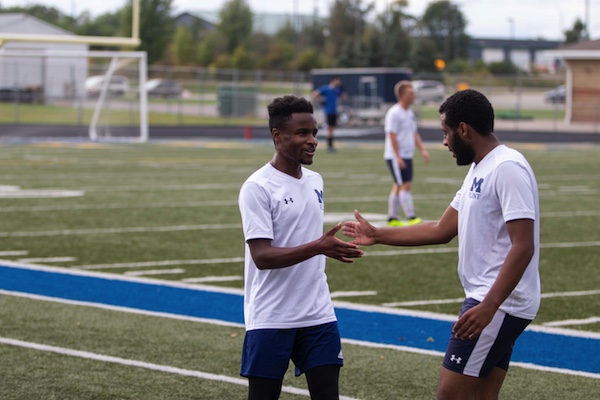 UM-Flint junior Timothy McGlinchey, the Men's Club Soccer treasurer and team captain, has played soccer since age 7 and wanted to continue playing. One of the reasons he joined the campus' Men's Club Soccer team was to meet more people. For his first two years as a student, he came to class and went home rather than spending time on campus. Club Sports were a way to change that.
Since joining, McGlinchey has made friends and gained experience that will help him with his career. McGlinchey is studying accounting, and as the team treasurer, he gets experience creating and managing the team's budget. As president of the Club Sports Council, he leads the team of students who assist teams with problem solving, helps with recruitment, and generally works to increase participation and raise the profile of Club Sports at UM-Flint.
McGlinchey hopes to make Club Sports more visible on campus. With the new Baseball and Running teams, more students are participating.
He encourages students to check them out, whether it's joining a team or coming to games to cheer.
"Once you go, you're going to meet a lot of different people. You wouldn't regret it," he said. "Every club is welcoming."
Diamond Davis is the vice president of both the Cheer Club and Club Sports Council. She helped restart the Cheer Club three years ago; rebuilding the club from the ground up is an experience she found valuable.
"No one else is telling you how it should be," she said.
Davis said the club is a great way to let off the pressure of college.
The Cheer Club supports other club teams at games and performs at events, and also supports clubs and organizations by promoting them through social media.
"The more you get out there, the more people will know who you are," she said. "More connections will help a lot in the long run.
"Don't be afraid to join. We love to accept everyone. Never be afraid to try new things."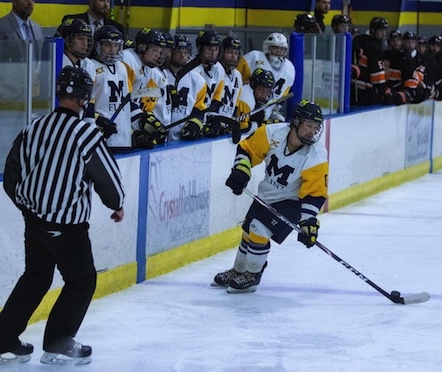 Mark Look ('15) played on the Men's Hockey Club team from 2010 to 2015 and was part of the team that made the university's first regional playoffs in 2011. Two years later, the team made it to the national championship game after being seeded 16th out of 16 teams.
"Club sports offer students the opportunity to continue playing a sport they've loved and played their entire lives, or even learn a new sport to play," he said. "For me, being able to play hockey at the university was the best thing that happened to me. The friendships and bonds I formed with everyone involved are ones I'll cherish forever and never forget."
Now, Look is a volunteer assistant coach for the team, a position that allows him to help the team and give back to UM-Flint.
"Rather than playing, I have the responsibility of coaching the guys and helping them become better players. I always make sure the guys know I'm available to them if they need help with anything on the ice and off the ice," he said. "This opportunity I have been given has been awesome and definitely a learning experience."

Lindsay Knake
Lindsay Knake is the Communications Coordinator for the UM-Flint Division of Student Affairs. Contact her with any questions, comments, or ideas about the DSA newsletter, social media, events, and communications.