Campus News Digest | February 10-23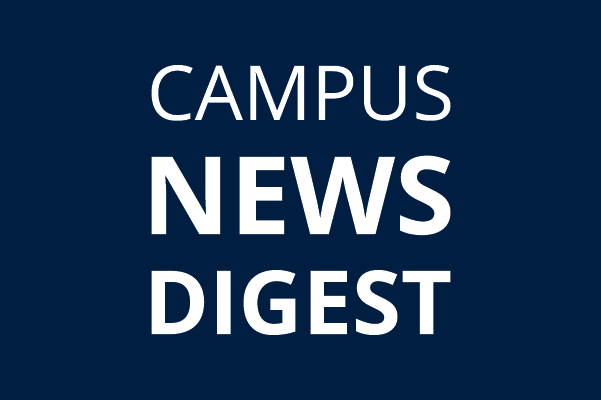 The Campus News Digest (CND) features announcements, news, and event updates relevant to the UM-Flint campus. The CND publishes every two weeks in the UM-Flint NOW newsletter coordinated by University Communications & Marketing (UCOM).
Higher Learning Commission Accreditation Reaffirmation
In an email to campus on Wed., Feb. 5, Provost Moreland announced that the Institutional Actions Council (IAC) of the Higher Learning Commission reaffirmed the accreditation of the University of Michigan-Flint, with the next Reaffirmation of Accreditation set for 2029-30.
"This reaffirmation of accreditation recognizes and is the result of our long-term continuous commitment to excellence in teaching, learning, and scholarship so that our students become leaders and best in their fields, professions, and communities, as noted in our mission," wrote Moreland.
In conjunction with our reaccreditation reaffirmation, the IAC does require interim monitoring with respect to using assessment data in general education to improve student learning, with an Interim Report due on November 30, 2021.
Keep up with the latest coronavirus news; potential impact
The 2019 Novel Coronavirus is a newly identified coronavirus that is causing an outbreak of pneumonia illness. It was first identified in December 2019 in the city of Wuhan, Hubei Province, China.
Since then, the virus has been identified in multiple other countries, including cases in the United States. There are no cases in Michigan.
The Centers for Disease Control and Prevention is closely monitoring the situation, and considers the risk to the American public as low.
This is a rapidly changing situation. This page will be updated below as additional guidance becomes available from public health officials and others.
Last chance to see SCREENS faculty art exhibition
This is the last week to visit the UCEN Fine Arts Gallery to view the new faculty exhibition SCREENS, a collection that investigates the concept of the screen in contemporary art from different perspectives. A closing reception will be held on Thurs., Feb. 13 from 5-7 p.m.
Digital Education Day Conference 2020
The Office of Digital Education and the Hub for Teaching and Learning Resources at UM-Dearborn will hold the fifth annual UM-Dearborn Digital Education Day Conference on Fri., Mar. 20. Digital Education Day has presentations, panels, and workshops on a variety of new and exciting Digital Education topics. This year's conference has been expanded to a three campus event with presenters and attendees from UM-Dearborn, Henry Ford College, and UM-Flint.
All sessions (including lunch) are free, but due to limited space, registration for the conference is required. Please complete the UM-Flint Faculty and Staff Registration Form to reserve your spot.
International Center celebrates International Mother Language Day 2/21
The International Center will recognize International Mother Language Day, on Feb. 21. According to the United Nations,"at least 43% of the estimated 6000 languages spoken in the world are endangered… International Mother Language Day has been observed every year since February 2000 to promote linguistic and cultural diversity and multilingualism.
The center is seeking participants for a collective video to celebrate the linguistic diversity at UM-Flint in which you say hello or a brief greeting in your mother tongue.
If you would like to be a part of this video, please contact Lamis Alqafshat via email or 810-762-0867. Lamis will schedule some time to videotape you up until Feb. 13th in the International Center or in a place convenient for you.
Family Math at the Market 2/15
The University of Michigan-Flint Mathematics department is extending the invitation to join them at Family Math at the Market on Sat., Feb. 15 from 10 a.m.-noon.
In partnership with the Flint Farmers' Market, elementary students and their families will have the opportunity to explore a variety of math-related activities, including puzzles and games. These activities will focus on concepts such as estimation, patterns, and spatial perception. This event is free and open to the public, no special knowledge or prior experience is necessary.
Register for the 17th Annual History Quiz Night 3/13
The 17th annual History Quiz Night will take place at the Flint Elks Club on Fri., Mar. 13 at 5 p.m. All are welcome, though pre-registration is required by Feb. 19. To pre-register, contact Audrey Beauchesne or Mark Pyland at (810) 762-3366 or via e-mail at abeauche@umich.edu or markpy@umich.edu. You may also sign up by visiting the History Department in 220 French Hall.
UM-Flint High School Physics Competition 4/24; register by 2/21
If you know any high school junior and seniors (or teachers) interested in science and physics, invite them to participate in UM-Flint's High School Physics Competition on Apr. 24. Registration is required by Feb. 21.
Contact University Communications & Marketing with comments, questions, or story ideas.