How mentors make a difference for UM-Flint students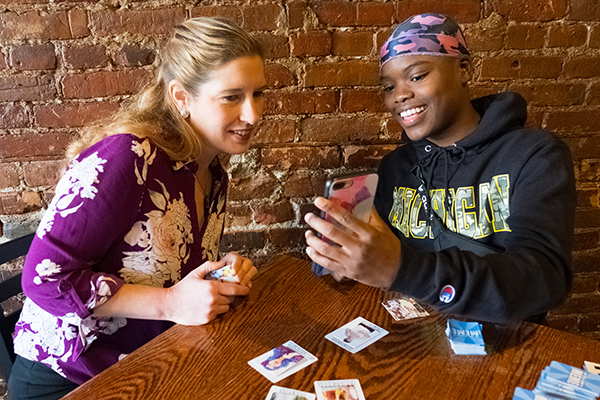 Jaylynn Gates was not excited about having a mentor during her first year at UM-Flint.
But then she met the mentor.
Gates and communication studies lecturer Kimberly Laux connected last fall through Mpowering My Success, a university program that provides support to students who have experienced foster care.
Mpowering gives students a chance to meet possible mentors and decide who seems like the best fit.
Gates appreciated Laux's sense of humor and welcoming nature.
"I didn't have any family in Michigan at all, and I kind of felt alone," said Gates, who started at the university in May 2018. "She made the whole transition smoother. I wasn't as anxious or worried about what was going on."
Mentors interact with students at least four hours a month, said Rachel Osmer, the life skills coach at Mpowering. It's open to any faculty or staff interested in being a mentor. Mentors receive training in issues such as how to work with people who've experienced trauma, and helping set positive goals.
"It's to help students to be successful on campus and in the future," Osmer said. "It helps them work on their goals and to navigate campus and have an additional source of support."
Since Laux and Gates met, they've played board games together and have gone to the theatre and area restaurants. Gates spent time with Laux's family. They text and talk and learn from each other.
"Jaylynn is amazing," said Laux. "She has been so positive and optimistic. She is very active on campus. She's thriving."
Gates tutors other students on campus, is a student leadership assistant with Student Involvement and Leadership, and is active with the Black Student Union. She is in the mathematics teacher's certificate program and plans on becoming a math teacher when she graduates.
Knowing that Laux is available to talk through things about life and being a student is a comfort, Gates said.
"She is very inviting and welcoming," Gates said.
Laux, who also holds multiple advisor roles at the university, encouraged other staff and faculty to consider mentoring.
"When you become a mentor, you become a student's 'person.' You develop a different kind of relationship with them than advisor-student or instructor-student. And I believe that kind of bond can be reassuring and possibly inspiring for the student and rewarding for the mentor."
Contact University Communications & Marketing with comments, questions, or story ideas.