A family affair: Heidenreich trio celebrate commencement
Dr. Chris Heidenreich has conducted the UM-Flint Wind Symphony at more than two dozen of the university's commencement ceremonies.
But Sunday's performance held extra meaning for him.
His daughter, Jillian, walked at the ceremony and was honored as one of this semester's Maize and Blue Distinguished Scholar Award recipients.
"It is a day I have been thinking about since she decided to go to UM-Flint," said Chris, who is also an associate professor of music at the university, and conducts both the Wind Symphony and Orchestra.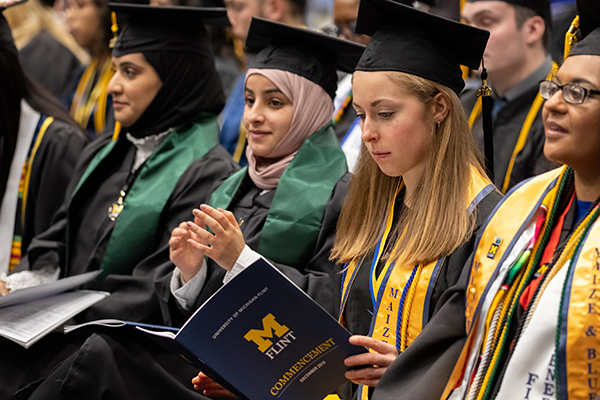 Jillian graduated with her bachelor's degree in health sciences, and plans on pursuing a career in occupational therapy.
It was truly a family affair at the ceremony. Jillian's mom Beth served as the ceremony's processional announcer at the start of commencement. Beth also played baritone saxophone Sunday with the Wind Symphony.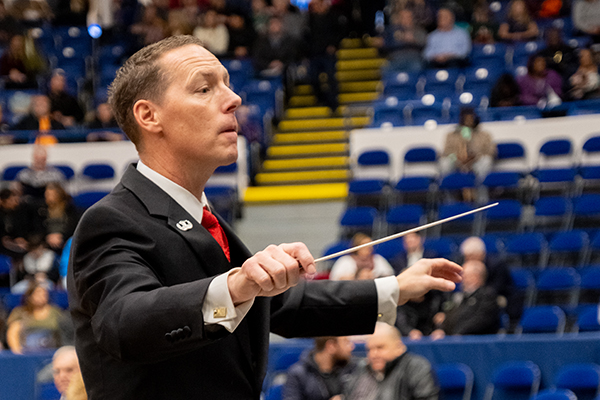 UM-Flint Interim Provost and Vice Chancellor for Academic Affairs Sue Alcock saluted the trio during Sunday's ceremony.
"It was really cool that my parents were in my graduation, and were able to experience it with me," Jillian said.
Before the event began, the three gathered near the musicians and took pictures together, with Beth gently adjusting Jillian's cap and robe. Other family members watched the ceremony from the stands. When he had a break during the ceremony, Chris went on stage for the first time ever during the actual event to take photographs of Jillian receiving the Maize and Blue Award.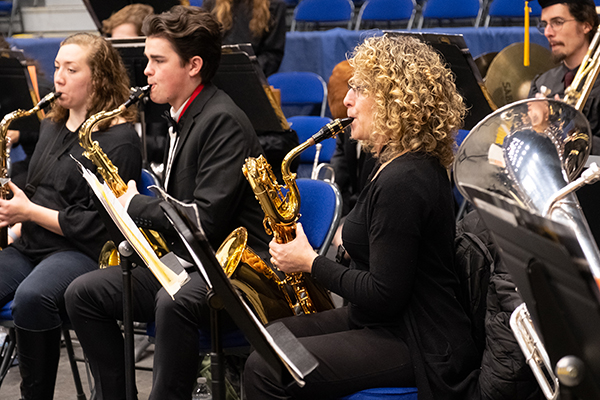 "I have been really pleased with her whole journey through her undergraduate studies," Beth said the day after commencement. "She has really grown as a person and as a student. She has worked very hard."
Jillian said she took her mom's advice leading into the day.
"She told me to enjoy every moment and to soak it all up because it's a big deal."

Contact University Communications & Marketing with comments, questions, or story ideas.