Zombify your look for Halloween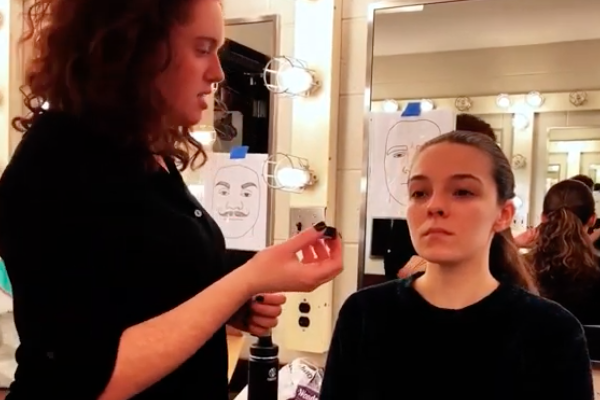 Need to find an impressive Halloween costume that you can complete in just five steps? The Department of Theatre & Dance at UM-Flint has you covered.
Megan Peek, (senior Theatre Design & Technology major), gave us this undead zombie makeup tutorial with Devon Marinco (junior Theatre Performance major) modeling the look.
List of supplies
Megan used:
Ben Nye liquid latex
Toilet paper
Ben Nye White Makeup
Ben Nye Bruise Wheel
Ben Nye Death Makeup Wheel
Ben Nye Stage Blood
A Q-Tip
Eyeliner
A makeup brush & sponge.
Make sure to apply the liquid latex and toilet paper first, allowing it dry while you paint the rest of your face.
Liquid latex is made to come off with soap and water.
More about Theatre & Dance at UM-Flint
The Department of Theatre & Dance is putting on five mainstage productions this year. The current show is The Liar, adapted from Le Menteur by Pierre Corneille. November 2-3 is your last chance to see the show, get your tickets and see showtimes. The entire season of performances is sure to ignite laughter, contemplation, emotions, memories, and rich conversation.
Logan McGrady
Logan McGrady is the marketing & digital communication manager for the Office of Marketing and Communication.