UM-Flint student awarded CEW+ Scholarship plans to pursue medical degree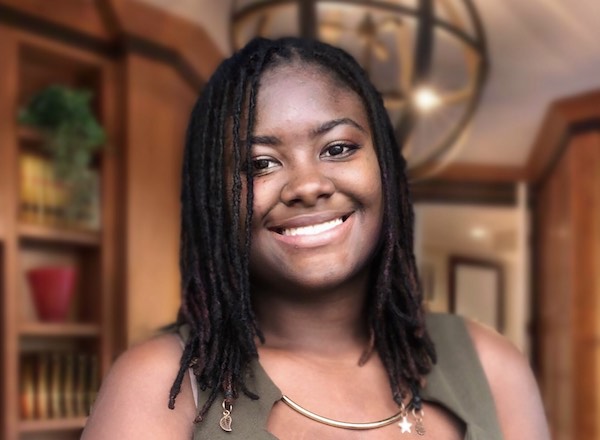 As a teenager, Georgina Brown knew she wanted to become a physician. Through a non-traditional path to the University of Michigan-Flint, she's on track to attend medical school and provide health care to underserved communities.
Brown is one of six University of Michigan-Flint students who were awarded U-M CEW+ Scholarships this fall. Sadye Belcher, Shannan Butler, Christina Gainer, C.J. Severn, and Nicole Stuckey also received CEW+ scholarships. The program, founded in 1970, offers resources for women and underserved students who've faced significant barriers and whose education has been interrupted. Brown received the Irma M. Wyman Scholar, recognized for her academic ability, compassion, persistence, stamina, and intellectual curiosity.
Academic opportunities
Brown plans to study medicine, which has been a dream since she was in seventh grade. Growing up in Jamaica, her family relied on health care from physicians who came to the Caribbean island to offer it for free. That's something she wants to do when she is a doctor. As she grew up, she learned more about the profession; Brown sees her studies as a test to see if medicine is right for her. It remains her passion. She shadows a physician at Hurley Medical Center in Flint to see what the life of a doctor is like, and she's interested in pursuing a path in obstetrics and gynecology. The field of medicine needs more black, female obstetricians.
Brown, who's earning her bachelor's degree in Molecular Biology and Biotechnology, chose UM-Flint because the university accepted credits from an associate's degree she earned in Jamaica. She transferred enough credits to shave off almost a year from her degree.
UM-Flint offered opportunities for Brown to conduct research as an undergraduate. She's currently working with Professor of Cell and Molecular Biology Joe Sucic, Ph.D. to use gene coding to determine why some patients respond well to physical therapy and others don't. The goal of the research is to help patients find solutions that work for them.
She applied for the CEW+ scholarship last year and was an alternate. Because of that, she almost didn't apply this year.
"I thought I'd give it a shot. If I didn't get it, at least I tried," she said.
Getting involved
As she wrote her essays, she saw the difference between her application the year prior. Her essays the first year were about the things she wanted to do; this year, the essays were about what she was doing. Brown is heavily involved on campus as part of the Block Club and Molecular Biology Club. She's part of the research project, and she works at Hurley Medical Center through Michigan Medicine in an intervention program for Flint teenagers. In May, she learned she was a recipient of a CEW+ Scholarship.
"It's a big deal!" she said.
Coming to UM-Flint as a non-traditional student, Brown saw involvement as a way to have a quintessential university experience. She became a resident assistant and joined the Block Club, an organization that focuses on student empowerment, leadership, and safety awareness.
It was through her extracurricular involvement that she learned about volunteering at Hurley Medical Center.
"That opened a lot of doors for me," she said. "Getting involved will open your horizon and bring opportunities you didn't know existed."
Brown wants other students to know her path hasn't been easy. She has ADHD and a progressive eye condition that will require surgery after she graduates.
"I don't let that suppress my drive," she said. "I hope that encourages someone else who has health problems."

Lindsay Knake
Lindsay Knake is the Communications Coordinator for the UM-Flint Division of Student Affairs. Contact her with any questions, comments, or ideas about the DSA newsletter, social media, events, and communications.