Campus News Digest | October 7-20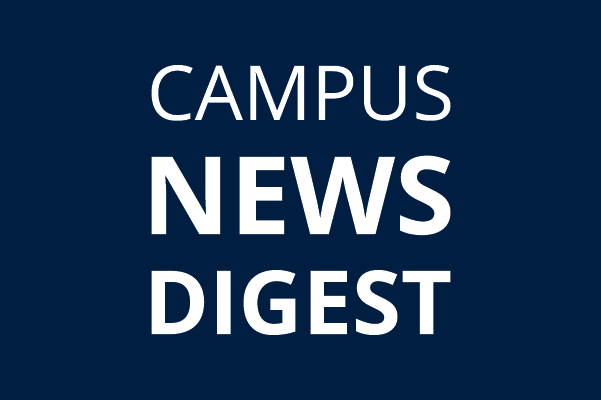 The Campus News Digest (CND) features announcements, news, and event updates relevant to the UM-Flint campus. The CND is distributed every two weeks in the UM-Flint NOW newsletter coordinated by University Communications & Marketing (UCOM).
Regents Public Forum, 10/17
On Oct. 17, the Board of Regents will hold their monthly meeting at 3:30 p.m. on the UM-Flint campus in the Northbank Center Ballroom.
Earlier that day, at 10:30 a.m., the Regents will also hold an open forum in the UM-Flint Theatre. It is an excellent opportunity for the Regents and President Schlissel to learn more about campus and the good work of our faculty, staff, and students. All are invited to attend the forum.
To ensure the forum hour is most productive and offers a speaking opportunity to many, the Regents will ask community members to address the following three questions, each of which is essential to the long-term success of UM-Flint:
Student success is our campus' highest priority. What can we do to ensure that every student who attends UM-Flint receives an outstanding education, graduates in a timely fashion, and is prepared for life and work?
What are some key areas where UM-Flint, UM-Dearborn, and UM-Ann Arbor might work together more closely to mutual advantage in the years ahead?
How can we grow our enrollment in a time when state high school student graduate numbers are shrinking?
With the upcoming Higher Learning Commission (HLC) accreditation site visit in November, this forum offers an opportunity to rethink the alignment of our programs, practices, and processes with the expectations of our students and their families, and the region's social and economic aspirations.
3rd annual Staff Council Tailgate. 10/15
UM-Flint Staff Council invites you to join them in celebrating the hardworking staff for the 3rd Annual Staff Council Tailgate on Tues., Oct. 15 at 11:30 a.m. in the Northbank Center Ballroom.
Soup, donuts, and cider will be provided, as well as tailgate games such as bag toss, ladder golf, giant Jenga, and more. Attendees will also be entered into a drawing for special swag items and giveaways.

Vice Chancellor for Business and Finance Mike Hague has approved this as a casual day, and U-M attire is highly encouraged. It is requested that supervisors make reasonable accommodations for staff to be able to attend the tailgate.
Career Center introduces new Industry Showcases
The Career Center is introducing new "Industry Showcases" to campus. Industry Showcases are smaller, industry-focused career fairs curated to bring students closer to hiring managers. These showcases have been engineered to allow students to spend more time with employers learning about their companies, industry trends, and career paths, as well as internships and employment.
There will be three showcases during the month of October:
STEM Showcase
Tuesday, October 22nd
1:30 pm -4 pm
Engineering Annex Lab (located on the street level of the Harrison Street Parking structure)
Undergraduate Showcase
Wednesday, October 23rd
1:30 pm -3:30 pm
Riverfront Lobby
Health Sciences Showcase
Wednesday, October 30th
1:30 pm – 4:00 pm
William S. White Building Atrium
Super Special Inclusive Trick-or-Treat Party seeks candy and volunteers
Several University of Michigan-Flint departments will be co-hosting an inclusive indoor trick-or-treating event for the community on Fri., Oct. 18, from 5-7 p.m. in the Riverfront Banquet Center. The goal of the event is to provide a fun, safe, and non-judgmental place for those with special needs, their friends, and families to celebrate Halloween.
We are looking for volunteers to fill some fun roles at the event. To sign-up to volunteer, please call or email Laura Martin at lamart@umich.edu or (810) 762-3177.
If you are unable volunteer but still want to support the event, the committee would appreciate donations of candy and non-edible treats. Donation boxes are located in the following locations:
Office of the Provost, 229 UPAV
Department of Education, 430 FH
Counseling and Psychological Services, 264 UCEN
School of Nursing, 2180 WSW
Education Abroad Fair 10/9
All are invited to attend the Education Abroad Fair on Oct. 9 from 11 a.m. to 5 p.m. on the 3rd floor of UCEN. Many advisors, guests, faculty, staff, and study abroad students will be in attendance throughout the day. Passport materials and information on the Passport Reimbursement Program will be made available.
DPS releases 2019 Annual Security and Fire Safety Report
The Department of Public Safety has released the 2019 University of Michigan-Flint Annual Security and Fire Safety Report. This report contains the policies, procedures and statistics required by federal law.
Intern Me in 3 open auditions 10/8 & 10/9
Intern Me in 3 is a unique way to connect with employers outside of the classroom. The top 25 selected students will individually present their talents, skills, and passions on stage in three minutes or less to an audience of premier internship sites. By participating, students will have access to top employers and the opportunity to be selected as an intern. 
Selected students will work individually to develop a presentation unique to themselves that encompasses their professional skill set, talents and passions. Students will have the opportunity to market themselves in three minutes or less to corporate partners eager to fill internships with bright and innovative minds. This is also an unrivaled opportunity to network directly with strong employer partners.
First Round Sessions (need only attend one)
Tuesday, October 8, 2019
3:00pm – 4:00pm – drop-in any time
University Center – KIVA
Wednesday, October 9, 2019
11:00am – 12:00pm – drop-in any time
University Center – KIVA
Grad Programs Open Houses, 10/10 & 10/21
Graduate Programs will host its annual Fall Open Houses on Oct. 10 and 21 between 5-7 p.m. in the Harding Mott University Center lobby. Presentations will be made by the School of Management, Physician Assistant, Doctor of Nurse Anesthesia Practice, and Doctor of Physical Therapy programs.
2019-20 Wyatt Guest Lecture Series begins 10/8
The first installment of the 2019-20 Wyatt Guest Lecture Series will take place on Tues., Oct. 10 at 4:30 p.m. in 251 French Hall. Dr. Sean Moran, Director of MALS and associate professor of history at Oakland University, will present.
Organ Donor Drive in Library 10/16
The Frances Willson Thompson Library will sign up organ donors as part of the Michigan Libraries for Life donor drive on Oct. 16. Stop by the table in the 3rd floor lobby to participate.
Staff Council's Spirit Week 2019, 10/14-10/18
Staff Council is sponsoring Spirit Week during the week of Oct. 14. All faculty, staff, and students are welcome to participate. Each day of the week (except Thursday) has a different theme:
Mon., Oct. 14 – Hat Day (jeans allowed)
Tues., Oct. 15 – Maize & Blue Day (jeans allowed)
Wed., Oct. 16 – Superhero Day (jeans allowed)
Thurs., Oct. 17 – Dress Up Day (Regents on campus)
Fri., Oct. 18 – Pink Out for Breast Cancer Awareness (jeans allowed)
Contact University Communications & Marketing with comments, questions, or story ideas.