Campus News Digest | July 29 – August 12, 2019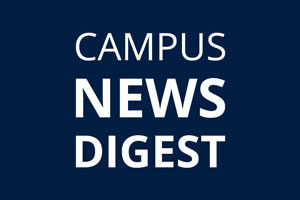 The Campus News Digest (CND) features announcements, news, and event updates relevant to the UM-Flint campus. The CND is distributed every two weeks in the UM-Flint NOW newsletter coordinated by University Communications & Marketing (UCOM).
President Schlissel, chancellors describe collaborative culture for campuses
In comments to the University of Michigan Board of Regents and continued in a story published in the University Record, President Mark Schlissel added more to the public pledge he made to "evaluate and discuss the relationship between the Ann Arbor campus, UM-Dearborn and UM-Flint."
The article states, "A key to the long-term success of the University of Michigan is allowing each of the three campuses to define its own needs, establish its own priorities and develop its own budget accordingly to promote student success."
Schlissel encouraged attendees to visit U-M's Public Affairs website to read a more detailed description of the relationship among the campuses, clarifications to some common misconceptions, and additional information that "highlights the extent of our work to keep tuition low and save taxpayer dollars on each of our three campuses."
Be an MPowering Mentor
The Flint Truth and Action Partnership Project (FTAAPP) supports the work of UM-Flint faculty members:
Accolades and Updates from around campus:
Contact University Communications & Marketing with comments, questions, or story ideas.