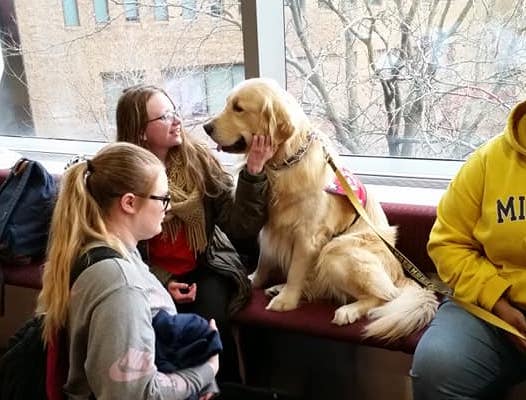 The semester is coming to an end and final exams are nearly here, but don't let it get you down! There's a wide range of resources and events to help you study and de-stress.
Get in the study zone at the library, which will be open for 90 hours straight. 90-Hour Library begins Monday, April 15 at 8 a.m. and ends Friday, April 19 at 2 a.m. Alpha Sigma Phi is offering safe escorts until 2 a.m. each night.
The library also has extended hours that go from April 19-26. See the Facebook event for details and times.
The Rec Center is offering yoga all week to help you stretch out the stress.
Monday, April 15
Lunchtime Yoga, Rm 11, 12:15 – 1 p.m.
Power Yoga, LLFR, 5:30 – 6:30 p.m.
Tuesday, April 16
Power Yoga, LLFR, 12:15 – 1 p.m.
Wednesday, April 17
Lunchtime Yoga, Rm 11, 12:15 – 1 p.m.
Power Yoga, LLFR; 5:30 – 6:30 p.m.
Thursday, April 18
Power Yoga, LLFR, 12:15 – 1 p.m.
Friday, April 19
Lunchtime Yoga, Room 11, 12:15 – 1 p.m.
Saturday, April 20
Yoga Flow, Rm 11, 11 a.m. – Noon
Everyone's favorite visitors will be on campus to help pet the stress away on Wednesday, April 17 from 11 a.m. to 1 p.m. at the Library (3rd Floor Lobby) and the Student Veterans Center (1st Floor UPAV).
Books & Breakfast
Join Student Government Monday, April 22 and Tuesday, April 23 on the 3rd floor of UCEN from 9 a.m. until the food lasts. Enjoy a buffet-style breakfast to refuel and start the day right.
Fuel for Finals
The Intercultural Center is hosting Fuel for Finals on Tuesday, April 23 from 4:30 to 6:30 p.m. Enjoy a meal at the ICC and connect with other students as you prepare for exams.
As always, use the #UMFlintFinals hashtag while you're posting about dogs, or just venting about that math exam!
Best of luck to everyone on finals, and we're looking forward to seeing some of you at Commencement!
Contact University Communications & Marketing with comments, questions, or story ideas.