Campus News Digest | February 11-24, 2019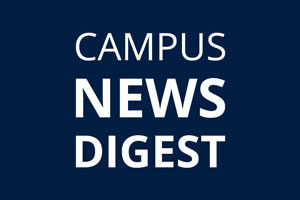 The Campus News Digest (CND) features announcements, news, and event updates relevant to the UM-Flint campus. The CND is distributed every two weeks in the UM-Flint NOW newsletter coordinated by University Communications & Marketing (UCOM).
Career Fair bringing over 70 employers to campus on Wed., Feb. 20
Wednesday, Feb. 20, the Career Center is hosting a campus-wide Career Fair. Over 70 employers from the region will recruit UM-Flint students for internships and employment opportunities. All students and faculty are encouraged to attend from 12-3 p.m. in the Riverfront Conference Center. For a complete listing of employers scheduled to attend, visit umflint.edu/careers. In preparation for the event, students are welcome to attend:
Suit Up with JCPenney; Feb. 16 from 10 a.m.-1 p.m.: JCPenney will host a shopping event for students, offering an additional 40% off of regular, sale, and clearance prices. This event is open to students from UM-Flint, Mott, Baker, and Kettering. You must shop in-store at the Genesee Valley Location for this discount.
Resumania; Feb. 12 from 10 a.m.-2 p.m.; Happenings Room: Bring a resume and other professional documents for professional review by the Career Center. This is a drop-in work session; no appointment needed. Laptops will be available.
Know Before You Go! A Career Fair Prep Workshop; Feb. 11 from 5-6:30 p.m.; Happenings Room: The Career Center hosts a workshop to better prepare students for the Career Fair and answer any questions.
Men's Ice Hockey to play final game of season Sat., Feb. 16
Mark your calendars for the final game of the season for the men's ice hockey team. The game vs. Ferris State begins at 8 p.m. on Saturday, Feb. 16 in the Crystal Fieldhouse. Student tickets are $3, general public cost is $5. Support Club Sports and be one of the first 50 students in attendance to receive a free UM-Flint winter hat.
Civil rights icon Bobby Seale at UM-Flint Mon., Feb. 18
Bobby Seale, co-founder of the Black Panther Party and living civil rights icon will make remarks and hold a book signing in the UM-Flint Theatre on Mon., Feb. 18 from 5:30-7 p.m. The event is hosted by the Intercultural Center and Office of Educational Opportunity Initiatives as part of UM-Flint's series of events for Black History Month.
Seale will also be available to chat with UM-Flint faculty, staff, and students at an event in the Intercultural Center from 10:30 a.m. to noon. Light refreshments will be provided.
Rev. Kosho Finch to speak for Wyatt Pgm. Guest Lecture
Rev. Kosho Finch, head minister of Henjyoji Shingon Buddhist Temple in Portland, OR, will be on campus Feb. 19 at 2:30-3:45 p.m. to speak as part of the 2018-19 Wyatt Program Guest Lecture Series. His lecture, "Lineage and Localization in Japanese Buddhist Schools," will take place in 111 French Hall and is free and open to the public.
French Short Films on Immigration viewing on Tues., Feb. 12
The French class in the Department of Foreign Languages will view and discuss two short French films, A Divided Capital and Français langue étrangère, on Tuesday, Feb. 12 at 5:30 p.m. in 354 French Hall. Open to all.
DPS' Safe Ride announces new route to Genesee Valley Mall and Meijer
UM-Flint's Safe Ride program now offers transportation to the Genesee Valley Mall and the Swartz Creek Meijer. The route will operate each Saturday during the winter semester, departing from Riverfront as 12 and 1 p.m. and returning at 2 and 4 p.m. The shuttle is available on a first come, first serve basis.

Contact University Communications & Marketing with comments, questions, or story ideas.