Mcubed trifecta funds first wave of projects on all three campuses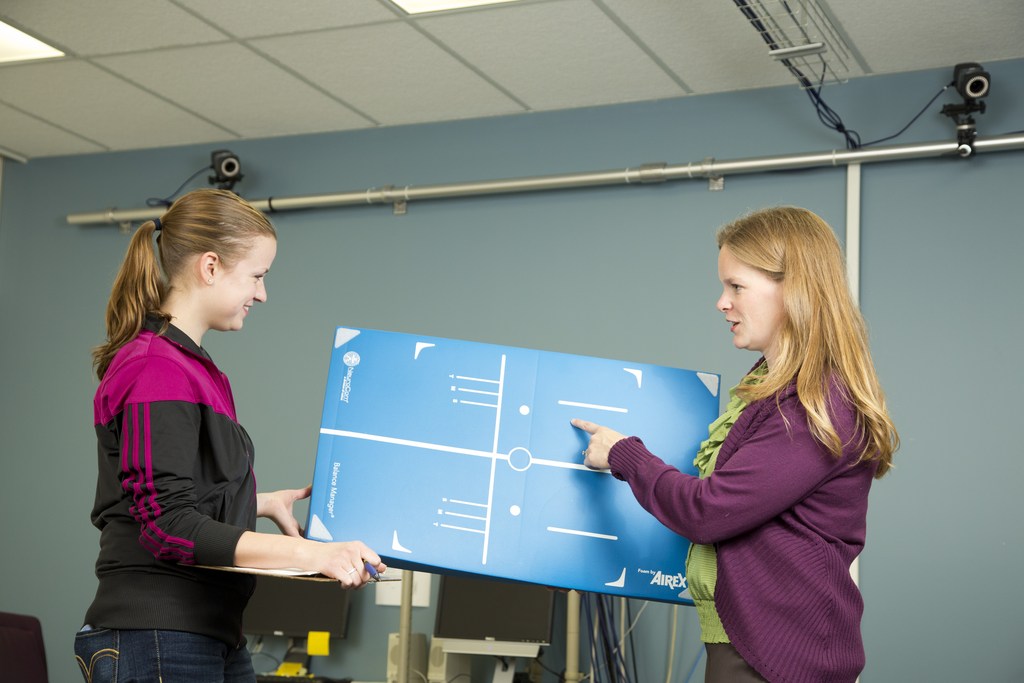 by Valerie Johnson | Mcubed
For the first time, Mcubed has distributed funding to faculty from all three University of Michigan campuses.
Since UM-Flint enlisted in Mcubed 3.0 last fall, U-M faculty can form collaborative trios, or "cubes," across or within the Ann Arbor, Dearborn and Flint campuses. Faculty from all three sites have been mapped onto a common set of disciplinary units, and each cube must include at least two different units.
Through Mcubed's unique token-based peer review process, the cube teams can secure $15,000 or $60,000 to advance their innovative research or scholarship right away.
For Jennifer Blackwood, associate professor of physical therapy at UM-Flint, the Mcubed opportunity is well-timed. She and Rie Suzuki, associate professor of public health at UM-Flint, recently surveyed older adults from inner-city Flint on perceptions of neighborhood walkability.
They have been examining how the social constructs of a city — such as crime, limited maintenance of sidewalks, and inaccessibility of senior recreation centers — can make it impossible for an older patient to begin a walking program. In some cases, older adults might necessarily resort to walking around the kitchen table 400 times, rather than going out in their neighborhoods, Blackwood said.
At a symposium on aging, they met Noah Webster, a sociologist at the Institute for Social Research on the Ann Arbor campus. His captivating remarks pointed to a needed component of their study: ways that older adults' social networks affect their physical ability.
"The minute that Noah started talking, we said, 'He's the guy—the one piece of the puzzle that we don't have on our campus,'" Blackwood said.
The three soon formed a cross-campus cube titled "Take A Hike! Aging, Walkability and Physical Function in Flint's Older Adults," which will study the influence of social contact on seniors' health and mobility, ultimately working to prevent falls in cities like Flint.
They hope to lay the groundwork for an intervention that would reduce health disparities among older adults in Flint and other urban settings, perhaps through neighborhood walking initiatives and balance therapy at churches and community centers.
The role of community underscores the work of another cross-campus cube titled "Arab Detroit 2020: Rights, Respect, and Responsibility."
Sally Howell, assistant professor of history at UM-Dearborn and director of the Center for Arab American Studies, and Andrew Shryock, professor and chair of anthropology and an Arthur F. Thurnau professor in LSA, plan to leverage literary forms of expression in their upcoming volume on Arab-American and Chaldean communities in Detroit. To that end, they approached Ghassan Abou-Zeineddine, assistant professor of English at UM-Dearborn, about forming a cube.
"He will identify and coach creative writers, including students, some of whom will develop coming of age essays as Arab Americans in the Metro Detroit area dealing with gender violence, state surveillance, Trump's America, political activism, and refugee experience," Howell said.
"We have never before worked with a co-editor who is a professional writer and literary scholar," said Shryock. "This is a chance to build a new kind of literary community for Arab-American and Chaldean writers in greater Detroit."
Other cross-campus cubes address a rich breadth of topics.
An alliance of UM-Dearborn and UM-Flint professors will investigate iron transport across the blood-brain barrier to inform therapies to prevent iron overload in the brain. Another Dearborn-Flint team is testing intelligent electric power-train system management through a vehicle-simulation model. And a Flint-Ann Arbor cube will offer combined lectures and performances on the Afrobeat music of Nigeria's Fela Kuti.
"The Flint campus is very proud of the results of our first whirl with an Mcubed cube distribution," said Susan Alcock, interim provost at UM-Flint. "The successful proposals happily showcase our range of faculty talent and interests, across the humanities and science spectra. They also open up new windows for collaboration with colleagues in Dearborn and Ann Arbor. We look forward to future cubings."
The next deadline for faculty to request a cube is Feb 6. Faculty from the Ann Arbor, Dearborn and Flint campuses can visit the Mcubed website (mcubed.umich.edu) to post project ideas, reach out to potential collaborators and form multi-unit teams of three. The project creator can then ask for a cube, which triggers a request for seed funding.
With more than 7,000 faculty members across the three campuses in the Mcubed system and 161 cubes distributed so far, the program is poised to reach record-setting levels of faculty participation in its third cycle, called Mcubed 3.0. More than 240 project ideas have been posted since last fall, with more emerging each day.
"This robust participation shows that Mcubed has struck a chord that keeps resonating with U-M faculty," said Mark Burns, executive director of Mcubed and Research Innovation. Burns is also the T. C. Chang Professor of Engineering, and professor of chemical engineering and biomedical engineering.
"In our next cube distribution, maybe we'll see a single cube spanning all three of the U-M campuses."
Through the program's prior two cycles, a six-year, $27 million investment from U-M and its faculty members has yielded nearly $130 million in external funding, more than 320 publications, roughly 50 artistic and scholarly products and 20 invention disclosure reports or patents. Mcubed has more than tripled its investment since it launched in 2012.
"Mcubed has truly transformed the way in which our campus community approaches research, and this unique funding program has led to advancements in a variety of areas ranging from brain function to economics and community engagement," said S. Jack Hu, U-M vice president for research.
"And now with the addition of the UM-Flint campus, researchers from all three campuses can work together as part of Mcubed to tackle important challenges and opportunities that impact our society."
Contact University Communications & Marketing with comments, questions, or story ideas.