Campus News Digest | January 28-February 10, 2019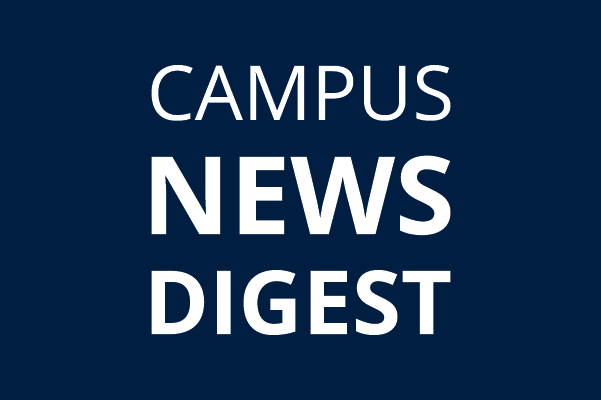 The Campus News Digest (CND) features announcements, news, and event updates relevant to the UM-Flint campus. The CND is distributed every two weeks in the UM-Flint NOW newsletter coordinated by University Communications & Marketing (UCOM).
Graduate Programs to hold Winter Open House
The Office of Graduate Programs will hold two Winter Open Houses on Thursday, Feb. 7, and Wednesday, Feb. 13. If you have interest in graduate education, stop by anytime between 5-7 p.m. to learn more about the admissions process, have your application fee waived, and enter to win a $2,000 graduate scholarship. For more information, contact (810) 762-3171 or graduate@umflint.edu.
Student Government to host final SGA election information session
UM-Flint's Student Government will hold its final information session for the upcoming SGA elections today, January 28, at 1:45 p.m. in French Hall 350. Any student interested in running for a position in the election process is required to attend at least one session.
SOM's Hagerman Center offers entrepreneurship scholarships
The Hagerman Center for Entrepreneurship and Innovation in the School of Management has several scholarships available to students who are passionate about entrepreneurship. The $12,000 and $3,000 awards are open to any students taking entrepreneurship courses. For more information, email Dr. Mark Simon at marksimo@umflint.edu. Applications must be submitted by Feb. 15.
Center for Gender and Sexuality Film Documentary Series premiers Jan. 29
Due to the campus closure on Jan. 22, the Center for Gender and Sexuality has rescheduled the first showing of the CGS Documentary Film Series, Feminists: What were they Thinking, for Tuesday, Jan. 29 at 5:30 p.m. in the KIVA.
FACULTY NEWS: Moyo receives Carnegie African Diaspora Fellowship
Dr. Otrude Moyo, department chair and associate professor in SEHS' Department of Social Work, recently received a Carnegie African Diaspora Fellowship from the Institute of International Education for her project Internationalizing the Social Work Curriculum: Breathing Life into New Possibilities, Integrating Local-Global Thinking about Social Problems to Rebuild Healthy and Vibrant Communities. Moyo will collaborate with the University of Fort Hare in South Africa on the project.

DPS offers free basic personal defense classes
The UM-Flint Department of Public Safety (DPS) will hold free classes teaching the Rape Aggression Defense (RAD) Basic Personal Defense System on Feb. 4, 11, 18, and 25 from 6:30-9:30 p.m. in the WSW Building's Tuscola Room. Contact (810) 762-3330 or visit the Hubbard Building to sign up for the self-defense course.
Factory Two hosts open house for UM-Flint students
On Wednesday, Jan. 30 from 5-7 p.m., Factory Two will host an open house and tour of their facilities for students to come and learn about the facility's offerings. Woodworking, screen printing, 3D printing, computer design, forging, and vinyl cutting are just some of the projects UM-Flint students can now do for free at Factory Two. Free 48-hour passes to Factory Two are available for check out at the FWT Library Circulation Desk.
For more information, please contact Thomas Henthorn at henthorn@umflint.edu or Factory Two at info@factorytwo.org.
Velasquez joins Student Involvement & Leadership
Student Affairs welcomed Mary Anna Velasquez as the new Administrative Assistant Senior for Student Involvement & Leadership (SIL). The Senior Administrative Assistant is a front-line position central to enhancing student engagement at UM-Flint that provides service to students and student organizations and assists with major programming initiatives. Welcome to UM-Flint!
Center for Gender and Sexuality Open House on Jan. 29
The Center for Gender and Sexuality will celebrate the merging of the Women's Educational Center and the Ellen Bommarito LGBTQ Center with an open house on Jan. 29. Stop by during one of three time periods-breakfast from 10-11:30 a.m., lunch from 12-2 p.m., or a reception starting at 4 p.m.-to learn about the center's mission, programs, resources, and services.
Writing Center updates campus on director, services
The English department's Dave Larsen will serve as interim director of the Writing Center for winter 2019 while Jacob Blumner is on sabbatical. Faculty interested in learning more about Writing Center services can watch a short overview video or contact Vicky Dawson at (810) 766-6603.
UM-Flint Ice Rink named one of Michigan's best
The UM-Flint Ice Rink was named one of the ten best ice rinks in Michigan by the staff at Pure Michigan.

Contact University Communications & Marketing with comments, questions, or story ideas.