New Disabilities Services Coordinator "Chips" in to help students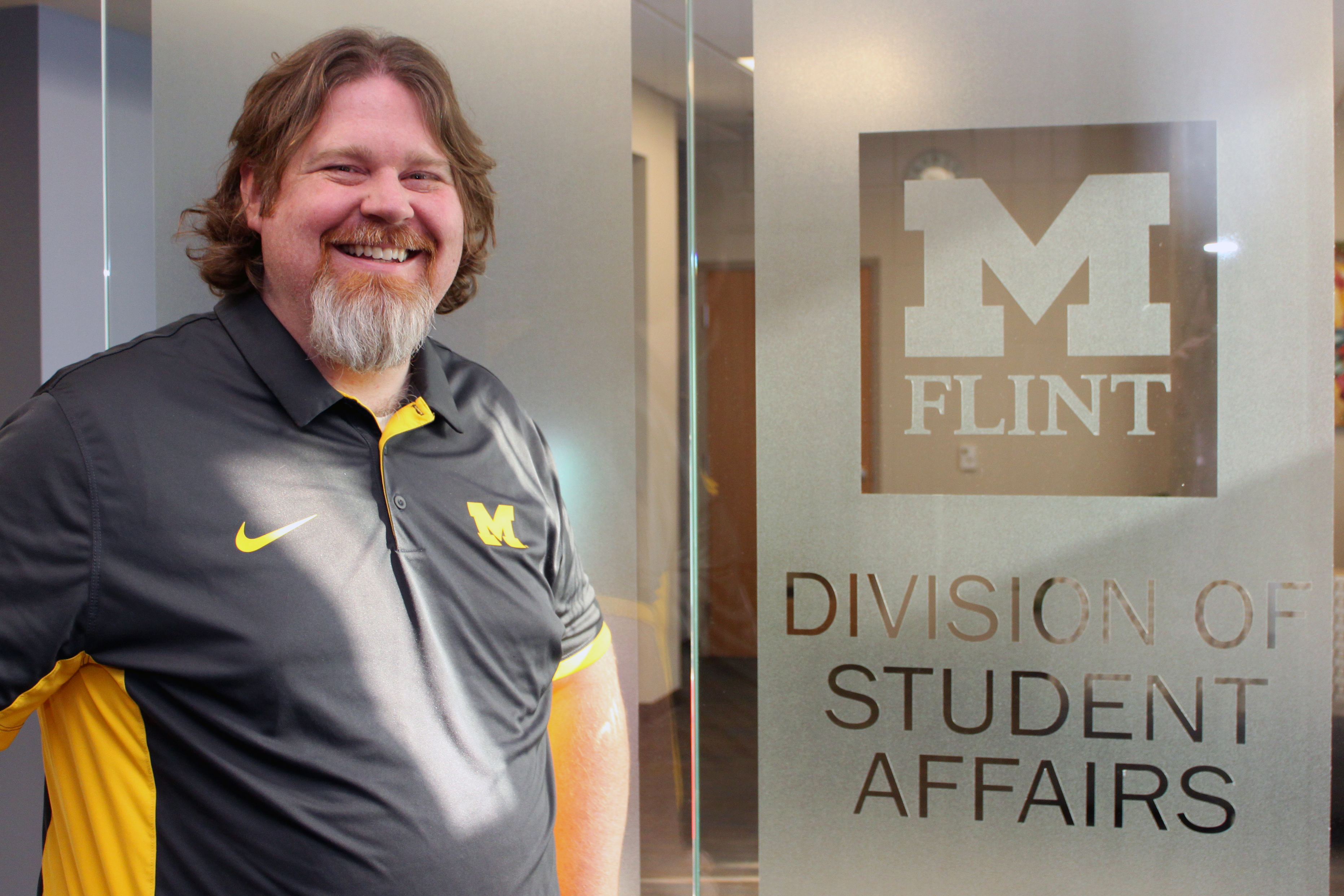 Armed with over a decade of experience in disability and accessibility support services, a contagious smile, and a fierce desire to help students, Chip Evans has hit the ground running.
As the new Disability Services Coordinator at the University of Michigan-Flint, Harvey "Chip" Evans oversees services that ensure equal opportunity to students with disabilities and helps to promote a welcoming campus environment for any student requiring accommodations.
"Every student, every situation is unique," said Evans of his role on campus. "My priority is to empower our students to self-advocate—to provide them the tools, knowledge, and accommodations to help them succeed and thrive as learners at UM-Flint."
Empowering students is nothing new to Evans, whose career in higher education began at Baker College in 2005.
"Most folks in disability services seem to migrate from counseling," he said. "I took a different track—from technology and learning support services, to teaching, to here."
In addition to serving as Disability Services Coordinator at Baker College for several years, Evans also served on the board of the Michigan Association on Higher Education and Disability (MI-AHEAD), including a two-year term as president.
"My time with MI-AHEAD has given me access to a great network of professionals committed to this work," Evans said. "I've learned so much from this group, and it's these best practices and strategies that will continue to serve as the model we use here at UM-Flint."
The Disability and Accessibility Support Services office at UM-Flint helps support students with "invisible" disabilities—learning disabilities such as dyslexia or dysgraphia—as well as those with mobility impairments, blindness or deafness, and mental or chronic health conditions.
"There are a lot of students who may qualify and benefit from the services offered here at UM-Flint," said Evans. "It's one of my long-term goals to do what I can to break down the stigma surrounding disability support, so that any student can feel comfortable coming forward for help."
That help can come in a variety of forms, from campus transportation to a test-taking center. It's technology, though, that has Evans most excited.
"The technology that we utilize now, such as our Read & Write literacy software, is so helpful to students," Evans said. "We're constantly looking to bring in new technologies that will help our students—not just students with learning disabilities, but all students."
Contact University Communications & Marketing with comments, questions, or story ideas.