UM-Flint's 41st Critical Issues Forum highlights 'ideas in action'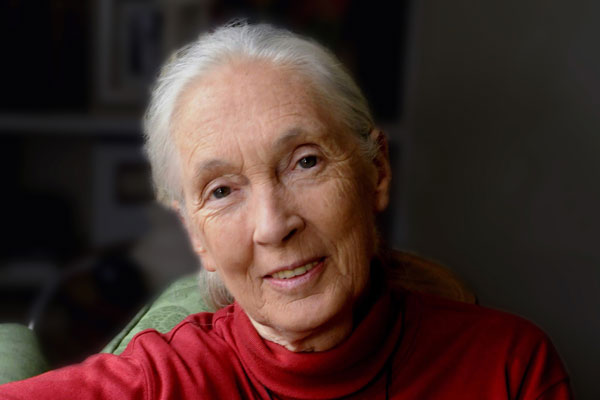 An internationally renowned conservationist, a mythbusting TV personality and author, a pioneering author and educator, and a purpose-driven social entrepreneur will all be featured presenters at UM-Flint this year as part of the university's Frances Willson Thompson Critical Issues Forum.
"The Power of Ideas in Action" is the theme for the 2018-2019 Critical Issues Forum and reflects the sometimes both simple and complex feat of taking an idea or concept and making it become a transformative reality.
"Our Critical Issues Forum is an annual tradition that brings our community together to be inspired by some of the world's greatest thinkers and doers," said Susan E. Borrego, chancellor of the university. "This year is no exception, delivering an array of amazing individuals who have put ideas into action to make a significant impact in our world today."
The 2018-19 Critical Issues Forum is set to begin on Tuesday, October 2, with ethologist and conservationist Dr. Jane Goodall who will draw from her more than 50 years of groundbreaking work in conservation to discuss how we all can take action to conserve and protect all living things, including the planet that we share.
Other speakers in this year's Critical Issues Forum lineup include:
Kari Byron, November 29, 2018
Kari Byron takes the stereotypes and preconceived ideas about being a woman on television and in science and—quite literally—blows them up. She is proof that you don't need to wear a lab coat—or be a guy—to geek out on science. Her book, Crash Test Girl, reminds us that science is for everyone, as long as you're willing to strap in, put on your safety goggles, hit a few walls, and learn from the results.
Daniel Lerner, March 20, 2019
When do happiness and success coexist? Daniel Lerner says that depends on how you define success. Instructor of the "The Science of Happiness," the largest and most popular course at New York University, and author of U Thrive: How to Succeed in College (and Life), Daniel Lerner integrates the fields of positive and performance psychology to determine how people can achieve greatness through balance, rediscover our core strengths, and find meaning in our work.
Shabnam Mogharabi, April 10, 2019
Shabnam Mogharabi is the CEO of SoulPancake, an entertainment company she co-founded with actor Rainn Wilson that creates positive, socially conscious videos about human connection. As CEO, she is responsible for steering the company's vision, safeguarding its mission, and supercharging its growth past its current community of 10 million fans online and nearly 1 billion video views. She also advises SoulPancake's parent company, Participant Media, and its board on strategic issues, acquisition opportunities, and the company's social impact goals.
New this year
This year the Forum starts with the luncheon presentation beginning at 11:45 a.m. and the program taking place from noon to 1:15 p.m. in the Northbank Center Ballroom on the University of Michigan-Flint campus. Tickets for the lunch program are required, and can be purchased as a 4-ticket series at umflint.edu/cif. Single tickets can be purchased two weeks prior to each event if they are available.
Following each Forum luncheon, the university will host the Sullenger Dialogues from 1:45-2:30 p.m. on campus. With the exception of Dr. Goodall's visit on Oct. 2, all Sullenger Dialogues will take place in the Northbank Center's Park Place Room. Free and open to the public, the Sullenger Dialogues bring the campus and community together for a more in-depth and intimate conversation with the featured guest.
This year is the 41st edition of UM-Flint's Critical Issues Forum. For over four decades this forum has delivered daring, thoughtful, and remarkable speakers thanks to a generous gift to the university by Mrs. Frances Willson Thompson and the Thompson family.
Contact University Communications & Marketing with comments, questions, or story ideas.