New food service provider starts at UM-Flint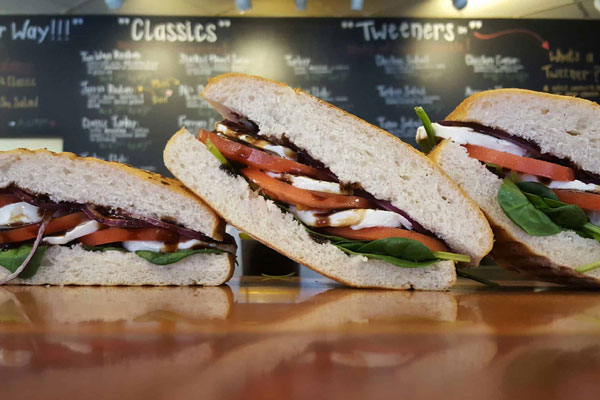 A new food service operator has started at UM-Flint. Picasso Restaurant Group will also be the campus' caterer.
The Michigan-based company also has a presence on the Dearborn and Ann Arbor campuses.
"After a rigorous review process that included input from students, staff, and faculty, the Picasso Group was selected based on their commitment to quality food, being a Michigan-based company, excellence in customer service, experience on the Ann Arbor and Dearborn campuses, and ability to overall meet the needs of the campus and community," said Mike Hague, VC for Business and Finance at UM-Flint.
Picasso will operate Café Blue in the Harding Mott University Center lobby and the Blue Bistro in the William S. White Building. These are spots that have been expanded and renovated from what was previously offered. Both locations will have a variety of sandwiches, fruit cups, beverages, and snacks. The Blue Bistro will also serve soup.
Throughout the fall semester, there will be several changes to the third floor food services area in the University Center, Hague said.
"The Riverfront Dining Room will be brought back into use, and the space will be open," he said. "Food stations serving a variety of options from deli sandwiches to pizza to Asian stir fry meals will be available. The grill will also be updated, and serve up burgers and fries and other options. In addition, the carpeted platforms in the space have been removed and new furnishings selected by students will be added. There will also be new flooring, lighting, and other improvements to make the space feel fresh and inviting."
Hague said the new operations offer a bevy of healthy eating options.
"Picasso has a solid understanding of MHealthy guidelines, and is the food services provider for Michigan Medicine's Frankel Cardiovascular Center which has a very strict enforcement of healthy food guidelines. There will be a wide option of healthy catering choices available, as well as healthy options available at all locations on campus," Hague said. "In addition, the new Blue Bistro by Picasso will have a focus on healthy food options based on student surveys that were conducted by the College of Health Sciences two years ago."
Contact University Communications & Marketing with comments, questions, or story ideas.