New Student Government president discusses priorities for year ahead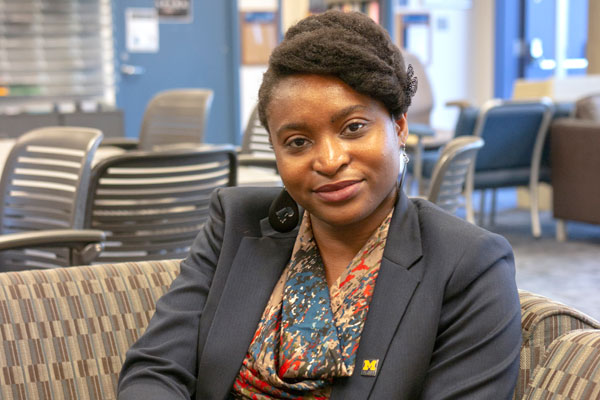 It didn't take long for Eucharia Ganda to be drawn to UM-Flint. It started with her initial campus visit in 2015.
"I was impressed by the student ambassador's energy and passion in showing me the campus. When I applied I was offered various scholarships which made my decision really easy to make."
Since joining the university, Ganda has been heavily involved, including as a resident advisor, vice chair of the Senate for Student Government, and president of the African Student Association. She is working towards her bachelor's degree in computer information systems.
"I really enjoy studying here, and living a campus life fully. When staff ask me 'Do you ever go home'?, my answer is "No, I am home.' This campus truly feels like home."
And now, Ganda has another key role in helping other students connect to the university. She is the new Student Government president.
"Students should know that Student Government is here to advocate for students, and promote better welfare for students," she said.
Student Government has an array of priorities this year, Ganda said, including but not limited to campus life and pride, student inclusivity, community outreach, and political and social education.
Beyond the set goals, Ganda said students should know that Student Government is designed to be receptive to ongoing needs and questions of the student community.
"We are here for the students. We need to listen to their issues and work on possible solutions," she said.
Ganda also encouraged her peers to consider joining Student Government.
"Student Government is a leadership position that allows you to participate in policy making, institutional planning, and implementation of college programs. I strongly believe that taking such a leadership role helps you develop skills and traits such as assertiveness, trustworthiness, communication, public speaking, and authenticity that are marketable in one's future career."
And for those students looking to get involved on campus in any way, Ganda has a message.
"Don't be scared! Get out of the dorm, join clubs, organizations, fraternities, and come out of your comfort zone. You don't know if it's fun or not until you try it."
Contact University Communications & Marketing with comments, questions, or story ideas.