New UM-Flint alumni support future of Alternative Summer Break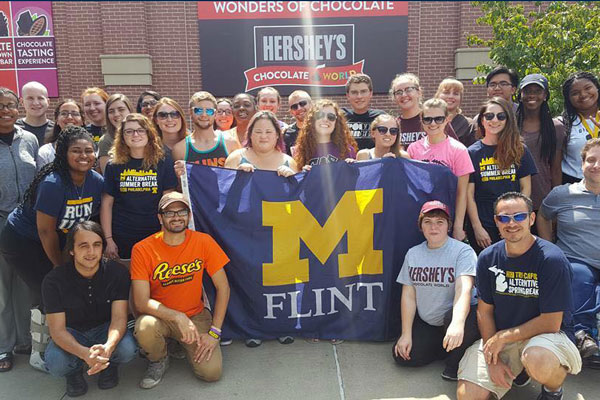 A commitment to serving others is a distinct characteristic of the UM-Flint student experience. Thanks to University Outreach, that commitment has extended beyond graduation for some recent alumni. A group of young alumni has found a way to continue engaging with the university and support the next generation of students by volunteering with the Alternative Summer Break (ASuB) program.
ASuB provides students and alumni the opportunity to travel outside of Michigan and volunteer with nonprofit organizations that address social issues. This year, the group will be traveling to Baltimore from August 19 to 25.
"We offer a variety of alternative breaks that aim to provide deeper learning opportunities for students, faculty, and alumni through community engagement," said Gary Ashley, program manager. "The majority of our alternative break efforts are held in the Flint community. Alternative Summer Break is unique in that it gives students an opportunity to serve outside the state of Michigan. Another cool thing about the program is that our students will learn things from the communities they visit and bring those ideas back to Flint and attempt to adapt them to our local challenges."
Ashley McCloud '17 participated in the program as a student and is now helping to make the experience possible for current students. McCloud serves on the ASuB board as one of the marketing and fundraising directors.
"It's almost impossible to explain how wonderful it is to go into another community and make a difference and see how grateful members of the community are. The community really appreciates the participants taking a week of their summer to help impact lives in a positive manner. ASuB has a special place in my heart, and I love being able to make the experience possible for the students. I plan to support the program for years to come," said McCloud.
In addition to the learning and service that takes place on the excursion, the trip also provides students and alumni an opportunity to make lifelong friendships. Hannah Lee '17 currently serves as an executive board director for planning Alternative Summer Break. This will be her second year serving on the board and traveling with the group.
"I have found a family in University Outreach, and I believe it's important to stay involved, especially within a community that has a need for it. ASuB had a wonderful impact on me, and I hope that my volunteering on the board will make it possible for more students to participate in this life-changing experience," said Lee.
Contact University Communications & Marketing with comments, questions, or story ideas.