UM-Flint Communication Studies helps alumni twins find their voice in ministry
If you spent any time on the University of Michigan-Flint campus in the past few years, there's a good chance that you ran across the Willingham twins, Brittany ('16) and Brandon ('18), both of whom were active student leaders on campus.
Like most twins, the two have a lot in common. Both were born and raised in Flint, attended the Genesee Early College, earned full-ride scholarships to UM-Flint, and graduated with a Michigan degree from UM-Flint's Department of Communication Studies.
Brittany's degree focused on media studies, while Brandon's had an emphasis on speech communication.
And now, the pair are sharing something else in common: a career in the ministry. Each of them, however, is following a slightly different path.
Brittany's mission focuses on building strong women between the ages of 25 and 35. She ministers in many different places at many different times, such as when she's volunteering at the Flint South End Soup Kitchen.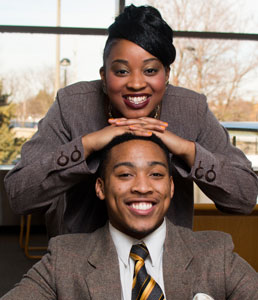 "I actively practice my ministry where God leads me," Brittany said. "He calls me to go where the people are, which is usually outside of the church."
While she sees her ministry eventually taking her around the world, right now she's staying close to home in Flint.
"Flint is the headquarters," she said. "It all starts at home."
Her brother, Brandon, is taking a slightly more traditional path with plans to be a pastor.
"I want to be a pastor of a church that's dedicated to serving the community, especially the youth in the community," said Brandon. "When I'm speaking, I get this inner feeling of greatness and value. I feel like each member of the audience has a cup in their hand, extended towards me."
"It's my job to fill each of their cups with what they need from me," he continued.
Brandon's calling to the work started with a job at the Flint Boys and Girls Club, where he served as a mentor and helped facilitate sports and after-school programming.
"The kids naturally liked me," he said. "I feel like I have the energy young people are drawn to when looking for a mentor. When God called me to ministry, I was already falling in love with working with kids. It went hand in hand."
Though following different paths in their spiritual journeys, the bond between the two remains as strong as ever.
"I feel like I protect Brandon," said Brittany. "We definitely keep each other in line."
"We're best friends," stated Brandon. "We're like the Yin and Yang, the perfect balance. If we were both the same, then we would never learn from each other."
Both provide wisdom and encouragement to each other. And both credit UM-Flint with providing them the skills and experience to pursue their calling.
"UM-Flint chose me," said Brittany. "It really was a blessing. I started in the GEC program, which led me to a full-ride scholarship and, from there, to my passion."
That passion led both Brandon and Brittany to choose Communication Studies as their major area of study.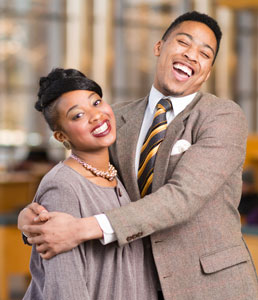 "I'm thankful for the Communications Department; they treated me like family," said Brandon. "That department is full of people who really understand me."
Those people include Dan Lair, PhD, assistant professor at UM-Flint, whom the Willingham's credit as their public speaking teacher and a major influence in their career.
"I already knew I had the talent for speaking," said Brandon. "Dr. Lair helped me to stay grounded and better myself. He would tell me to put my all into my work and always had points on how I could improve."
Brandon is thankful for the direction Lair provided him. "His class taught me that you can't rely solely on talent. You have to know the information you're speaking about. He helped me form a realistic expectation on what I want to do with my career."
"I love that he always found an angle on where I could improve. He taught me to respect the speaker and to be a good listener," Brittany added. "There were times where we had to do impromptu speeches and I never knew when he was going to call on me. He taught me to always be prepared."
Today, she uses those skills in her work in the ministry, remarking, "I never know when God is going to call me to minister. It could be at any time, in any place."
Currently, the Willinghams are continuing their education in ministry.
Brittany is attending Grace Bible College online and will graduate in September 2018 with a Masters of Art in Ministry.
Brandon will complete an internship at The Don Lee Retreat Center in North Carolina this summer where he will serve as a Youth Group Director. Beginning in the fall of 2018, Brandon will be attending Duke Divinity School, studying for his Masters in Divinity.
But, regardless of where their lives take them, they'll always be appreciative for UM-Flint and the community they found on campus.
"I love UM-Flint because of the diversity. It's a family environment where everybody has a voice," reflects Brittany. "My parents have a lot to be proud of. They're always wearing U of M gear!"
Brandon, too, is thankful to the university for recognizing his talent and making him feel appreciated. "UM-Flint trusted and believed in me. They saw something I had to offer. I feel like they really value me."
Contact University Communications & Marketing with comments, questions, or story ideas.