UM-Flint/United Way's "Urban Safety Corps" begins summer patrol, seeks volunteers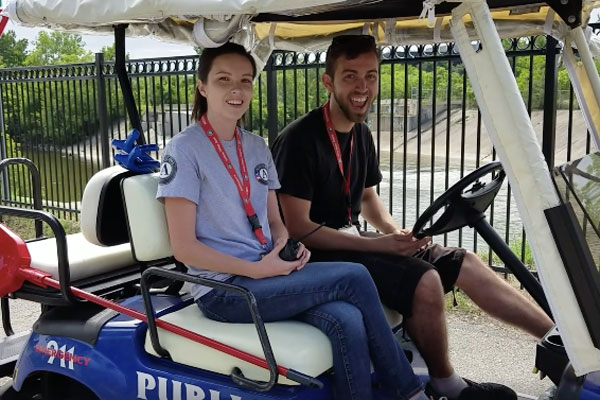 After two years of successful programming, the Flint Urban Safety Corps have announced that it is continuing its River Trail Watchers patrol for the spring and summer of 2018. This unique partnership between the United Way and the University of Michigan-Flint aims to eliminate blight and reduce crime along the University Avenue corridor. Patrols take place daily between 11 a.m. and 1 p.m. along the Genesee Valley Trail.
"The River Watchers is about more than just about safety," said Chief Ray Hall, director of UM-Flint's Department of Public Safety. "It's about blight elimination; it's about encouraging people coming out to use this jewel of a river that runs through our city, our community. This is an example of the transformational power of partnership."
Since piloting the program in 2016, the Urban Safety Corps has helped to reduce blight and assist with activities that help reduce crime, while increasing community involvement. Boarding up housing, cleaning up the community, block parties, and community patrol groups have all been a part of this collaborative program.
Powered in part by generous volunteers, Urban Safety Corps leaders also encouraged new community members to join their efforts for this upcoming patrol season by becoming a new volunteer.
"We have a great group of AmeriCorps members and community volunteers who are dedicated to decreasing crime and blight, while increasing community connectedness," said Joy Alston, Urban Safety Corps program director.
"We encourage others to volunteer and become a part of the tremendous momentum we've helped create. There are so many good things happening in this area and our efforts go a long way in complimenting revitalization efforts by UM-Flint and many other of our downtown Flint neighbors," Alston added.
Those interested in volunteering as part of this year's Flint Urban Safety Corps can find more information and register by searching "Flint Urban Safety Corps" at geneseeserves.org.
Contact University Communications & Marketing with comments, questions, or story ideas.