UM-Flint students will spend Alternative Spring Break helping local community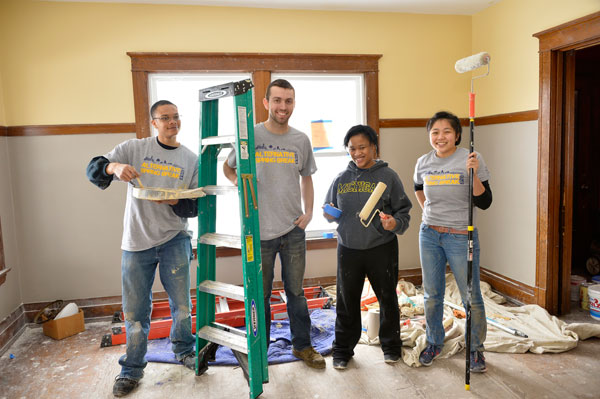 University of Michigan-Flint students participating in this year's Alternative Spring Break will work with seven community groups in the Flint area.
The civic engagement program will run from February 26 through March 1. About 40 students have signed up for Alternative Spring Break. Deadline to register is February 20.
"Alternative Spring Break has been held in Flint since 2008," said Gary Ashley, a program manager with University Outreach, which runs the program. "The university is located in the heart of Flint and it's our responsibility to work alongside our community partners, and improve the quality of life for everyone that lives, works, and goes to school here."
The program enables students to learn about cultural, social and environmental issues, hunger, violence and homelessness, and to commit their time and talents to social change.
Alternative Spring Break allows students to sign up for either Impact Days or a STAY-cation. Impact Days let students sign up for specific days in which to volunteer. STAY-cation is a commitment for the entire week, with students spending nights at Carriage Town Ministries in a transition home.
This year, the university will be working at the following sites: Carriage Town Ministries, McFarlan Villages, My Brother's Keeper, Flint Urban Safety Corps, Doyle-Ryder Elementary School, Greater Holy Temple, and the Boys and Girls Club of Flint.
Students will also attend discussions at Big Brothers Big Sisters, Weiss Advocacy Center, and Whaley's Children Center.
"The point behind these education sessions is to give students a better understanding of the Flint community as a whole," Ashley said. "They will participate with one of our partners, attend an education session that is at a different location from where they are volunteering, and reflect together as a large group."
University Outreach hosts a series of other civic engagement options for students including Service Saturdays, MiBreaks, and Alternative Summer Break. The summer breaks are held outside of Michigan.
Ashleigh Gray, a senior in research psychology, participated in the Philadelphia trip last year for Alternative Summer Break. The experience left a lasting impression on her, and she is now on the Alternative Spring Break board. She will be participating in this month's Alternative Spring Break.
"It's nice to see what you can do to impact people's lives, and how little it really takes to make a difference. It stays with you," Gray said.
Contact University Communications & Marketing with comments, questions, or story ideas.