UM-Flint Students v. Alumni Basketball Game builds community, competition, camaraderie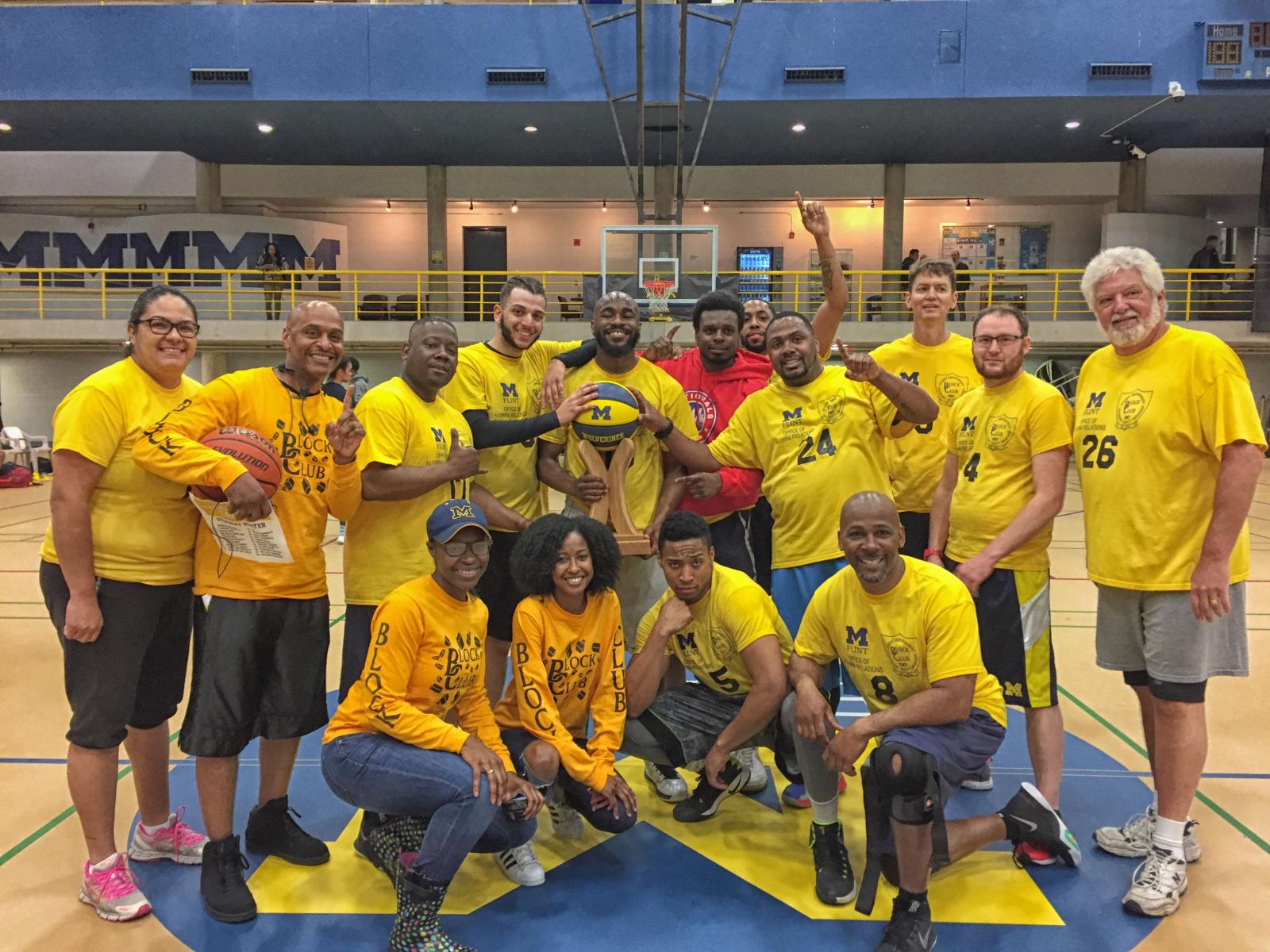 On March 29, students, alumni, and members of the community will gather to participate in the festivities surrounding the University of Michigan-Flint's third annual Students vs. Alumni Basketball Game.
Co-sponsored by UM-Flint's First Street Block Club and Alumni Relations, this event is one of the unique opportunities on campus where students, alumni, family, friends, and community all come together in one place. The competition in the first two years has proved fierce; but more than bragging rights, the Students vs. Alumni Basketball Game brings the UM-Flint community together for an engaging and welcoming evening of fun.
Community
"First and foremost, we want this event to be fun and meaningful to our students, alumni, and spectators," says Brent Nickola, Alumni Relations Manager. "It's a great chance to show future alumni something to look forward to once they graduate. The students and alumni love to meet each other, and the game is pretty darn entertaining, too."
Over 100 fans attended in 2017, nearly double the size from the first year. The event includes entertainment beyond the game and has seen everything from a DJ, to t-shirt tosses, giveaways, and even a performance from "the Drubbler," Riley McLincha ('99). Participants and spectators can expect more of the same, including the popular blindfolded free throw and half-court shot contests, with the winners earning Michigan football tickets.
The crowds have also been treated to a high-pace spectacle of hard, honest competition. Surely, winning isn't everything, but don't underestimate what winning has meant to the UM-Flint Alumni team.
Competition
It was the UM-Flint students who were the victors in the inaugural Students vs. Alumni Basketball Game in 2016. The speed, skill, and stamina of the student team allowed them to turn a slim, two-point lead at halftime into a 10-point win, 78-68. As the students held the "March Madness" trophy aloft, the alumni stood watching, and thinking ahead to next year.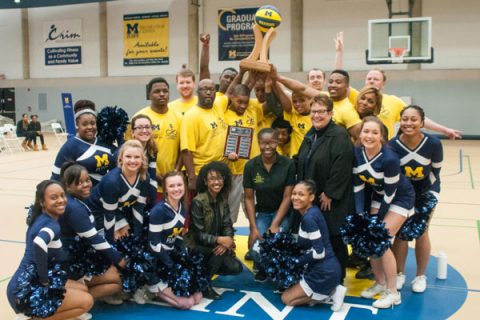 "I can remember the look on their faces," recalls Mary Jo Sekelsky, interim Vice-Chancellor for University Advancement, reflecting on the inaugural event. "I just knew that the alumni would come back with a vengeance the next time around."
Leading up to the second game in March of last year, the alumni team focused on achieving a different outcome this time around. They aimed to win.
With athleticism shining through on both ends, teams traded baskets at a rapid pace. There were cross over dribbles, no look passes, and three-pointers falling from all corners of the court. Before one could even blink, the score was tied at 23 points apiece after the first quarter. It was a notable change in pace from the inaugural event.
Nickola, who helped to create the event, commented, "It was clear from the start that the alumni team had made it a point to compete harder in year two. With the first year, no one knew what to expect. Would it be a loose, fun, kind of a friendly exhibition? The students didn't see it that way, and I don't think the alumni were prepared as well as they would have liked. That all changed the second time around, the alumni weren't going to let the students out hustle them."
Though they may not have had the youth advantage, strategic player substitutions and backcourt pressure from the alumni kept the students from utilizing their advantage of speed. With only a quarter remaining, the alumni had built an insurmountable 76-56 advantage, and coasted to an 88-71 win.
Alumni participant Sagi Steele ('08) was quick to seek out the trophy and hoist it over his head. The rest of his teammates gathered at midcourt and celebrated the culmination of a journey that began after that final buzzer a year prior. The alumni had won the rematch, setting the stage for the highly anticipated "rubber match" this year.
Camaraderie
Regardless of the outcome on the scoreboard, the game has provided a wonderful experience for those who have participated. The chance to be a part of a team is an added bonus that, often times, is harder to come by once a student graduates.
"Many students are fond of their time spent participating in clubs and intramural sports, and from the alumni perspective, this helps them be able to relive those days again," says Nickola. "It's a big draw for our alumni, and the roster fills up quickly."
It is such a draw in fact, that participants have come from far and wide for the chance to experience in the fun. For some alumni, playing in the game was their first time setting foot on campus since graduation. Dr. Gregg Pane ('77), came all the way from our nation's capital last year to join the alumni in their quest for victory.
Other participants like alumna Celia Dell ('13), have a front row seat to daily happenings at UM-Flint.
"Overall I had a great experience," says Dell, staff member in UM-Flint's Office of the Registrar. "Basketball is one of my favorite sports to play and watch. I signed up to have fun, and I thought it would be great to be part of a team and play again. I liked that everyone had a chance to participate on the court, and even though everyone didn't know each other personally, there was a sense of camaraderie."
"Running up and down the court," added Dell, "was not as easy as I remember!"
With two years of success, year three promises an all-around fun experience with competition, community, and camaraderie.
May the best team win, but most of all, may all have a good time.
Contact University Communications & Marketing with comments, questions, or story ideas.