UM-Flint launches new Global Outreach Ambassador program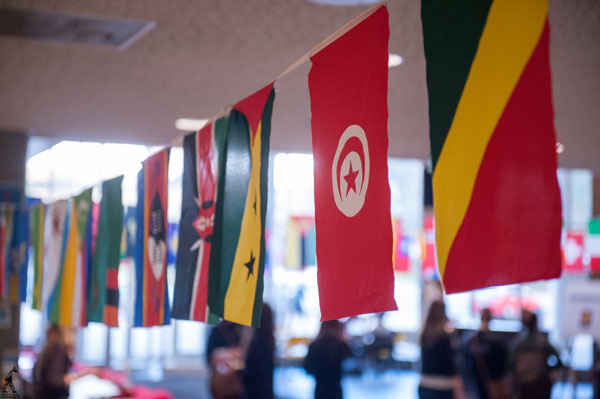 The UM-Flint International Center has launched a new program to further support faculty, staff, and students who promote the university internationally.
The Global Outreach Ambassador program provides training and materials about UM-Flint for those interested in speaking about the university while traveling.
"Global Outreach Ambassadors will be supported and assisted from pre-departure to after they return from overseas," said Kathrine Colpaert, the Global Outreach Coordinator for the International Center, who is also running the ambassadors program. "We will provide onboarding, training, and promotional materials so the ambassadors have additional information and resources when they speak with prospective international students, education officials, and others about UM-Flint during their travels."
Ambassadors can receive a stipend for their time and efforts, and can do the outreach during work travels or on personal trips to other countries. The new program is evolving, Colpaert said, and ambassadors can also contribute through other recruitment events, by being a point-of-contact for students from specific countries, and other ways.
Julie Coe, Interim Assistant Director of the International Center, said this program will leverage the talents and connections that already exist at the university.
"We are strategically involving our international connections on campus to promote the University of Michigan-Flint, so our presence is further known," said Coe. "And we will ultimately build more connections that will lead to further diversity of the international student population on campus."
Meeting faculty, staff, or students from the university in person can give prospective students their first look at the "close-knit campus and community," Colpaert said. These relationships can develop into a source of comfort for them and their families, as they consider studying in another country.
And the program can give ambassadors more confidence in speaking about the university abroad, including at schools, fairs, and other events. University members representing about 30 different countries have already signed up to become ambassadors, Colpaert said.
Amal Alhosban, an assistant professor of computer science, attended a conference in Jordan last year, and decided to present about UM-Flint at a recruiting event nearby. Her talks drew large crowds, with 23 prospective students applying to the university, and 600 overall showing interest. The International Center provided her with presentations on student life, the city of Flint, and more.  She said the new program is another great step in helping those interested in presenting internationally.
Kristi Hottenstein, Vice Chancellor for Enrollment Management, said the program is a promising recruiting tool.
"Our faculty, staff, and students, already traveling overseas, can be one of our largest assets for work recruiting. I look forward to seeing this program move forward and grow," Hottenstein said.
Contact University Communications & Marketing with comments, questions, or story ideas.