Ferris Wheel Building ribbon cutting marks new opportunities for UM-Flint, region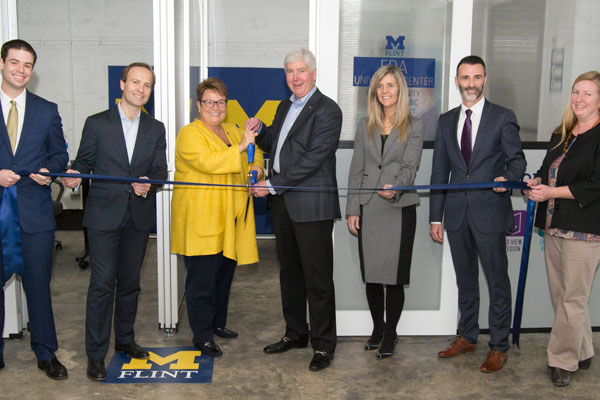 The November 6 ribbon-cutting ceremony at the Ferris Wheel Building in downtown Flint, the onetime home of Ferris Furs, heralds the launch of several related startups and economic development initiatives.
The Ferris Wheel is a project of SkyPoint Ventures, the venture capital firm spearheaded by Phil and Jocelyn Hagerman. In 2015, the Hagermans established the Hagerman Center for Entrepreneurship and Innovation within UM-Flint's School of Management.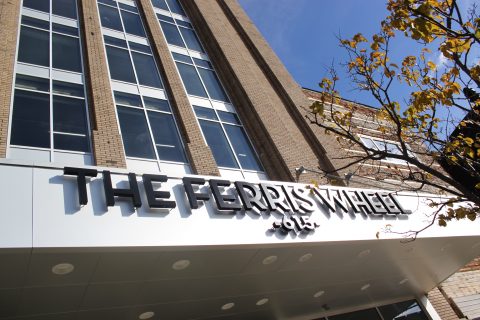 The Ferris Wheel aims to further the growth of innovation and entrepreneurism in the region, serving as hub and nerve center for the development and implementation of new ideas. The Ferris Wheel will offer workspace memberships to companies and individuals looking for a more vibrant, interactive, and ultimately more supportive environment than most traditional office spaces.
The University of Michigan-Flint has been involved in the Ferris Wheel project from the beginning, financing the feasibility study for the original concept and helping to bring together various stakeholders. As part of the ribbon-cutting ceremony, UM-Flint's Innovation Incubator [IN] and EDA University Center for Community and Economic Development opened offices on the second floor of the Ferris Wheel Building, where staff and students will assist entrepreneurs.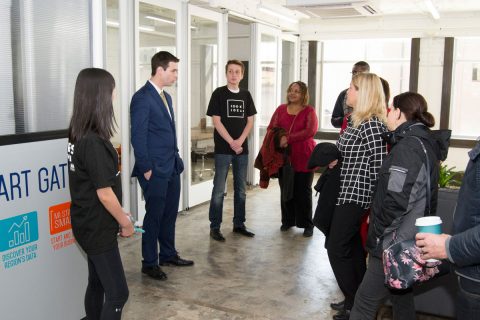 The Innovation Incubator and EDA University Center for Community and Economic Development are coordinated by UM-Flint's Office of University Outreach. Interim director of University Outreach Paula Nas is enthusiastic about the possibilities afforded by their new space in the Ferris Wheel Building and complementary missions of the organizations that makeup its unique, collaborative environment.
Nas said, "This is a great opportunity for UM-Flint students, faculty, and staff, as well as our community partners, to further expand our partnerships in the innovation ecosystem through our on-site business assistance, workshops, special events, and seminars spanning the curriculum."
UM-Flint Chancellor Susan E. Borrego delivered remarks at the ribbon- cutting ceremony that underscored the university's institutional commitment to the goals embodied by the Ferris Wheel project. She said, "We are committed to coordinating, informing, and contributing to economic development efforts that cultivate innovation and advance high-growth entrepreneurship needed to build and sustain a diversified economy throughout the 7-county I-69 Thumb Region."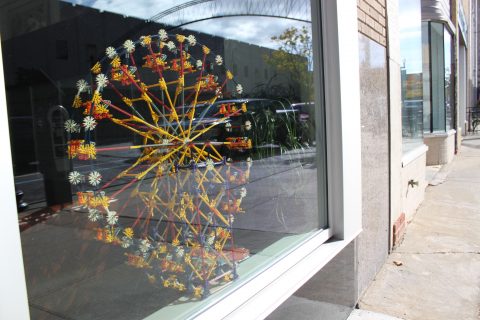 The expansion of two new retail businesses in downtown Flint, FlintPrints and Foster Coffee Company, were also highlighted during the ribbon-cutting ceremonies. Also featured was the launch of 100K IDEAS—described as "a place for all ideas, training the next generation of innovators."
Contact University Communications & Marketing with comments, questions, or story ideas.