UM-Flint honors area teachers and administrators at "Celebrating Educators" event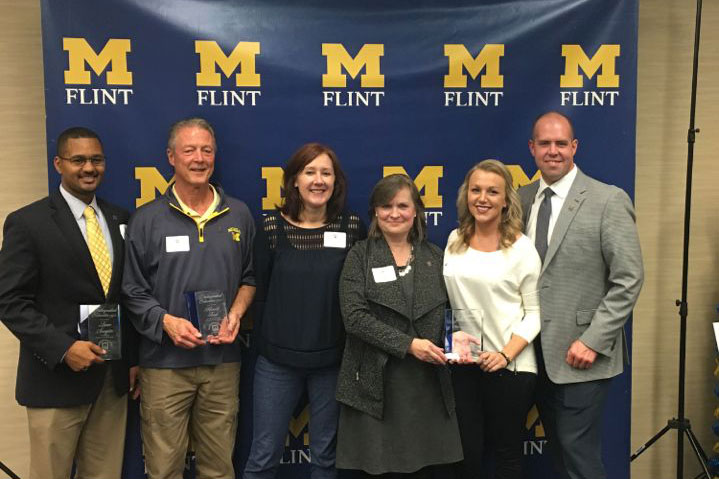 The University of Michigan-Flint held its inaugural "Celebrating Educators, Alumni, and Friends" event October 26, where six local educators were honored for their contributions to the teaching profession and to the communities they serve.
According to Thomas Bell, director of UM-Flint's Center for Educator Preparation, "The University of Michigan-Flint has the responsibility in supporting the greater community, and this includes celebrating the education profession, and the individuals and teams impacting the lives of kids in our local community." 
The six "Distinguished Educators" recognized at the event, most of whom are alumni of UM-Flint education programs, were selected for their success in having "inspired students to love learning." This year's recipients (left to right in photo above) are:
• Lance Sumpter ('01, '05, '12)  – Principal, Dailey Elementary | Beecher Community School District
• Harold Ford ('71, '78) – Retired teacher and administrator | Beecher Community School District
• Natalie Napier ('05) – Young fives teacher, Fenton World of Wonder | Fenton Area Public Schools
• Doris Goetz ('78) – Principal, Brendel Elementary | Grand Blanc Community Schools
• Nikki  Swink – Lead instructor at UM-Flint's Early Childhood Development Center
• Jeremy Mitchell ('06) – Principal, Indian Hill Elementary | Grand Blanc Community Schools
Bell said that in addition to showing education alumni and friends the appreciation they deserve, there is an important message this sort of acknowledgment sends to future educators. 
"The narrative on education, educators, and our schools is not always positive," he said. "We want our current and future education students to know that we will support them throughout their professional careers. "
Bell also shared how this gathering of educators served to remind all of the nearly 100 attendees that "this work is more than a job. It is truly an opportunity to make change in the lives of those you teach and work with each and every day. As we learned from some of our honorees, they get more than they ever give for the work they do."
Contact University Communications & Marketing with comments, questions, or story ideas.