UM-Flint and area partners promote dialogue through literacy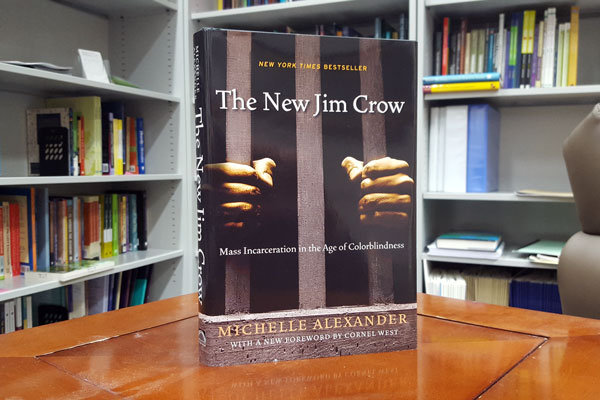 The University of Michigan-Flint is a partner in the second annual community-wide literacy initiative, Community Read. Other partners include the Flint & Genesee Literacy Network, Ruth Mott Foundation, and Sylvester Broome Empowerment Village.
Living up to its "one book, one community" mission, the initiative engages community members in dialogue about important issues, promotes inclusion and understanding of different points of view, and fosters a greater sense of community and connection through the shared experience of reading and discussing the same book. This year's Community Read selection is The New Jim Crow: Mass Incarceration in the Age of Colorblindness by Michelle Alexander.
JaNel Jamerson ('12, '14) is a UM-Flint alumnus, current Education Specialist and Doctor of Education student, and the Flint & Genesee Literacy Network's executive director. He is looking forward to the important conversations that will be catalyzed by this year's selection. Jamerson said, "The Community Read provides a safe place for residents to express differing opinions, to better understand the diverse experiences of others, and to develop new personal relationships that bridge racial and cultural differences within the community."
The planned monthly discussions are broken up by chapter and will take place at locations throughout Flint from October through April.
New this year, and beginning in January, there will be a youth read that complements the themes of the main Community Read book. This year's youth read book is The Hate U Give by Angie Thomas. During each of the Saturday Community Read discussion sessions, children's story time and facilitated activities will also take place.
Todd Womack, a lecturer in Social Work at UM-Flint, has been instrumental in the development of Flint's Community Read. He and other UM-Flint faculty members have worked to incorporate the organizing of the initiative, as well as the issues raised in the book, into coursework for students. He said, "We want to bring people together and build relationships. And within those relationships we want to begin to wrestle with issues that face our community—you can't do that on an island."
Jamerson hopes those who have not had a chance to read the book will still come out to participate in the monthly conversations. "This book, and the subsequent discussions, will challenge us all to place educational equity and mass incarceration at the forefront of community healing and racial justice. Those who have not read the book but are interested in joining in the discussion are encouraged to attend."
For event information and more on the initiative, visit www.facebook.com/CommunityReadFlint
Contact University Communications & Marketing with comments, questions, or story ideas.