Physical Therapy student is first-ever to earn a PhD from UM-Flint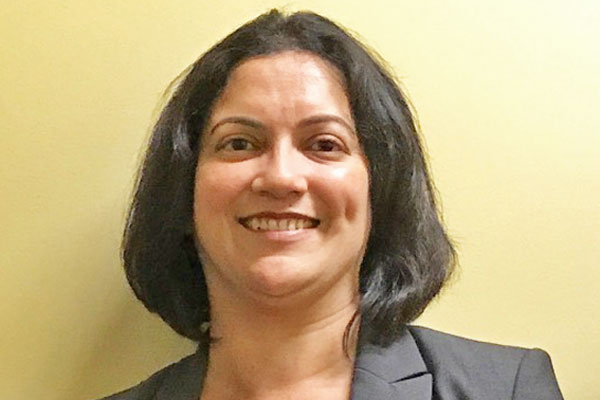 Shweta Gore successfully defended her dissertation on the University of Michigan-Flint campus earlier this month, paving the way for her to be the first-ever person to earn a PhD from UM-Flint.
She is expected to officially finalize her degree later this semester, but the successful defense of her dissertation on September 21 was the last major step.
"It's hard to believe right now," Gore said. "It feels great. It feels amazing."
The PhD in Physical Therapy program, the only such program in the state, started at UM-Flint in 2014. There are currently several students working towards completion, said Cathy Larson, the Associate Director of the PhD in Physical Therapy program.
The degree was designed to address the demand for qualified faculty and researchers in physical therapy programs in the United States and world-wide, and to create academic leaders in physical therapy education. This minimum three-year program is designed for individuals whose long-term career aspirations are to teach and perform research.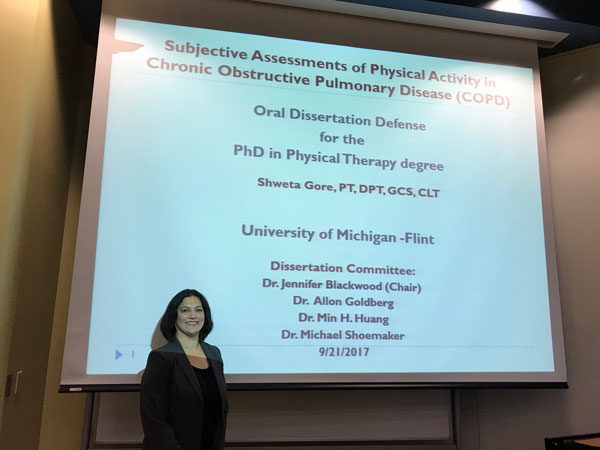 Gore completed her transitional Doctor of Physical Therapy degree program at UM-Flint in Fall 2014, and then started the PhD program. She worked full-time as a clinical physical therapist during her studies. She became a board certified geriatric certified specialist from the American Board of Physical Therapy Specialties in 2016.
Larson said Gore is a great representative for UM-Flint.
"She is amazing, very independent and brilliant," Larson said. "In a relatively short period of time, she has skyrocketed with all of this knowledge and these skills."
Gore said the program and faculty at UM-Flint prepared her for success. She starts her position of assistant professor of physical therapy at Massachusetts General Hospital Institute of Health Professions in early October.
"This is an exceptional program that facilitated an all-round development as a researcher, teacher, and clinician," Gore said.
During her time at UM-Flint, Gore had one peer-reviewed and one non-peer reviewed manuscript accepted for publication, disseminated her work through two peer-reviewed platforms and twelve poster presentations, received two awards for her excellence in research, and received research funding through one grant. Her dissertation was titled "Subjective Assessments of Physical Activity in Chronic Obstructive Pulmonary Disease." This disease is also known as COPD.

"Her research was of very high caliber and will lead to changes in clinical assessment of COPD, said UM-Flint School of Health Professions and Studies Dean Donna Fry.
Contact University Communications & Marketing with comments, questions, or story ideas.