UM-Flint Department of Public Safety Program Promotes Reading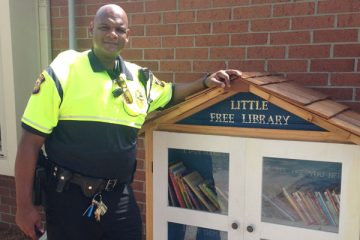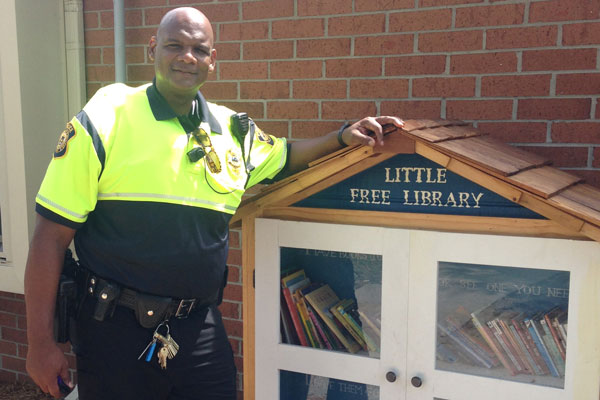 The books do not stay on the shelves for long at the River Village apartments in Flint.
Children happily scoop out the books in the new Little Free Library donated and installed by the University of Michigan-Flint Department of Public Safety (DPS) this summer. At least twice a week, officers bring more books to replenish the stock. The books have been donated by the university community.
"We have gone through hundreds and hundreds of books," said UM-Flint Director of Public Safety Raymond Hall. "The children bring the books home and share them with neighbors and family members. When a little person rushes up to an officer and tells them what their book is all about and how many pages they have been reading, that type of interaction is what makes this all worthwhile."
This summer, Public Safety launched a new community initiative. The "Read with a Cop" summer started July 5 and runs through August. Every Wednesday at noon, DPS officers read to children for an hour at River Village on Father Dukette Boulevard. Officers also do regular walk-throughs at the residential complex as a way to further build relationships between the university and community.
"It's been heartwarming to see the connections," said Hall.
On a recent afternoon, DPS officer Mark Walker read to an attentive and enthusiastic group of thirteen children at River Village. Walker asked the young book fans plenty of questions while he read I Hate English!, by Ellen Levine. He made sure all the children could see the pictures as he walked up to them for a close-up of the book.
"Let's see what happens next," he said. "This is the climax of the book."
After finishing the tale about learning a new language, he told the children he would put the book in the little library for anyone who wanted to take it home.
"Kids love it," Walker said about the reading sessions and little library. "It also gives parents another opportunity to read to their children."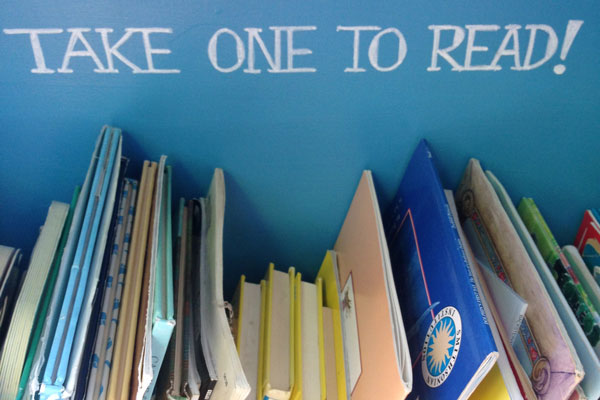 Since early July, DPS has been collecting the books on campus. Students, faculty, and staff have provided donations. Some people have brought in bags of books they bought new, Hall said.
"Our community is amazing," Hall said. "UM-Flint really rallied around this effort."
The university community can still donate books at the DPS offices in the Hubbard Building and at a drop off box in the University Pavilion.
The reading program will run through August and return next summer. Officers will continue to stay involved with the River Village community year-round, and the library will stay open 24 hours a day.
"It enhances literacy, and we are assisting with safety and quality of life," Hall said.
While enrolled at UM-Flint last fall, Saginaw resident Bill Dirk built the little free library for Public Safety, spending a dozen or so hours on the project. The standalone unit has cedar shingles and doors that protect the books from the elements.
"I think this is a great idea to do this for the children and get more books for them at different ages," Dirk said.
Flint resident Barbara Moore took two of her grandchildren to the book read on a recent Wednesday. She said both the library and the reading program have been positives for the area youth.
"It opens their minds to another world," Moore said. "I think it's wonderful. It is learning and having fun at the same time."
Robert is a staff writer in University Communications & Marketing. Contact him with comments, questions, and story ideas.