UM-Flint Art Alumna Brings Creative Lessons to Flint Schools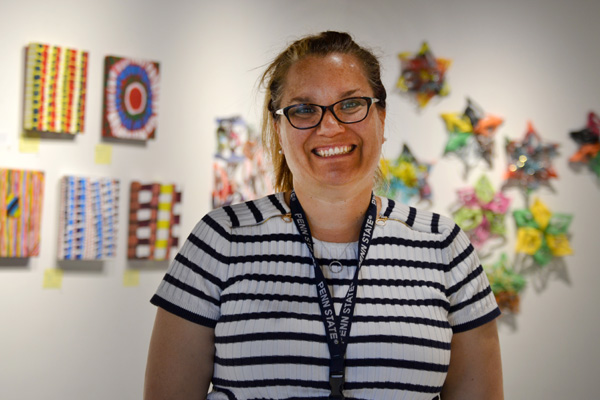 "As a teaching artist," said UM-Flint alumna Melissa Leaym-Fernandez, "my goal is to bring tools of expression to my students." Currently, those students are in both Fort Gratiot, MI, and the Flint Community Schools. Previously they included elementary students in India and university students in the United States. Leaym-Fernandez is also Executive Director of The Elephantworks Studio.
"My education at UM-Flint has helped me have purpose as an artist," noted Leaym-Fernandez. "After I completed my first degree, a Bachelor in Fine Arts, I had a great sense of not only accomplishment but the knowledge that I could do whatever I set my mind to . . . I was the first in my family to get a university education. I grew up in poverty, without resources, working so hard for each thing I have in life. This life experience comes with me as I teach. I know my students—here in Michigan or in India—can transform their lives if they are willing to do what is required and work hard."
Leaym-Fernandez also earned Master's degrees at UM-Fint in Arts Administration and Art Education.
Teaching as an Artist
In the Flint Community Schools, Leaym-Fernandez uses art to reinforce more traditional lessons "with passion and depth."
"The arts help kids express feelings they cannot with words," she explained. "The arts help kids connect to life and community. The arts help kids see possibilities and see that life will not remain as it is today." She finds these outcomes especially meaningful for her current high school and middle school students who are part of the alternative education program.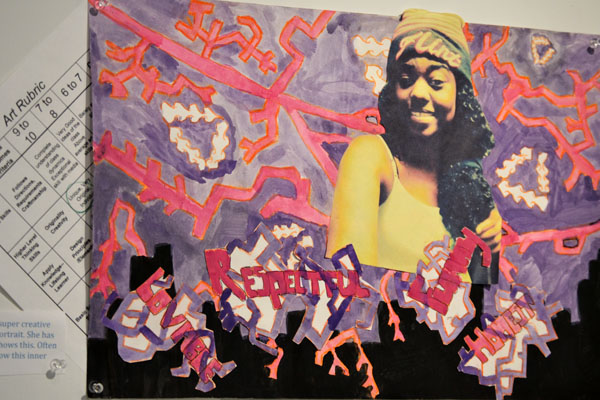 "My students have low skills in expressing self, in words, sharing feelings, and honest communication," said Leaym-Fernandez. "My room is a place where I strive to have safety – safety to create, explore, and  have fun . . . Often my students can express emotion in their work that they do not even realize is there."
"What they create has such value and power," she continued. "One day, I hope they will see and understand that power. I wish the community understood how important creativity is for these students, my students in alternative education."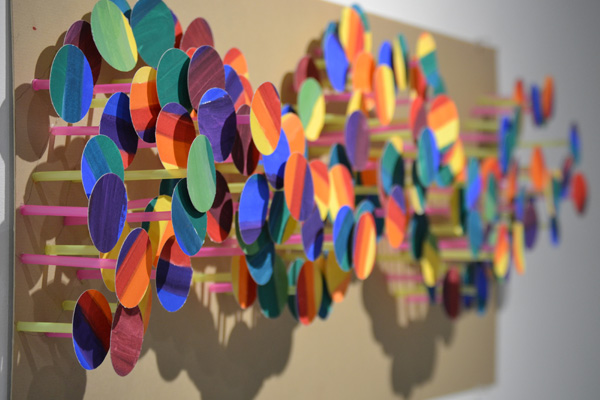 To share and celebrate her current students' work, Leaym-Fernandez returned to UM-Flint to curate a gallery show of their art. She hung class projects and individual pieces in the University Center's Fine Arts Gallery. Students and their parents were invited to attend a celebratory reception.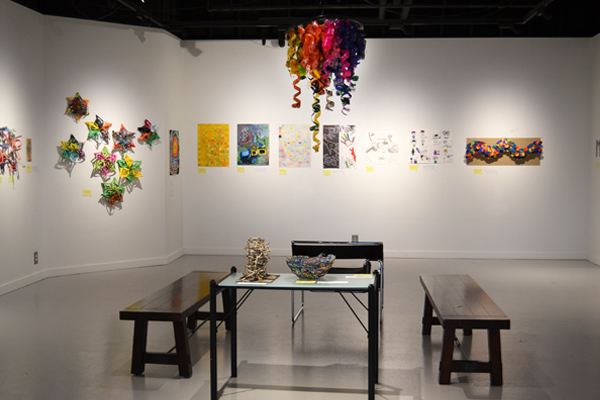 "For over a year I have been trying to have a show in a real gallery space for my students," recalled Leaym-Fernandez. "This year it just dawned on me to contact UM-Flint to see if it would be a possibility. UM-Flint offers a great space that is professional—it also opens a door for my students to see some of a university campus."
When asked about why the gallery show was important, she replied, "I really want the kids to grasp their own value as creative people. I want them to see they do have great ideas, great skills, and can make some awesome art!"
A UM-Flint Foundation
Leaym-Fernandez brings her personal artistic interests, classic techniques, and historical context to her students. All of which have a foundation in her own UM-Flint education.
At UM-Flint, she said, "Chris Waters and Marcia Watkins were definitely the strong influences in my work as an undergraduate. These two women, both married with children, painted and created sculptures, respectively. I wanted that life. I was saddened to see historically women had to choose family life or a career in the arts.
"I also started my education of women artists and artists of color as an undergraduate. Now, I have a great collection of resources that I share. Children today are woefully lacking in this knowledge—there are master artists out there who are not dead, white men from Europe. Teaching my students today about artists of color and sharing their life experiences allows my students to better connect to the arts. There is relativity in the creative works made by black artists today."
One of her recent lessons asked students to combine Kehinde Wiley's powerful portrait style with classic Renaissance elements.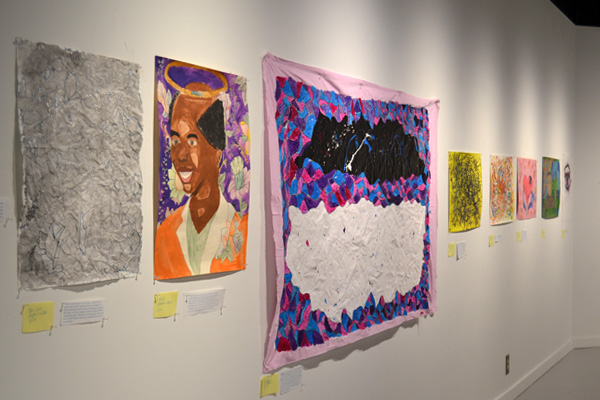 Another centered on seamstress Elizabeth Keckley—a self-freed slave and an exclusive dressmaker to Mary Todd Lincoln. "After studying her, I thought the kids would be excited to sew and do fashion design," remembered Leaym-Fernandez. "I was so wrong! They wanted to sew, but wanted nothing to do with clothes! Thus the 'Ugly Doll Project' was born. Sewing has been ongoing in my classes. [We create] dolls for community, dolls for gifts, and dolls for self. Sewing is a great lifelong skill and the kids really love it!"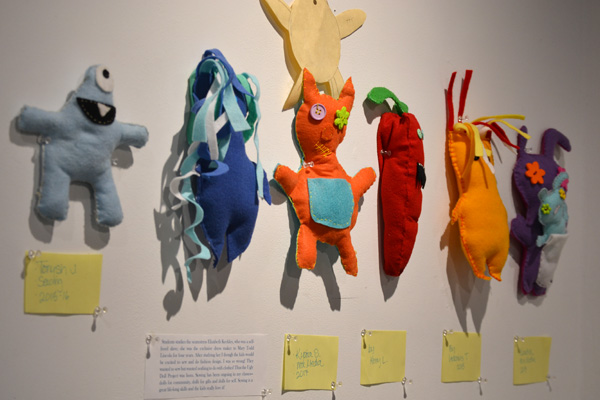 Examples from both projects were included in the UM-Flint gallery show. Leaym-Fernandez also posted inspirational and explanatory notes with the art. One tag reminded readers that "as creative leaders, it is our part to encourage creativity . . . sometimes we all forget—and we must all remember—we each have the power to define our futures."
The Power of Art
Numerous organizations and donors have recognized the work Leaym-Fernandez is doing. Supplies have been donated by the Dreaming Zebra Foundation, Blick Art Materials, a Michigan Youth Arts Grant, and community members. (Those supplies were shared with other art teachers in Flint at Northwestern, Southwestern, and Holmes Middle School.)
She's also received grants for travel and research from sources like Huron Economic Development , the Michigan Council for the Arts and Cultural Affairs, and the National Gallery of Art. The list of those who have contributed, she said, "is long and the appreciation is profound."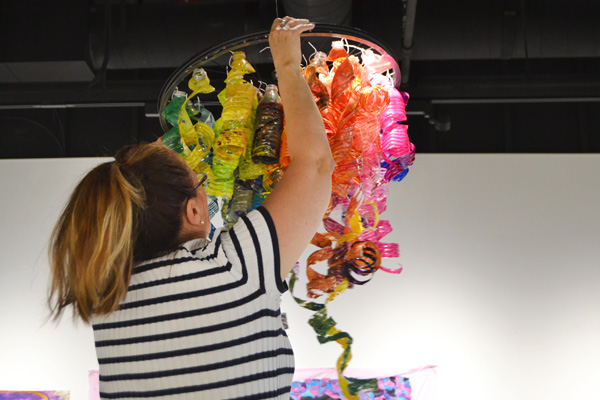 Looking forward, Leaym-Fernandez believes in the power of creativity and the impact she and other artists can make on the world.
The belief echoes through her work with her students and her personal efforts to promote the importance of art in Flint. During times of great and long-lasting stress, like the water crisis, she noted, art becomes particularly necessary. "Being actively creative will reduce stress, give a voice to community, and help with dealing with life."
And she has high hopes for all of the future artists. "Use your talents to lift the community," she advises. "You can and should actively engage with creative practices in whatever community you live in—this will be so important. . . We, as creative professionals, are unique, powerful, and we hold the keys to inspiration for everyone else! Write that on your fridge and read it daily!"
Contact University Communications & Marketing with comments, questions, or story ideas.