UM-Flint Business Pitch Competition Supports Ventures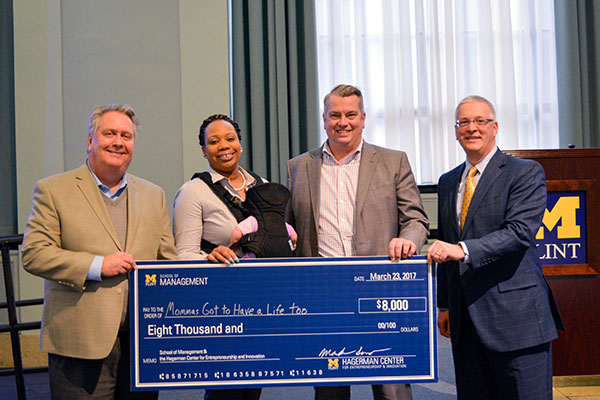 The UM-Flint School of Management Hagerman Center for Entrepreneurship and Innovation held its annual Business Pitch Competition recently, which awarded four teams a total of $15,000 to pursue their ventures and business ideas.  While the funding is highly valuable to the winning teams, the impact of the competition extends far beyond the financial support, said the Hagerman Center's director Mark Simon, PhD.
"As importantly, they are rewarded in many other ways, such as an improved ability to think through business ideas and gaining grace under fire," Simon said about the March 23 event. "Overall, the competition is an incredible tool to prepare them for life as an entrepreneur."
The center, which is part of the School of Management, and the university's Innovation Incubator, led training and practice sessions for those who participated in the competition.
Sixty-seven people, including 57 UM-Flint students, participated by submitting proposals. Four teams were selected to participate in the final competition, and had seven minutes to make their pitch. Each team had to include at least one student from the university. The teams pitched their idea in front of the judges, and a crowd of business leaders, alumni, students, and faculty.
Participants did not know the percentage of the $15,000 they could receive ahead of time.
"This uncertainty combined with presenting their ideas in a more formal environment in front of approximately 85 people increased the pressure, thereby mirroring what entrepreneurs encounter," Simon said.
Brittney Thomas, a graduate student in the Social Sciences program, received $8,000 for her idea of creating a non-profit to help single moms get through college. Others receiving financial support included PrepView, an online support service to prepare students for college admission; Flint Rock Cycles, mountain bikes and other bicycles which can be customized and built from the frame up; and Cookie Night, a cookie company and delivery service that lets you customize toppings, flavors and baking details.
Thomas said the event challenged her and gave her confidence to pursue her idea, which includes starting a residential facility for student mothers and their children. The funding will eventually be used for the purchase of a facility for her venture, named Momma Gotta Have a Life Too.
She also receives support from the center and Incubator throughout the venture creation process, and help with connecting with potential investors.
"The business pitch competition pushed me to really develop my thoughts, utilize resources and step out of my comfort zone," Thomas said. "This event was beneficial to the area because all ideas were centered around the city and seek to restore and expand on local businesses."
Several other ideas were recognized, including concepts for a rock climbing facility, a depression and bipolar support group, an all-in-one brief case and stepping stool for individuals with disabilities, and a fitness app that helps both the body and mind.
Participants received the invaluable opportunity to network with various experts, Simon said, including the three judges. They were School of Management Dean Scott Johnson, Skypoint Ventures managing director Bryce Moe, and Cooper Commercial Group president Winfield Cooper.
"Collectively these judges contain the complete range of knowledge needed to assess a venture's potential. They not only provide a realistic context for the whole endeavor, they also serve as a vital connection to the community," Simon said.
Contact University Communications & Marketing with comments, questions, or story ideas.