Pursuing Passion: Adam Dill of UM-Flint Theatre & Dance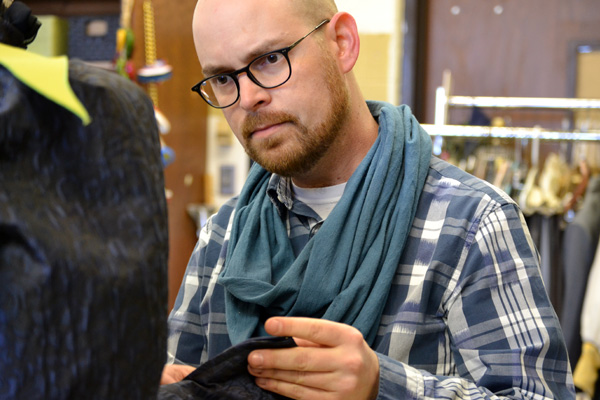 Every UM-Flint Theatre & Dance production is a chance to teach something new. Adam Dill, lecturer and Costume Shop Supervisor for the department, specializes in connecting his students to each project while creating pieces that build their skill sets and portfolios.
The final theatrical production of the 2016-17 season is The Importance of Being Earnest—a classic satire set in Victorian England. Said Dill, "This production is set in the 1890's, so we are constructing silhouettes we have not made in this shop before." He also noted that special considerations have to be made in fabric choice and construction—so the costumes function for the actor while looking the part—and in adapting older styles to modern bodies.
"We used historical patterns that are actually from the 1890's on this production," added Theatre Design & Technology student Alli Switalski, "so it was definitely a learning experience to adapt the pattern of a teeny tiny garment from the turn of the century into garments that our actors could wear."
A dress for the production is Switalski's first large-scale project: she completed the garment's entire drape, pattern, and construction process. And, she admits, it's this start-to-finish project that she's most excited to see on stage.
Dill is the production's Costume Shop Manager and Lead Draper, and also charged with being the faculty advisor for the Wardrobe Crew. "As the shop manager," said Dill, "it is my responsibility to budget and price out the show, to make sure all of the clothes are produced in a timely fashion, and the clothes are properly fit to each actor. Acting as the lead draper, I have taken on the creation of Miss Prism and Lady Bracknell."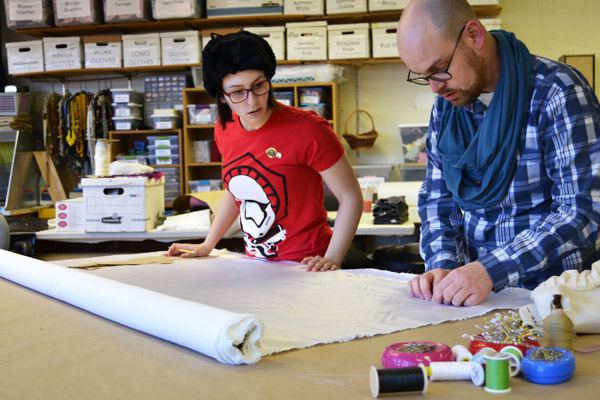 Teaching in UM-Flint Theatre
Switalski transferred to UM-Flint to study with Dill—her previous institution didn't provide a supportive teaching environment like the one she found on a visit to UM-Flint Theatre. "It's like a little family in the theatre department," she noted. "Collaboration makes our world go round, so I really love that we are all so close."
When asked about Dill as a teacher, she said, "Adam has taught me to laugh. To 'just do it' and have fun in the process. He challenges me to push my limits as a designer and technician and to trust my instincts in the process."
Lydia Parker VanTol, a senior Theatre Design & Technology student, echoed her sentiments, adding, "Not only have I learned how to pattern, drape, and sew, but I've also learned a lot of life lessons like how to handle working under a deadline and learning about a balance between perfection and time management. I love our sense of teamwork and community. It's great to work with people who understand and respect your craft and who are also learning at the same time as you."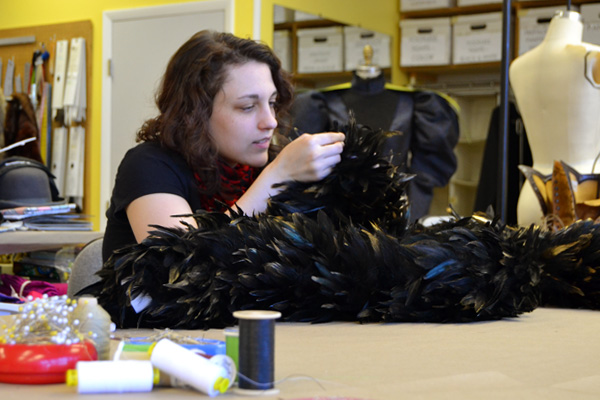 Switalski and Parker VanTol are just the kind of students Dill enjoys teaching at UM-Flint. "I really appreciate that the average student has an open mind and a willingness to learn," he said. "Regardless of background, upbringing, or circumstance—our students are constantly committed to pursuing their best self."
Currently, Dill teaches Introduction to Stage Costuming, Patterning, and Draping, Textiles and Costuming, and a Stage Costuming Lab. His students often get a chance to assist on production costumes, adding finishing touches like hems and closures.
Bringing Experts to Campus
Part of Dill's teaching philosophy involves bringing experts to campus. "I've previously hosted a tailoring workshop, a lighting technology workshop, and most recently a wig workshop," said Dill. "For the future, I have workshops planned specifically for working with thermoplastics in theatrical costumes, a workshop on creating/recreating parasols, and hopefully a two-day workshop on working with theatrical millinery."
The wig workshop, held on a Saturday in late February, brought Heather Fleming from the Custom Wig Company to campus. Seven UM-Flint Theatre students and one alum attended.
"In the workshop, we discussed how to properly style wigs using different roller sets, how to properly prepare the actor for wearing a wig, how to make/take a wig wrap, and how to ventilate and create our own custom wig products," recalled Dill.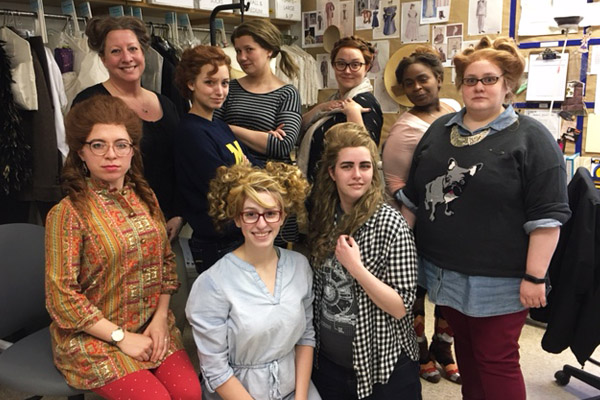 "We decided to host this workshop so students could actively learn the art of wig styling on a practical application for one of our productions," he continued. "Several of the students from the workshop are on the wardrobe crew for Importance of Being Earnest, so having direct access to the wig stylist benefits the wig work you will see in this very exciting production!"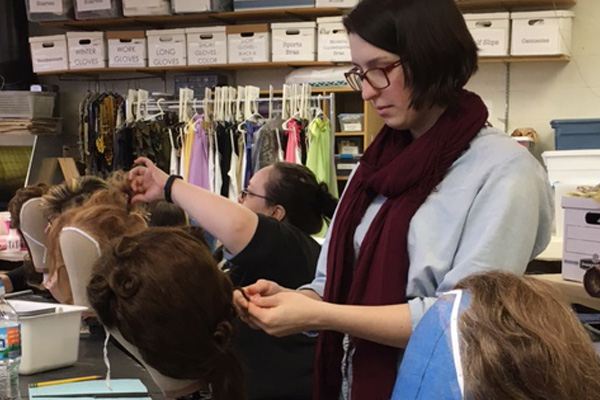 Switalski was one of the student participants. When asked what she enjoyed most, she responded, "It's a fascinating art form that most people don't even know exists. I enjoyed diving right in and playing with wigs to get a hands-on experience of styling and maintenance techniques."
A Life of Creativity
Dill is an excellent example for students who are unsure about pursuing a career in theatre. "I previously started my education in Pre-Dentistry," said Dill. "One day while sitting in a molecular biology class, I realized how much I missed being in the theatre. I eventually withdrew from school, moved back home, and prepared myself for a life in the arts. After a few months at home, I enrolled at the University of Texas at Arlington as an Acting major. I was assigned to the costume shop as part of my practicum. I was given the task of decorating hats. Once I realized that working in theatrical costumes was a viable career path, I changed my major again and have never looked back."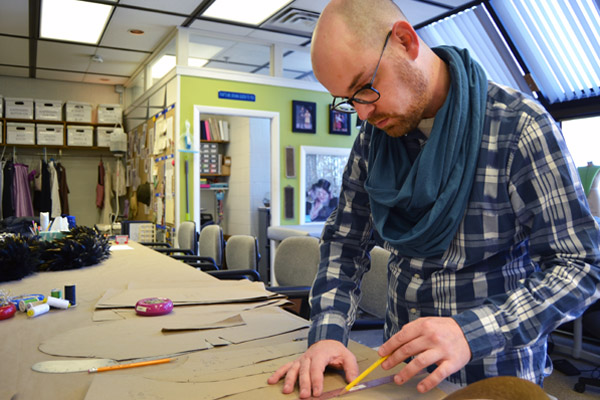 Switalski is ready to follow in his footsteps. "I have two semesters left before completing my degree," she noted. "This involves my capstone project which will probably be a draping project, so keep an eye out for my name in next season's programs. After graduation, I plan on moving to where the work is to get some experience before graduate school. I've also started my own business that I'd like to expand, taking more costume commissions for Halloween, Cosplay, and Renaissance Festivals."
Dill hopes all of his students "leave here with a renewed sense of self confidence, and understanding of how to overcome challenges, and an open mind to potential that life presents to us!"
As for his future? Dill replied, "Right now, I am in the process of designing one of the dance pieces in our dance concert—A Midsummer Night's Dream—choreographed by Adesola Akinleye. At the same time, I am remounting a previously designed production of Cat in the Hat for the Flint Youth Theatre. Because I don't have enough going on, I am also managing the Colorado Shakespeare Festival costume shop this summer."
After graduation, Parker VanTol will also be working at the Colorado Shakespeare Festival, where she'll no doubt continue learning from Dill.
Contact University Communications & Marketing with comments, questions, or story ideas.