Film About UM-Flint Alumnae to be Shown on Campus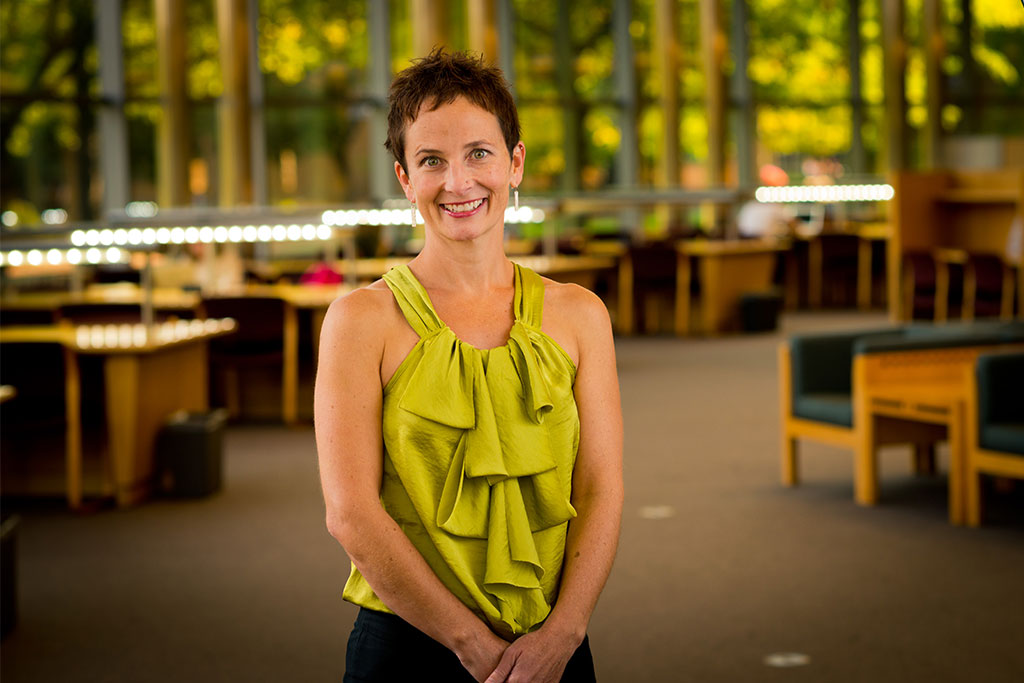 The UM-Flint Women's Educational Center will screen the film Women on the Edge: Fifty Years of Women Making Academic Change as part of a series of events for Women's History Month. UM-Flint Professor Heather Laube and a group of students interviewed 57 women graduates to create the film in conjunction with the university's 50th anniversary in 2006. Dr. Laube is currently an associate professor of sociology and director of the Women's and Gender Studies program at UM-Flint. She will lead a discussion after the film screening, which will be held March 21 in the Kiva from 1:45 p.m. to 2:45 p.m. Dr. Laube discussed the origins of the film and its significance in this Q&A with University Relations.
 How did this project originate? What was the initial goal of the project?
 As the 50th anniversary of the Flint campus approached, a group of students in Sociology and Women's and Gender Studies approached me with the idea that we should do "something related to women" to commemorate the event. This sparked the idea to interview women who had graduated from UM-Flint during the first fifty years. I taught a special topics course in which we worked on the research methodology and ultimately worked closely with a group of four students to interview the women and create this short film. We held a celebratory screening of the film and invited all of the women who participated.
 Can you describe the range of UM-Flint women graduates that were interviewed? How did you find and reach out to them to be interviewed for the film?
 We interviewed women from the very first graduating class in 1968 through 2005. We worked with Alumni Relations to get lists of graduates and focused on those near enough to be interviewed in person. We were careful to get a diversity of women, including by race, ethnicity, and age. We called them to explain our project and organized both individual and group interviews. Sometimes we even picked them up and dropped them off.
 Were there particular findings, stories, or themes that arose from the interviews that surprised you?
 I'm not sure anything was especially surprising, but each woman had a story of the importance of the presence of UM-Flint in their community. Many of them overcame significant obstacles to attend to (money, unsupportive and obstructionist husbands, friends and family who saw no need for women to earn a college degree, work and family responsibilities).
By pursuing a college degree and a career these women disrupted expectations about gender and they confronted a double bind. How could they at once be women, college students, wives, and mothers? While these challenges were more pronounced for women who graduated earlier, similar challenges are reflected in the stories of more recent graduates. Many of these women faced resistance – from families, friends, professors, society in general – yet they persisted and found support and community. They also engaged in various forms of protest to make change and increase inclusion and diversity. The more things change, the more they stay the same.
 What is the significance and importance of capturing these insights, and history, in this documentary?  
 This project makes clear the importance of access to education. The presence of UM-Flint in their community changed these women's lives. They all gained independence, many were role models for their children, who then assumed they would attend college, and a number of them made significant impacts in their communities. The film allows us to see the ways things have changed for women in society, as well as the many subtle and not-so-subtle inequalities that endure. The early graduates talk about their career options – Secretary. Nurse. Teacher.
By the 1980s, these options begin to open up and to include business and hard sciences (though the numbers of women in these fields still remain relatively low). The women also talk about the importance of a college education for their ability to leave bad and unhappy marriages, to support their children, and to lead fulfilling lives.
 How can this film and the awareness it brings be used in the future at UM-Flint?
 The film gives us a glimpse into the history of the University of Michigan in Flint and highlights the significance of its presence here. The experiences of the women highlighted here demonstrate to current and future students how others have succeeded in the face of obstacles. It is also a fantastic case of collaboration between students and faculty and is a great example of the kinds of significant learning experiences we try to offer here.
Contact University Communications & Marketing with comments, questions, or story ideas.