Shakespeare Inspires UM-Flint Students to Connect with Flint, World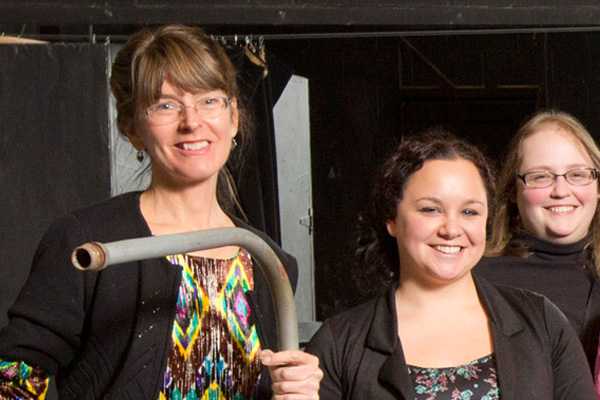 At first glance, the study of Shakespeare can seem outdated in today's world and university curriculum. But associate professor of English Mary Jo Kietzman, Ph.D., has been successful in teaching Shakespeare as a means for UM-Flint students to think deeply about and connect to their world.
Why Shakespeare?
Kietzman believes in the connection students—not just those majoring in English—make with the language of Shakespeare, and in the connections that exist between his time and ours. "We still have a primal need for a language that will move us–whether to laughter or to tears," said Kietzman. "[It's] the language of the imagination, of telling stories, of wrestling with ideas and feelings—the language of real communication, of people wanting to talk about issues that concern them and their community, issues of conscience, ideas, and dreams. Texting cannot fulfill this deeper need, and, as another Renaissance playwright famously wrote, 'where words prevail not, violence prevails.'"
"The people of Shakespeare's world lived with a lot less padding between themselves and harsh realities," she continued. "It can be easy to forget that all the heat in Shakespeare's language, the coarseness, the violence, the passion, the sorrow, came out of a very basic sense of survival. I believe students in Flint can connect with the immediacy of its impact."
Projects for UM-Flint Students
In the past, Kietzman had a class "reassemble" Shakespeare's King Lear to get UM-Flint students out in the community and asking questions about Flint. Noted an article about the project, "students had to overcome their stereotype-bred fears of Flint and venture forth, doing highly unconventional research. They tramped around Chevy-in-the-Hole. They volunteered at soup kitchens. They scanned the Flint Journal, visited the Genesee County Historical Collection, and read books like Gordon Young's Tear Down to learn about Flint."
Sarah Swartz, a student who participated in Lear Reassembled, said, "What has impressed me the most about our project is the way we have taken something as classic as Shakespeare and given it a modern purpose. No longer are we studying the themes of the play in the classroom. We have taken it further and found meaning for it in Flint.  That is something I think Shakespeare would be proud of."
More recently, Kietzman taught a cycle of Shakespeare's history plays for the first time. "I thought it would be interesting to do in the run-up to the presidential election," she said. "These plays gave us a lot to think about in terms of what we are looking for in our rulers and how much expressive freedom the citizenry should expect. It seems to me to be easier to approach politics in the classroom obliquely through a safe literary filter. Shakespeare also provides a cross section of the population (rich and poor) and multiple ways of thinking about any given issue. This is so unlike our current divisive political discourse that it almost seems like Shakespeare is better at encouraging critical thinking about all manner of political problems."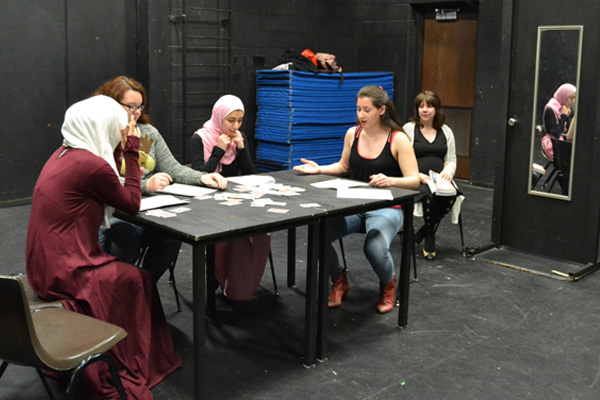 In other classes, Kietzman has had UM-Flint students write short (one act) plays to explore general questions like what gives people power? or why do we fight in relationships? or what are we fighting for? "Scriptwriting forces students to translate and own the issues in a personal way," said Kietzman. "Because I ask them to draw on their own experiences, collaboration is tricky. Personal histories, pain, struggles, and prejudices inevitably come out and must be embraced by the teacher and the group."
Shakespeare Beyond UM-Flint
Kietzman knows that those who connect with her class projects will carry the experiences with them long after graduation. "I was amazed to discover how relevant Shakespeare still is and at how little changes about human nature," said one past student. "All of the issues we are facing today are covered in his plays. Professor Kietzman was brilliant at leading class discussions in a way that made us think beyond the words on the page. I finally understood why Shakespeare still matters and have turned into a passionate advocate for his work."
Local community groups and publishers have also taken note of Kietzman's work. She's been an invited speaker to the St. Matthew's Speaker Series—a downtown Flint church's forum for those who are making a difference in the community. She has also written an article on her time spent teaching Shakespeare in Kazakhstan—where her idea to adapt King Lear to Flint was born.
"It's hard to find a reason to truly care about what is happening in your surroundings," noted alumna Stephanie Ruddock when speaking to the ways in which the Lear project helped her connect to Flint. "But when you begin to investigate, you begin to crave more knowledge, and, in turn, you become more involved in your community. Suddenly, you feel a desire to take part of the world around you and show the world how wonderful it is."
Looking to the future, Kietzman said, "I would like to tackle another Flint adaptation. I have to figure out another play that would be a good fit for Flint. It also takes a dedicated cohort of students. I am passionate about this work for the single reason that I think students need to grow roots in Flint. There is a growing sense of alienation that comes, I think, from being displaced from a sense of place. Globalization is great, but what about our shared home—this city? Shouldn't we know it? Shouldn't we figure out how to care about and get involved in it?"
Contact University Communications & Marketing with comments, questions, or story ideas.