All Three U-M Campuses Teaming Up for 2017 Alternative Spring Break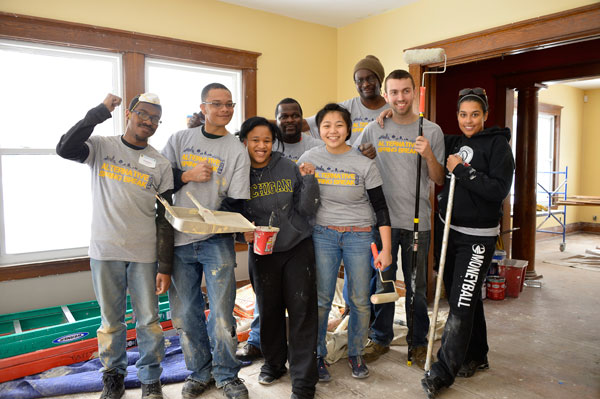 The University of Michigan-Flint is teaming up with the Ann Arbor and Dearborn campuses for this year's Alternative Spring Break. Students from the three campuses will participate in community engagement in West Michigan.
"This project will bring together a diverse group of 30 students from all three campuses to learn from and with each other," said Gary Ashley, a project manager with UM-Flint University Outreach. "Facilitated by a group of three student leaders, one from each campus, they will work to learn about their role in addressing community issues within the state of Michigan while directly meeting community-identified needs."
The university is currently finalizing what organizations will be worked with during the week of service activities, Ashley said. But the students will be working in the Muskegon and Muskegon Heights area.
"Once the community partners have been confirmed, we will determine the social issue that these experiences will explore," he said.
Ashley McCloud, a health services student at UM-Flint will be a site leader in Muskegon.
"I feel that there is a huge significance when it comes to servicing another part of Michigan. Typically we work in the Flint area, which is great. But it is really nice to help others in our state to expose us to a community that has similar needs," McCloud said.
"I'm very excited to work with the other U-M campuses because I haven't worked with students from the other campuses and this will be a nice opportunity to come together as U-M students and make a difference in a community that is not our own."
University Outreach also runs Service Saturdays, in which university members work with organizations within Flint, as well as Alternative Summer Breaks. Students can still register for this year's Alternative Spring Break in West Michigan through February 5.
Ashley said this collaboration with the other campuses will create a unique opportunity for students.
"As a public institution, the University of Michigan has a responsibility to the state of Michigan, its history, and its people. Each of the three University of Michigan campuses find ways to honor this responsibility through teaching, learning, and service. As coordinators who oversee the respective Alternative Spring Break programs on the Flint, Dearborn, and Ann Arbor campuses, we saw the University's Bicentennial Celebration as a unique opportunity to engage students from the three campuses together in a high impact learning experience centered on service within community in a way that has not been done before."
Contact University Communications & Marketing with comments, questions, or story ideas.