UM-Flint Club Sports Celebrates Back-to-Back Hockey Games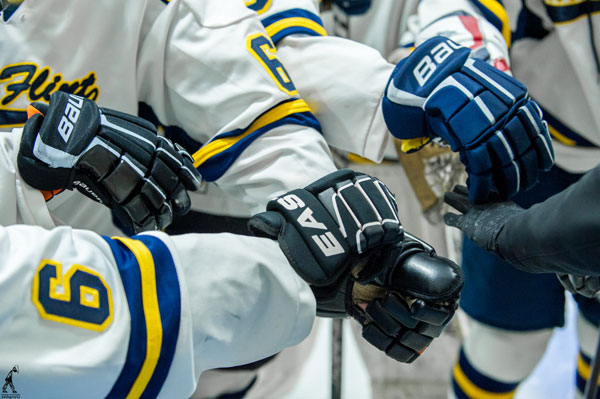 UM-Flint spirit will be in full force February 4 as both the men's and women's club sport hockey teams compete in back-to-back games. The Saturday contests, held at Crystal Fieldhouse Ice Arena, are just the latest examples of the benefits of participating in club sports at UM-Flint. University Relations checked in with the club sports coordinator, and two students who play on a team, to discuss how club sports adds to campus culture at UM-Flint.
Stacey Urbani, Club Sports Coordinator
How can students get involved with club sports? Are there options throughout the year?
Students can become members of Club Sports teams any time of year through connecting with me (my office is in the Recreation Center, Room 15. My phone number is 810-762-6706. My email is urbanis@umflint.edu) or the president of the club sport they wish to play. Obviously some sports are more active during Fall than they are the Winter or Spring, however most of them do some type of off-season conditioning or regular meeting.
What are some of the less-than-obvious benefits of participating in club sports? What are the benefits overall?
Students who play club sports always come into their clubs because they love the sport!  However, once they're in they develop relationships and a sense of community that extends beyond the field. Students who stay involved often become team officers, gaining extensive leadership skills in the areas of project and time management and professional communication.
How many different sports are currently available to students? Are there options for students who want to play a sport that is not currently offered?
There are currently 9 sports clubs. Students who are interested in a club sport that we do not currently host can always start a club by first contacting me!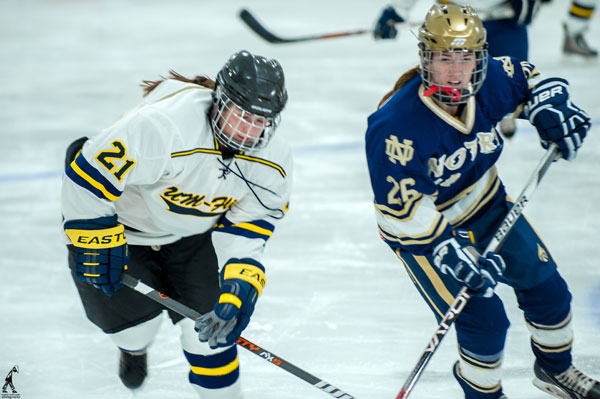 Teresa Labadie, student, women's hockey team
When and why did you join the team?
I joined the UM-Flint Women's Hockey Team my first year of physical therapy school, Fall of 2014, so this will be my third year on the team. I decided to join because I had always played hockey growing up and I really missed it. I wanted to find something fun I could do in my free time to balance out working and taking classes, so this club was perfect for me!
Can you describe your experience with the team this season? How did it benefit you as a student, and were there any unexpected benefits overall to being part of the team?
This season has really been a turning point for our team. We acquired three new coaches and some really great new players, making our team even more cohesive. Last year, we were accepted into a league at a much higher level of competition and we've been developing the skills we need to be at the top of our game. As a student, playing hockey has helped me develop lifelong friendships with my teammates and has given me an outlet for the stress that comes with being in graduate school.
What advice do you have for students considering club sports?
For any student considering club sports, I would say definitely do it! As someone who has played sports my whole life, I am so happy I did not have to give up that part of myself. They are a great way to stay in shape and take your mind off things, just make sure you are good at time management because even as athletes, our main priority should still always be school.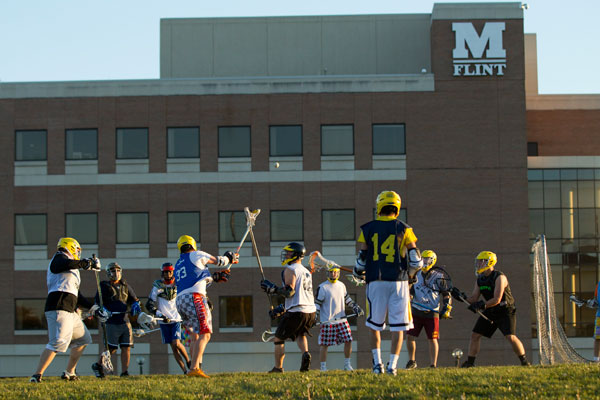 Jacob Brownfield, student, men's lacrosse team
Can you describe what you are looking forward to in the upcoming season? What did you learn from last season? When did you first join the team?
I'm looking forward to seeing all the guys and being able to hang out with them on a regular basis once again. From last season I learned that this group of guys have the most heart I've seen out of any team I've ever played on. We played at Eastern and they had about 30 guys and we only had 12, and we ended up coming back and beating them in the fourth quarter. That was by far the best moment I've ever had with these guys. I first joined the team two years ago and it was one of the best decisions that I've ever made.
How does being a member of the team benefit you as a student, and were there any unexpected benefits overall to being part of the team in the past?
It benefits you as a student by becoming more social and you're able to connect with more people at the school. It also looks pretty good on a resume being a part of a club. I've been asked to help coach at my old high school which was pretty nice since I only played with them for a year, but having a background in college lacrosse definitely helped with that.
What advice do you have for students considering club sports?
My advice to someone considering on joining a club sport is that you need to do it! It helps get your mind off the real world for a little bit, and that it's completely worth doing considering how many people you meet and friends you gain from playing. You also travel to other colleges and you can show them what UM-Flint is all about when you get to their house and beat them!
---
UM-Flint Back-to-Back Hockey
Date: Saturday, February 4
Times:
Women: 5:00 p.m. v. Northern Michigan
Men: 8:00 p.m. v. Hope College
Location: Crystal Fieldhouse Ice Arena
Contact University Communications & Marketing with comments, questions, or story ideas.