UM-Flint Grad Program Prepares Teachers in Literacy Education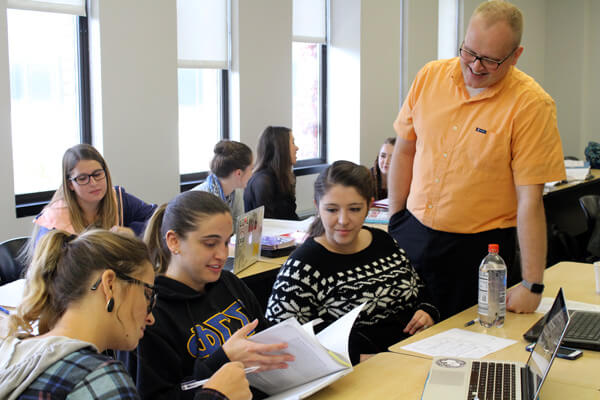 For Flint resident Gina Morris-Cicalo, getting her young son Rocco to develop a habit of reading was a struggle until he participated in the University of Michigan-Flint Reading Center program. She read to him every night, and his school teachers were helpful. He just didn't like to read.
"I could tell why he didn't enjoy it," Morris-Cicalo recalled. "He noticed he was not reading at the same level as other kids. Now he is caught up to his reading level. A lot of the credit for that goes to the UM-Flint reading program for getting him excited about reading and giving him that one-on-one time."
UM-Flint now offers an online Master of Arts in Literacy Education degree, giving graduate students a different pathway to reach their goals where they can study challenging issues and practices related to an integrated language arts curriculum. The School of Education and Human Services winter Reading Center Program is led by education faculty and literacy graduate students.
Morris-Cicalo said she appreciated the useful parental resources and reading assessment feedback that the program provided to her, and she was thrilled to see Rocco talk about his book in front of the other kids. "The program really sparked his interest in reading," she said.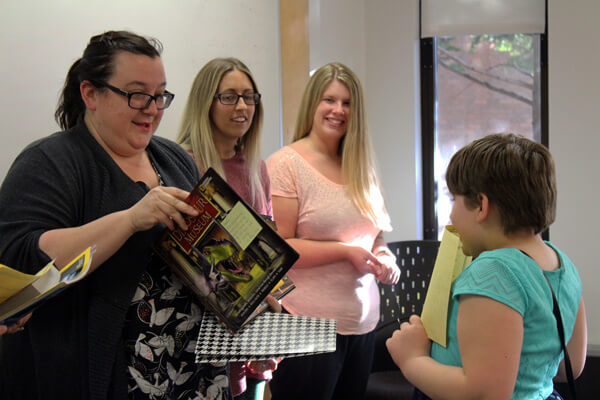 Online and Interactive Courses
Teachers who prefer learning in face-to-face settings should expect a similar experience with the online program that is built with highly interactive and creative teaching methods. Various instructional tools include multiple video clips, synchronous class sessions with Skype, narrated Power Points, Blackboard, and multimedia learning models that facilitate meaningful participation.
"The online Master's program in Literacy Education allows you to accomplish a University of Michigan degree with the expertise, rigor, and experiences that comes with that degree," said Chad Waldron, UM-Flint education faculty and program instructor. Waldron holds a Ph.D. in Curriculum, Instruction, and Teacher Education with a Language and Literacy Studies Specialization.
One exception to the programs' online coursework is an in-person clinical portion where graduate students work with children in a classroom setting. Program leaders are currently working out the details for the clinical requirement, which may include a campus residency option.
Taught by doctoral-level experts in literacy and children's literature, the master's program prepares students to earn a Michigan reading specialist endorsement and opens doors for diverse career options shaped by each graduate's interests and the evolving role of reading specialists in schools today.
The Changing Role of Reading Specialists
Program coordinators recognize the heightened value of reading specialists in schools addressing state standards, and the direct link between reading ability and academic achievement.
The role of the reading specialist has evolved in recent years from pulling students out of classrooms for individualized instruction to observing children in class, collecting and managing reading assessment data, coaching teachers, leading professional development workshops, and figuring out the best ways to support both teachers and students. Many also seek administrative roles in their district.
"Current research tells us that as literacy reform efforts focus on data-driven instruction and improved reading outcomes at all reading levels, reading specialists are not only working with teachers to assess and support struggling readers," said Suzanne Knezek, UM-Flint education faculty and program coordinator who holds a Ph.D. in Curriculum, Teaching, and Educational Policy with a Literacy concentration. "They are also coaching teachers on ways to improve instruction for all students, and they're impacting curriculum development in their schools."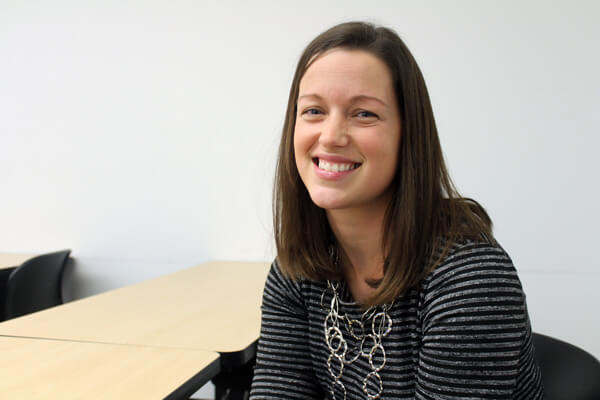 Working Literacy into Other Content Areas
Not limited to reading specialists, UM-Flint's master's degree in literacy education also serves teachers across content areas such as math, science, and social studies. It helps secondary teachers struggling to meet state standards to integrate more reading and writing activities into their classrooms. Other teachers just want to better understand student literacy issues in their subject area and grade level.
Beth Molnar, a science teacher at Atherton Jr./Sr. High School in Burton and UM-Flint literacy education graduate student, has already applied knowledge gained from the program to her own teaching and grading practices. She knows how difficult it can be for her students to follow the structure of non-fictional science books and articles dense with higher-level vocabulary and concepts.
Now Molnar analyzes her students' reading data from test scores to appropriately group students. Grading science tests from a reading teacher's perspective has improved her students' ability to learn from their mistakes. It has also made her a better teacher.
"Instead of just marking things wrong, I'm asking myself why they're making that mistake," Molnar said. "It could be a number of reasons. It's really beneficial for any teacher to think like a reading specialist."
---
For more information about the Literacy Education Master of Arts Program at UM-Flint, please visit https://www.umflint.edu/literacy.
---
Feature photo: Chad Waldron, Ph.D. Assistant Professor of Education
Contact University Communications & Marketing with comments, questions, or story ideas.