UM-Flint Education Faculty Member Wins National Award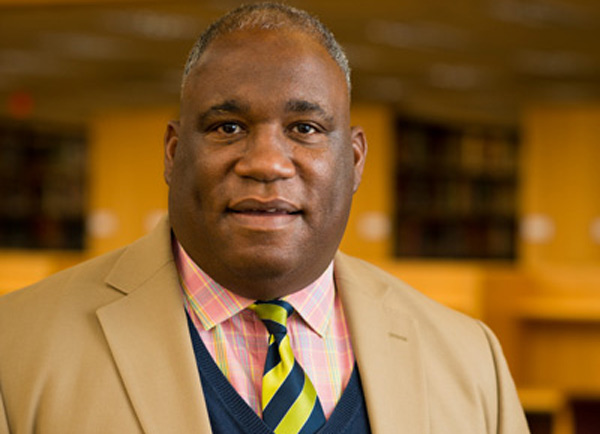 The National Education Finance Academy (NEFA) has announced it will award one of its five national Distinguished Research & Practice Fellow Awards at its February conference to University of Michigan-Flint Education faculty member Tyrone Bynoe, EdD.
Recipients of this prestigious award are professionals who have distinguished themselves in the area of current education finance research and practice.
"We congratulate Dr. Bynoe on his accomplishment in receiving the Distinguished Research and Practice Fellow Award," said Bob Barnett, dean of the School of Education and Human Services. "We appreciate his level of dedication not only to pursuing his scholarship and field interests but to our education leadership students here. This award is well-deserved."
Bynoe has been affiliated with the NEFA since 1999 when the organization was known as the American Education Finance Association, he has served on several NEFA committees, and he was a board of advisors' member from 2010 to 2015. He has published school finance articles and studies in the organization's Journal of Education Finance, Encyclopedia of Education, Economics and Finance, and School Business Affairs Journal.
Bynoe is an expert in school finance analysis and research. Along with teaching educational leadership courses at UM-Flint since joining the university in 2015, Bynoe is a reviewer for the Journal of Education Finance and several other journals.
Bynoe's work has been published by the Journal of Education Finance, the Encyclopedia of Education-Economics-and-Finance, and the Encyclopedia of Diversity and Social Justice. He authored a book chapter in October 2015 entitled Mentoring for School Quality: How Educators Can Be More Professional and Effective.
He has enjoyed presenting papers on school finance at every National Education Finance Conference since 2010 and at most American Education Finance Conferences since 2004. He is currently a member of the advisory board for the Michigan School Finance Research Collaborative.
Valuing Research and Networking
Along with receiving notice of this award, networking with the NEFA members throughout his career has inspired him to continue his own research endeavors and to learn from other scholars tackling similar topics. "Many of my closest colleagues are in this organization," Bynoe said. "These folks are very scholarly. It's an excellent group to be involved in and to stay connected to school finance research."
Bynoe said he is excited to be chosen to receive the Distinguished Research & Practice Fellow Award and looks forward to continuing his research endeavors and to contribute future articles to the Journal of Education Finance. He will continue working on the Michigan Education Finance Study, an adequacy study to evaluate Proposal A and school spending disparities within Michigan school districts.
"In order to understand education as a field, you have to understand your school's finance policy and practices in school business management," he said. "States have been ratcheting up the curriculum, but they have not ratcheted up the support system. As curriculum standards become more formidable, my finance colleagues and I believe there should be a commensurate finance policy."
Bynoe earned his doctoral degree in educational administration from Teachers College-Columbia University. His concentration of study was educational administration, specializing in school finance, and his dissertation was a school finance study seeking to develop an adequacy model of spending in New York. He has master's degrees in social sciences, American history and educational administration and policy studies all from the University of Albany, New York.
Prior to joining UM-Flint, he held a faculty position with the University of the Cumberlands in Kentucky. He has served as a New York State K-12 public school administrator and a history and social studies teacher.
---
For information about UM-Flint's Educational Leadership programs, please visit: www.umflint.edu/edleadership
Contact University Communications & Marketing with comments, questions, or story ideas.