UM-Flint To Celebrate MLK Day with Service Opportunities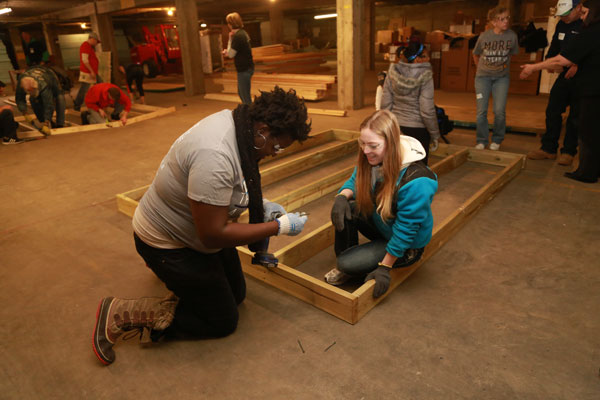 University of Michigan-Flint is honoring the legacy of Dr. Martin Luther King, Jr. with a series of community volunteer opportunities on MLK Day 2017.  
"It's a day for us to not only honor Dr. King and the transforming work that he did, but it's a chance for us to work alongside our community partners to continue his work by addressing issues like social justice, inclusion, diversity, and equality right here in our community," said Gary Ashley, project coordinator within University Outreach at UM-Flint.
Volunteers, including university faculty, staff, and students are encouraged to register for a wide range of service opportunities throughout the day January 16, including work with the Boys and Girls Club of Greater Flint, the Center for Hope, Crossover Downtown Outreach Ministry, Habitat for Humanity, Joy Tabernacle, King Karate, My Brother's Keeper, the North End Soup Kitchen, and the YWCA Center of Greater Flint.
Physician and scholar Camara Phyllis Jones, the UM-Flint 2016-17 Myron and Margaret Winegarden Visiting Professor, is the day's keynote speaker
Area children, from ages 7 through 17, will be on campus for the day through a partnership between the university, the Boys and Girls Club of Greater Flint, and Durant-Tuuri-Mott Elementary School in Flint. The campus serves as a fun and educational safe space for children on a day when many schools and social service agencies are closed in recognition of the holiday.
The children, interacting with university volunteers, will participate in an array of events such as robotics, crafts, mindfulness, an Indian culture experience, and campus tours for the older youth.
"We want these kids to develop and appreciation of a college campus, and to have fun and meet new people," said Robert Barnett, Dean of the School of Education and Human Services.
Volunteers for the Boys and Girls Club service opportunity will take a background check, and participate in training January 13.
All volunteers kick off the day of service with a breakfast and address by the Rev. Dan Scheid of St. Paul's Episcopal Church.
The day's activities will culminate with the keynote address at 4 p.m. by Dr. Jones in the Kiva, and a 5:15 p.m. reception in the Happenings Room. Dr. Jones is president of the American Public Health Association and a senior fellow at the Satcher Health Leadership Institute and the Cardiovascular Research Institute at the Morehouse School of Medicine.
Contact University Communications & Marketing with comments, questions, or story ideas.