Sister, Sister: UM-Flint Twins Graduate with High Honors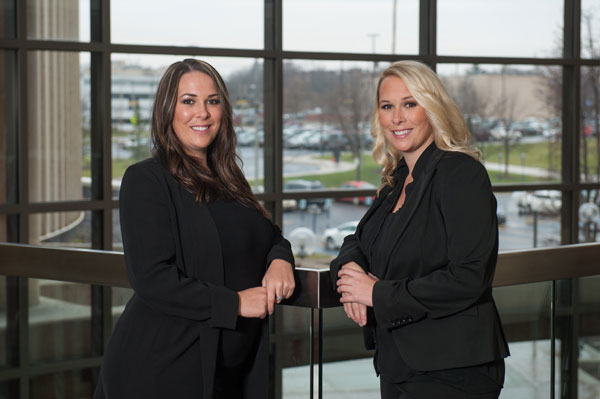 Bryanna Williams and Nickie Hewitt spent their college careers at UM-Flint commuting together from Clarkston. The identical twin sisters took turns driving, with each using their duplicate black Saturn VUEs.
Once on campus, the pair took all of their academic courses together, sitting next to each other in class. They both thrived as nursing students, and campus leaders. Both tutored their peers in a wide range of subjects. Both were highly active in community outreach, such as lead clinics, Super Science Friday and teen heart checks at Hurley Medical Center. Both held leadership positions within the Student Nurses' Association. They studied together and encouraged each other, with both landing internships at McLaren Oakland.
And Sunday, the sisters will celebrate graduating together at the December Commencement Ceremony. Both earned bachelor degrees in nursing, and are recipients of the Maize and Blue Distinguished Service Award, which is the highest academic award bestowed upon UM-Flint graduates.
"I'm excited to have my family there, to share it with Bryanna," said Hewitt, who is the student commencement speaker. "But we have shared everything together. Every birthday. Graduation from high school. This is another thing to share together. It is super special."
Both Hewitt and Williams plan on being critical care nurses, and returning to school at a later date too.
Their interwoven stories are a sign of support, both sisters said.
"We are best friends," Williams said. "We have never been rivals."
Despite sharing many moments together, the sisters have distinct personalities and are driven by personal goals. They both decided separately to pursue nursing at UM-Flint. They have done their clinical work at separate times.  But even their differences help each other, both said.
Williams helped inspire Hewitt to take leadership roles. And Hewitt helped keep Williams grounded.
"Even though we are so different, we are so in sync," Williams said.
The pair share an inspiration within their family.
Their mother, Tammie Nallamothu, graduated from UM-Flint in 1998 with a degree in nursing and is a practicing nurse anesthetist.
"Our mom would come home and tell us stories from school and stories from work," Hewitt said.
"Exciting and touching stories," Williams agreed.
"It felt like she made a difference in people's lives," Hewitt said.
School of Nursing Interim Dean Margaret Andrews, also a professor of nursing, said the twins have made a significant difference in others' lives, pointing to their tutoring, community work and giving personalities.
"The footprint they have left on UM-Flint Nursing will last forever," Andrews said. "They both have incredible grounding, integrity, grace, respect for others and incredible skill to do what's best."
The sisters said the faculty, advisors, peers and patients they worked with during their University of Michigan-Flint career have left a lasting legacy on their lives.
"This place has shaped me through the people I've come in contact with," Hewitt said. "I don't think I would have been the student I was or did as much as I did without the support of the staff and faculty, and the opportunities here."
Williams agreed.
"They have such high expectations of their students and they make those expectations possible," Williams said. "They expect the best and we ended up getting the best because of it."
Contact University Communications & Marketing with comments, questions, or story ideas.