Art Student Opens Business at UM-Flint Incubator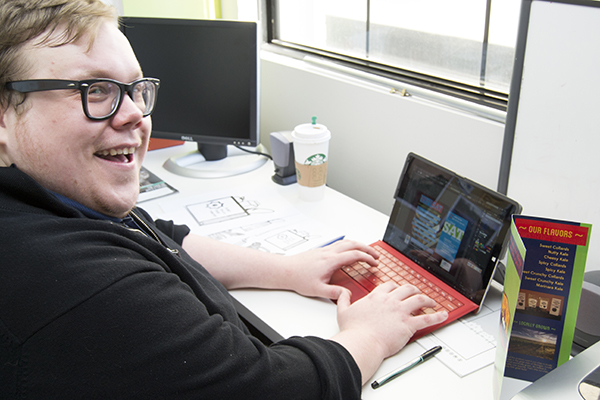 Who says you can't make a living as an artist?
Not Joe Hipkins. In 2015 he started his business, JH Design LLC, with the help of the University Outreach Innovation Incubator at UM-Flint.
Currently he is a senior at UM-Flint. When he started college, he didn't know what he wanted to do. But he knew he was creative. "Art seemed like an appropriate route for me to take," he said. He began working toward a Bachelor of Fine Arts degree.
"I learned a lot about the principles of design and their application, along with the technical jargon," he said. "But I still felt something was missing from my arsenal of knowledge."
That changed when he signed up for Design Studio, Ben Gaydos' class that meets in the Innovation Incubator of the Northbank Center in Flint. The class operates like a design firm, while offering students real-world experience working with clients from the community.
"I would come early to class to talk to the people in the Incubator, and eventually I would start coming earlier and earlier to class to talk about business," Hipkins said. "I wrote my first business plan, and actually opened my own graphic design business."
He participated in many business workshops at the Incubator. He also attended conferences in Detroit and Chicago, which presented ideas that he immediately used with his clients. At an Incubator networking session, he met Charma Dompreh, who was starting a health food company in Flint.
Hipkins created a brand identity for her company, Charma's Green Chips. "Packaging is crucial in food sales," he said. His designs helped her land a review in The New York Times, and opened the door to regional grocery chains.
His curiosity in how a business can reach its customers led to discovering his talent for branding. "It's controlling the central narrative for a business," he said.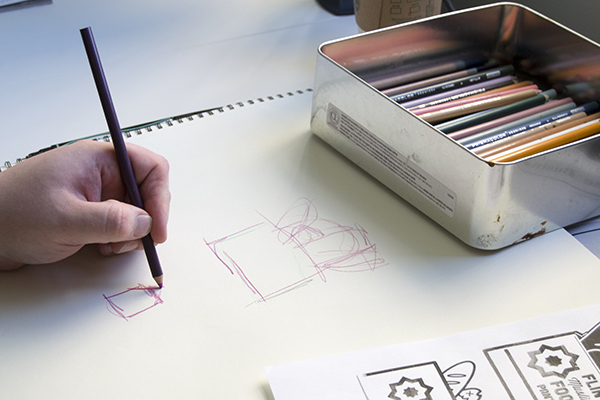 "I was thriving and learning and having a lot of fun at the same time," he said. "I learned that being your own boss is one of the hardest and most challenging things that you can put yourself through. It's also the most rewarding and satisfactory experience I have had in my life thus far."
He added, "I have been so fortunate to be surrounded by smart, intelligent and creative people to guide me through the process of starting and running my own business. Starting JH Design LLC has had a significantly positive impact on my education. I feel more prepared for life after graduation from UM-Flint."
There are many other artists in the Flint area who can benefit from the Incubator's help. Since creative businesses face special challenges, a conference will be held in the spring. It will feature local artists talking about their businesses, and present strategies artists can use to start a creative business.
On March 15, 2017, the Innovation Incubator will present an Arts and Entrepreneurship Symposium from 11:30 a.m. to 7:00 p.m. Creative high school students, college students, and adults are invited to participate. It will be held at the Flint Institute of Music and the Flint Institute of Arts. The focus will be on career strategies for professional artists. Arts and business competitions will be featured. There is no cost to participate.
Contact University Communications & Marketing with comments, questions, or story ideas.