UM-Flint Music Education Course Emphasizes Hands-on Learning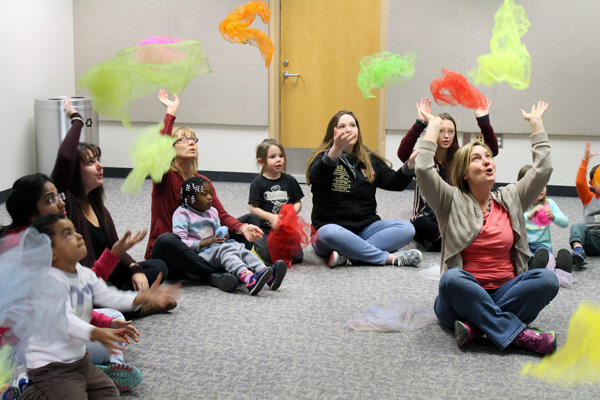 Joined by boisterous preschoolers from the Early Childhood Development Center (ECDC), a group of University of Michigan-Flint students gathered in a circle for the last session of their Music in Early Childhood practicum.
The students sang songs together with the children, alternating dynamics from soft to loud, wiggling and marching to the rhythms, and smiling as they each took turns leaning into the microphone to lead the next verse with their own interesting choice of words and sounds.
The course is MUS 185/ECE 120, an early childhood practicum and general education class where students from multiple disciplines gain first-hand experience with music-making and teaching methods during the first part of the semester and then spend five weeks applying their knowledge by working directly with the children in a dynamic group setting.
The UM-Flint education programs emphasize direct observation and engaged learning experiences like these that students can take with them into their profession. The students taking this class come from a variety of academic disciplines including psychology, elementary and secondary education, social work, and early childhood education.
The universal nature of the subject helped them to easily establish relationships with the children and to gain a deeper understanding of their social, emotional, cognitive, and physical development during the five-week period. Music fluidly weaves through each of those developmental areas.
Students felt inspired from interacting with the children and being able to apply what they learned from their instructor, Karen Salvador, UM-Flint associate professor of music and music teacher certification program coordinator. Salvador holds a doctoral degree in music education and serves as president of the Michigan Music Education Association.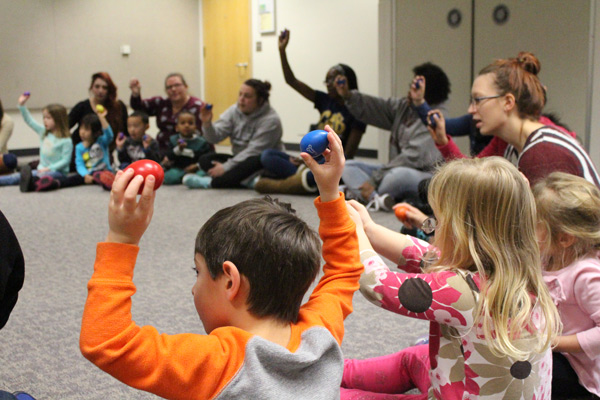 Salvador enjoys teaching the course because of the combined benefit it brings to UM-Flint students and the community. "We are so fortunate to have an Early Childhood Development Center on our campus so that our students can work hands-on with young children. It's a win-win: college students in my class were able to work hands-on applying what we learned in class, and we were also able to bring music instruction to close to 50 two- to four-year-old children at the ECDC."
Kimberly Nguyen is a student in the class majoring in applied psychology and minoring in early childhood education. She plans to use music in her field to help children with autism.
"What has impacted me the most is the experience of working with children and seeing their development improve as time goes by," Kimberly said. "Every child develops at their own pace and my professor heavily emphasizes that. This course expanded my knowledge on child education and development. It brought me one step closer to what I want to do in life."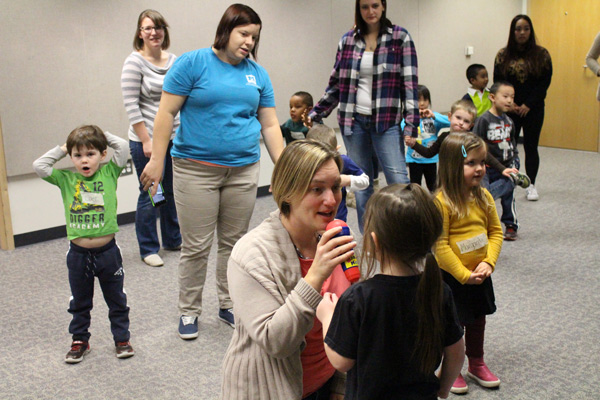 Using tactile instructional tools, like waving colorful scarves and tossing them into the air during a song, helped the children to connect with the songs visually and playfully. Students in the course also learned how to critique music and to discern the kinds of songs and instruments that best facilitate learning for certain age groups.
Gabrielle Staudacher is a student in the class majoring in elementary education. "I took this class because I wanted to know how I could incorporate something different in my future classroom," she said. "I learned what kind of music is best for children. I enjoyed Prof. Salvador's easygoing yet professional teaching strategies and her kind reminders for the young children in practicum. It was helpful to observe another teacher's strategies for classroom management."
Elementary education major Chelsea Smith brings her passion for music to the class each week. "The impact that music has had on my life is amazing," she said. "This class has opened my eyes to the impact I can bring to my students in earlier stages of their lives. The support that music can bring to any child's life can save them from the difficulties of childhood. Children can really enjoy their musical abilities without being judged on society's view of talent versus ability."
Contact University Communications & Marketing with comments, questions, or story ideas.