Alumnus Explores UM-Flint's Identity Over 60 Years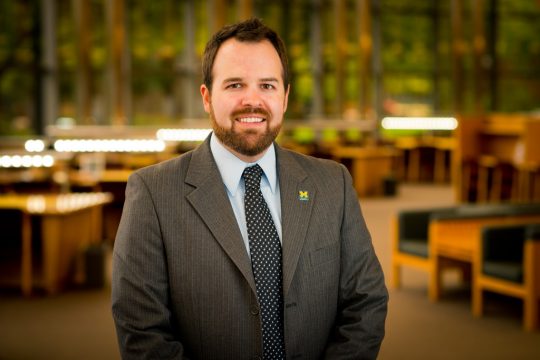 Matt Bueby can't keep a large smile from his face as he recalls a night this past October, when over 100 alumni and guests from the classes of 1958 through 1966 convened for the inaugural Victors Reunion at the University of Michigan-Flint.
One of the highlights from the university's 60th anniversary celebration this semester, the reunion brought together members from the first graduating classes of this institution. For some, the event was a chance to reconnect with old friends with whom they had lost touch. For others, it was an occasion to see the campus for the first time in years.
For Bueby, an alumni relations staff member and '08 graduate from the School of Management, it was an opportunity to pursue a passion project. Growing up in the Flint area, he would often talk with his dad, an '81 alumnus of UM-Flint's College of Arts and Sciences, about how much the campus has changed in the last 50 years.
"It's easy to pick out all of the physical changes that have taken place on campus," said Bueby. "But I've always been fascinated with how people's perceptions about UM-Flint have changed over the years. The Victors Reunion was an opportunity to gain the perspective of the first students to set foot on campus and soak up what the campus experience was like in the very beginning."
Bueby spent the evening listening to anecdotes about the first decade of "Flint College," as it was known then. As he listened, a theme began to emerge. There was a sort of unspoken identity to the Flint College that was different than his father's 1980s UM-Flint, which was different than his own experience on campus in the 2000s. These conversations sparked him to dive deeper into the history of UM-Flint.
"I started thinking about the 'Flint College of University of Michigan' name," said Bueby. "And I wondered: when did the institution begin to go by the University of Michigan-Flint instead, why that was, and what did that look like in terms of identity?"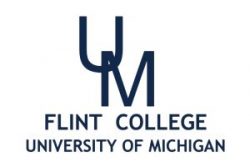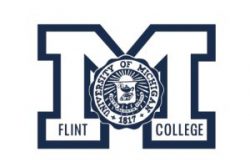 From these questions about collegiate identity, combined with Bueby's hobbyist passion for archival research, a project began to take shape.
"A couple of years back, I composed an art piece focusing on the University of Michigan's athletic logos from as far back as I could find," recalls Bueby. "I figured I could work on a similar project with UM-Flint, one that would literally explore the identity of the university over the past 60 years."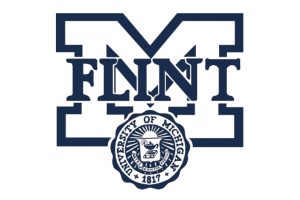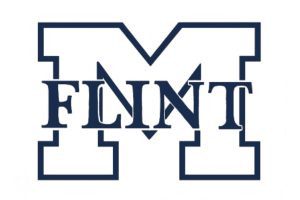 The first step in his research was a visit with Paul Gifford, archivist at the University of Michigan-Flint and overseer of the Genesee Historical Collections Center. Through conversations with Gifford, and a comprehensive review of digital and physical relics dating back to the earliest days of the university, Bueby discovered reference to at least 14 different logos used at times by the University of Michigan-Flint. Some were in use for many decades, such as the familiar "curved M" that represented UM-Flint from 1977-2007. Others, such as the 60th anniversary logo in use this semester, were only in use for a few months.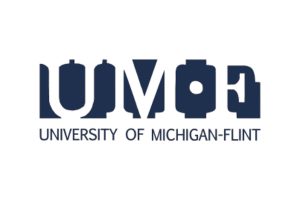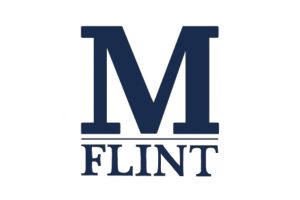 With his research completed, Bueby then took pen in hand, drawing each of the logos before digitizing them in design software. The end result is a project that, for the first time, depicts each of UM-Flint's logos throughout the university's 60-year history.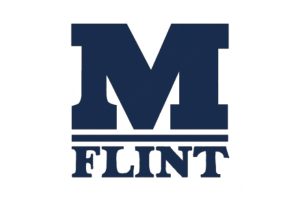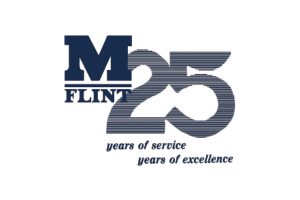 "I was amazed with what I learned while working in the archives with Paul," Bueby said. "When Flint College was formed, the only logo for official use was the seal of the University of Michigan, other than a metal sculpture and sign that stood for years outside of the Mott Memorial Building. It wasn't until the late '60s that Flint College incorporated wordage into a University of Michigan logo—a move that was the basis for the first official University of Michigan-Flint logo in 1971."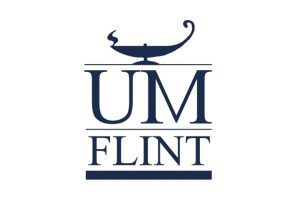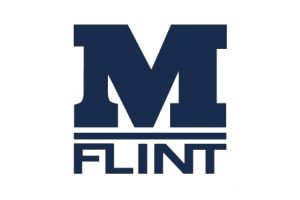 "To me, that was a true representation of our identity during those years. As Flint College, our alumni tell us that they felt like a simple extension of Ann Arbor's campus—with the same professors, graduation ceremony, and so forth," he said. "Then, as UM-Flint matured and our name and logo changed, our students began to identify with a university that stood on its own–part of a strong and proud tradition but also uniquely Flint."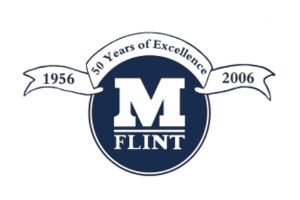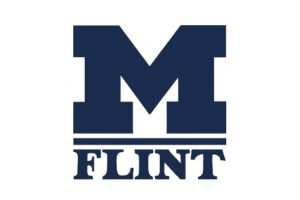 While logos and collegiate identity may change over time, one thing that will remain constant is Bueby's affection for Flint, the university that calls this city home, and the maize and blue.
"My entire life, my own identity, has been framed by the University of Michigan," said Bueby. "My grandpa is an Ann Arbor graduate from the class of 1953. I have a great set of photos in my office that show his dad with him at his commencement, my grandpa with my dad in 1981, my dad with me in 2008, and then a 4-generation Michigan picture that we took this past summer after the birth of my son. My wife is an Ann Arbor grad, her brother an Ann Arbor and Flint grad, aunts, uncles, cousins as alumni, you name it."
"This project just reinforced how much UM-Flint means to me, and I'm proud that UM-Flint is such a huge part of my identity," said Bueby. "We owe so much to the college's first students, faculty, and staff; trailblazers who chose a Flint education when there was no guarantee of success. They are a big part of our identity, and will remain so as we celebrate milestone anniversaries for years to come."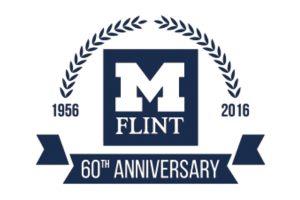 "Flint has so much to offer both as an academic institution, in community partnerships, research, and outreach. Even in times that have seen its share of ups and downs, we continue to be a beacon of hope and stability for this outstanding community," concluded Bueby. "It's up to all of us to keep that momentum going so that the next generation of students, alumni, and community partners will inherit the world we wish to leave them. That's a powerful identity, which leads to a powerful legacy."